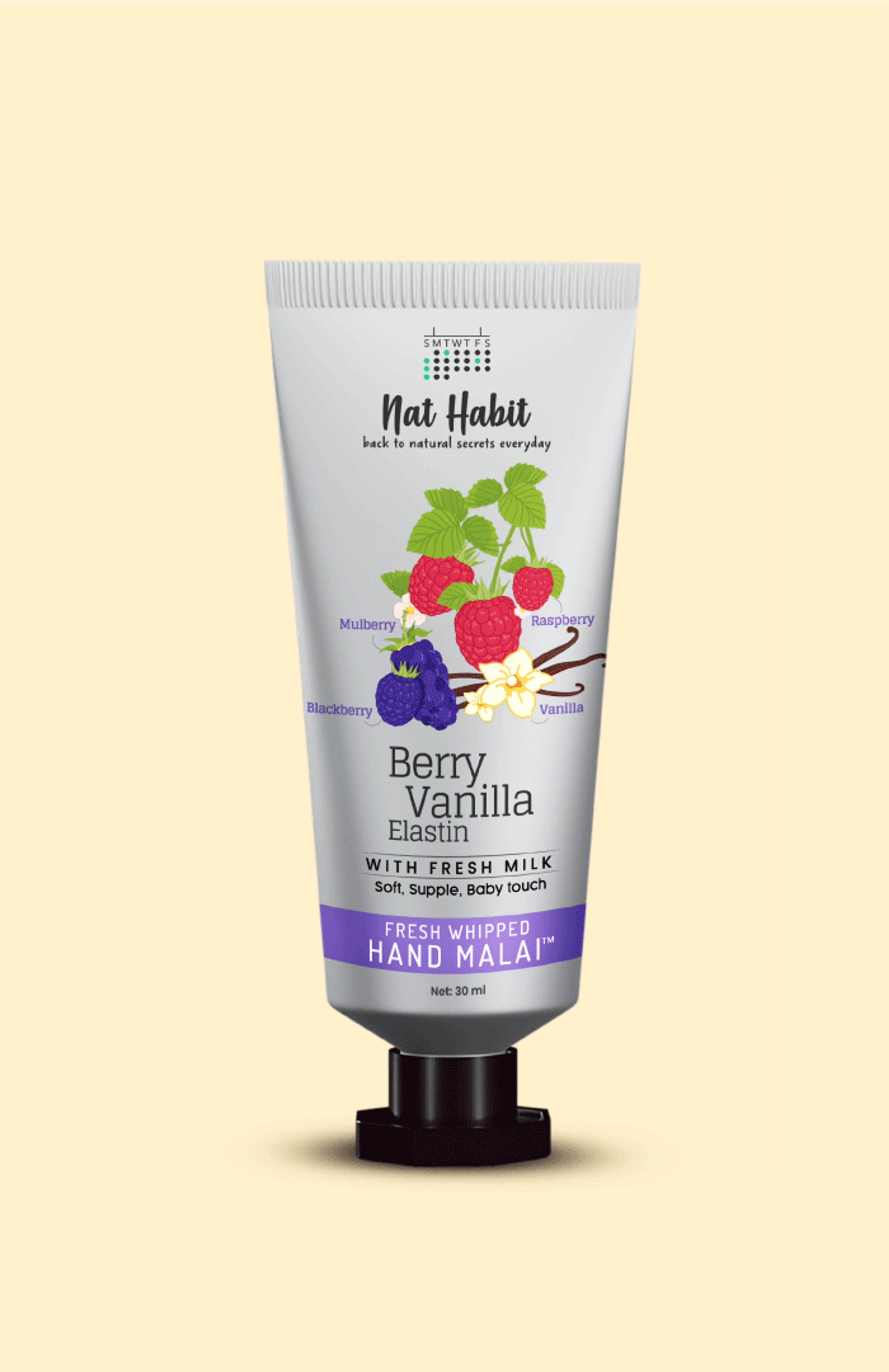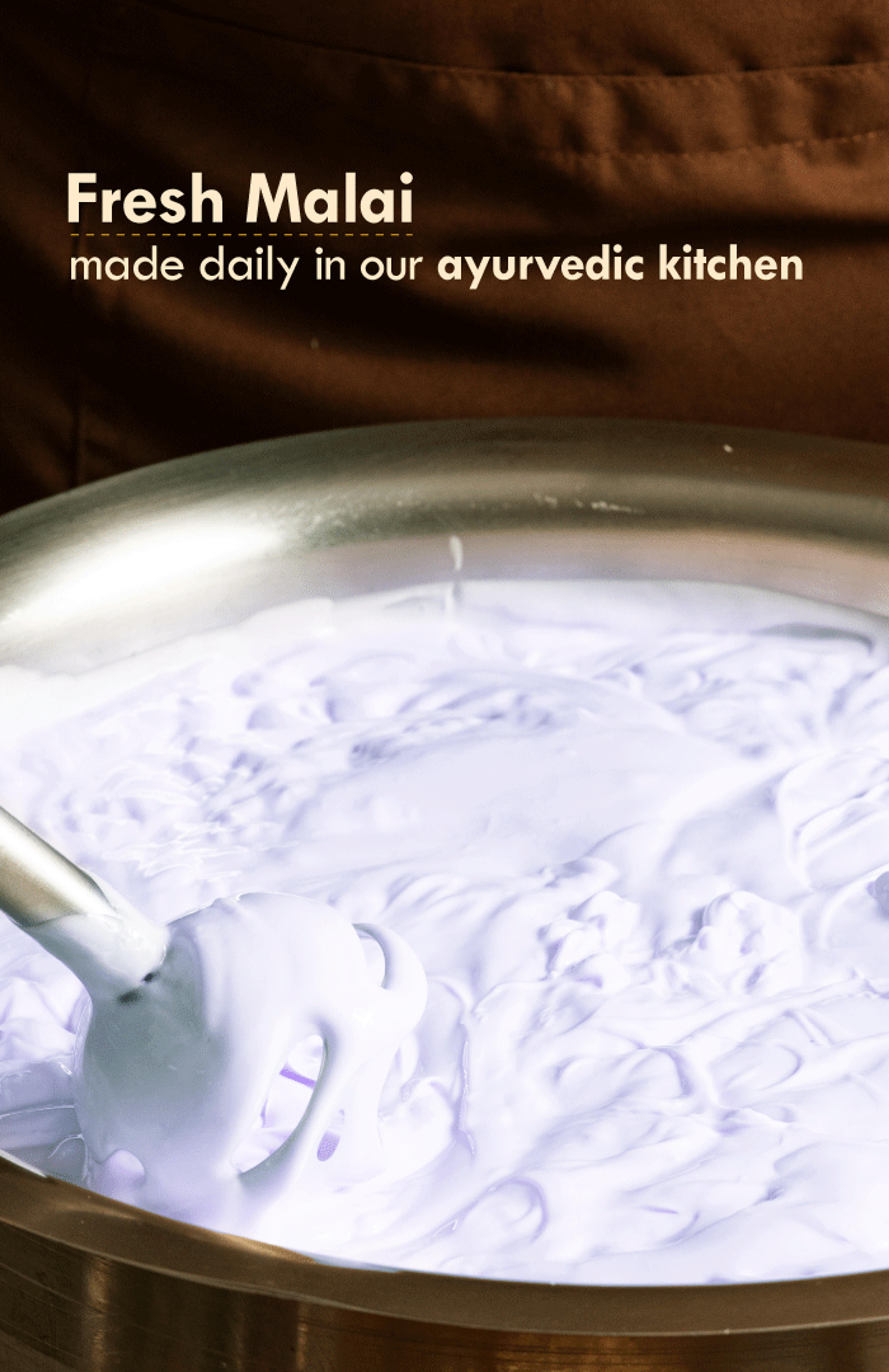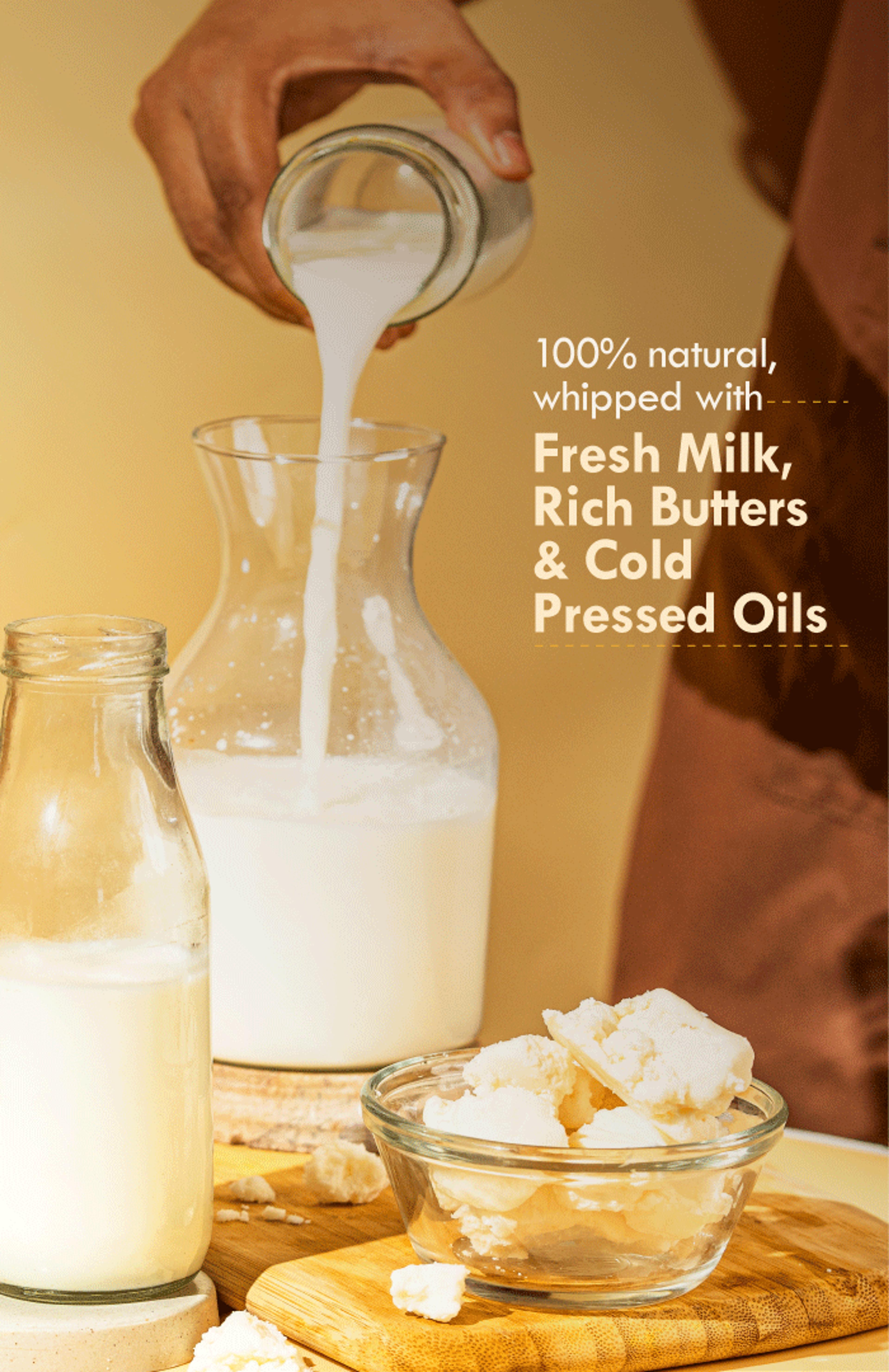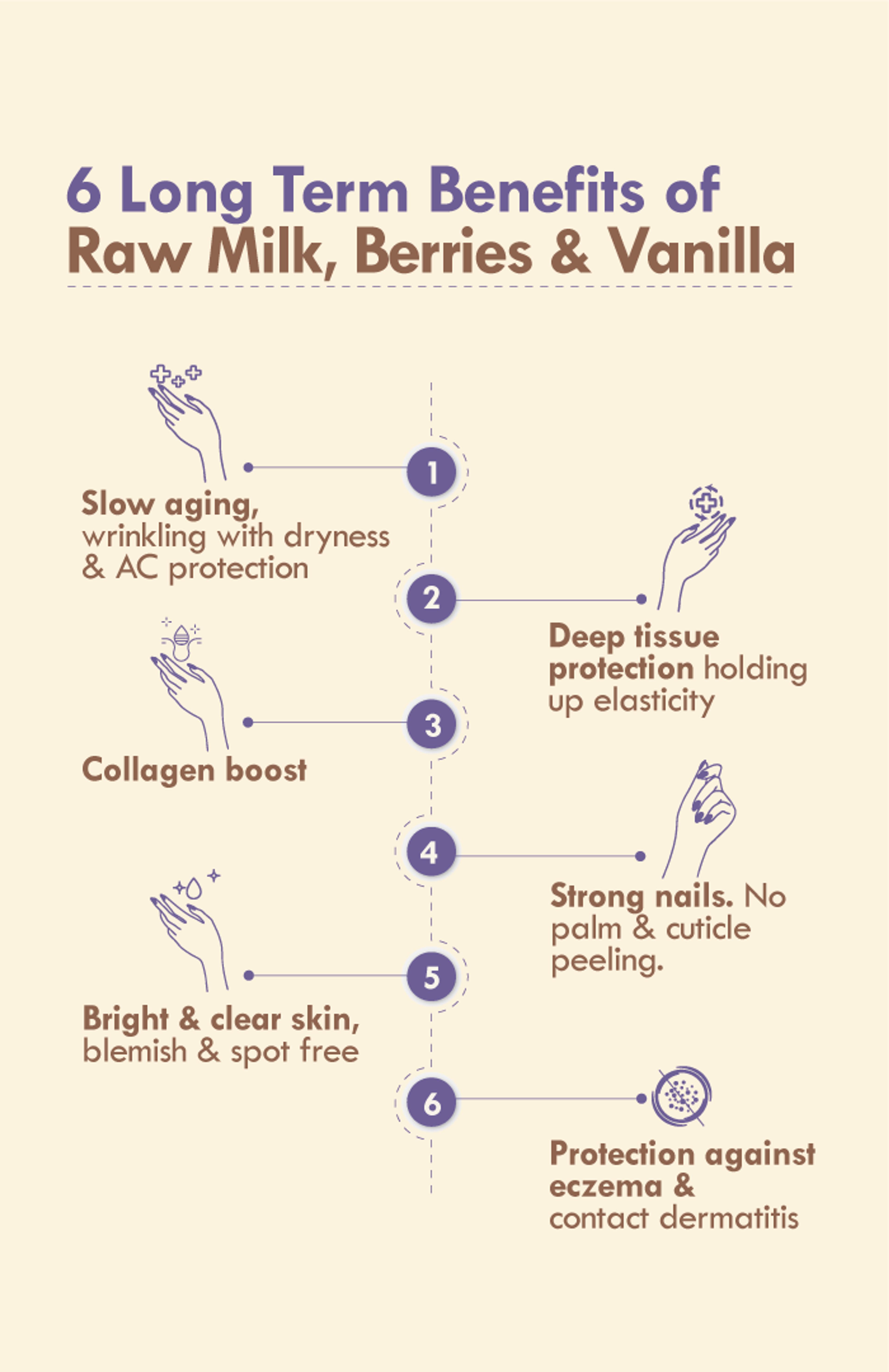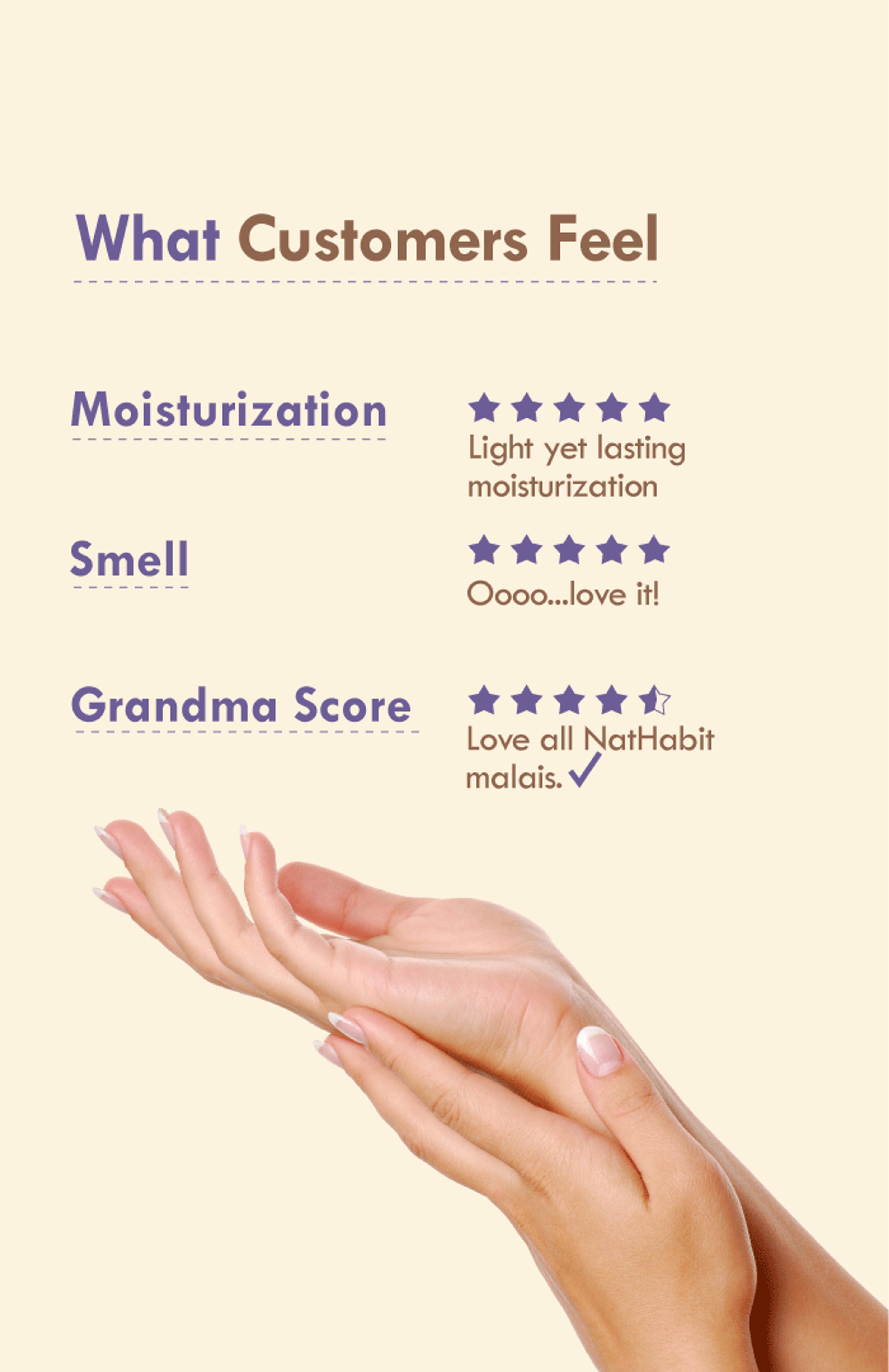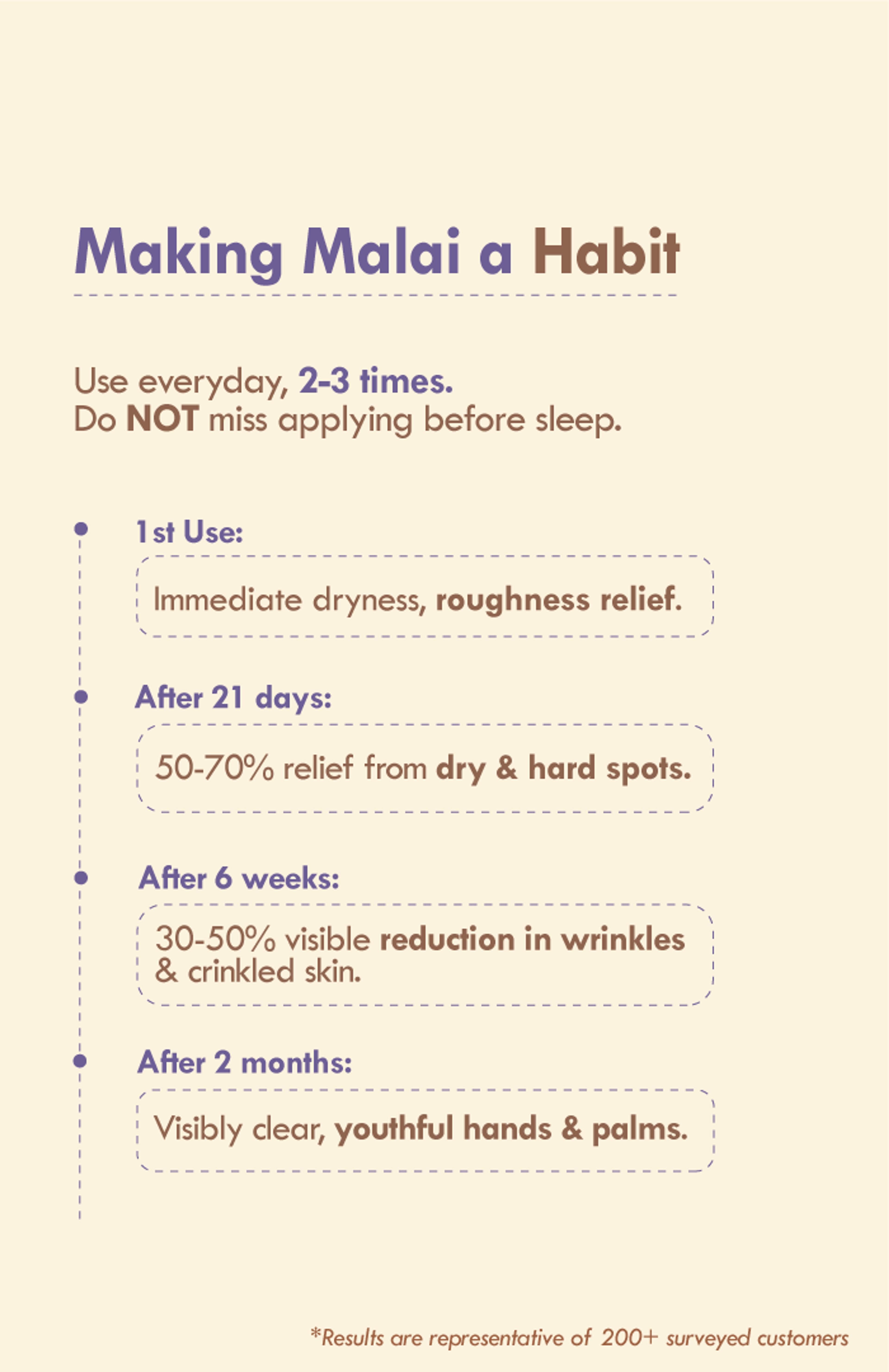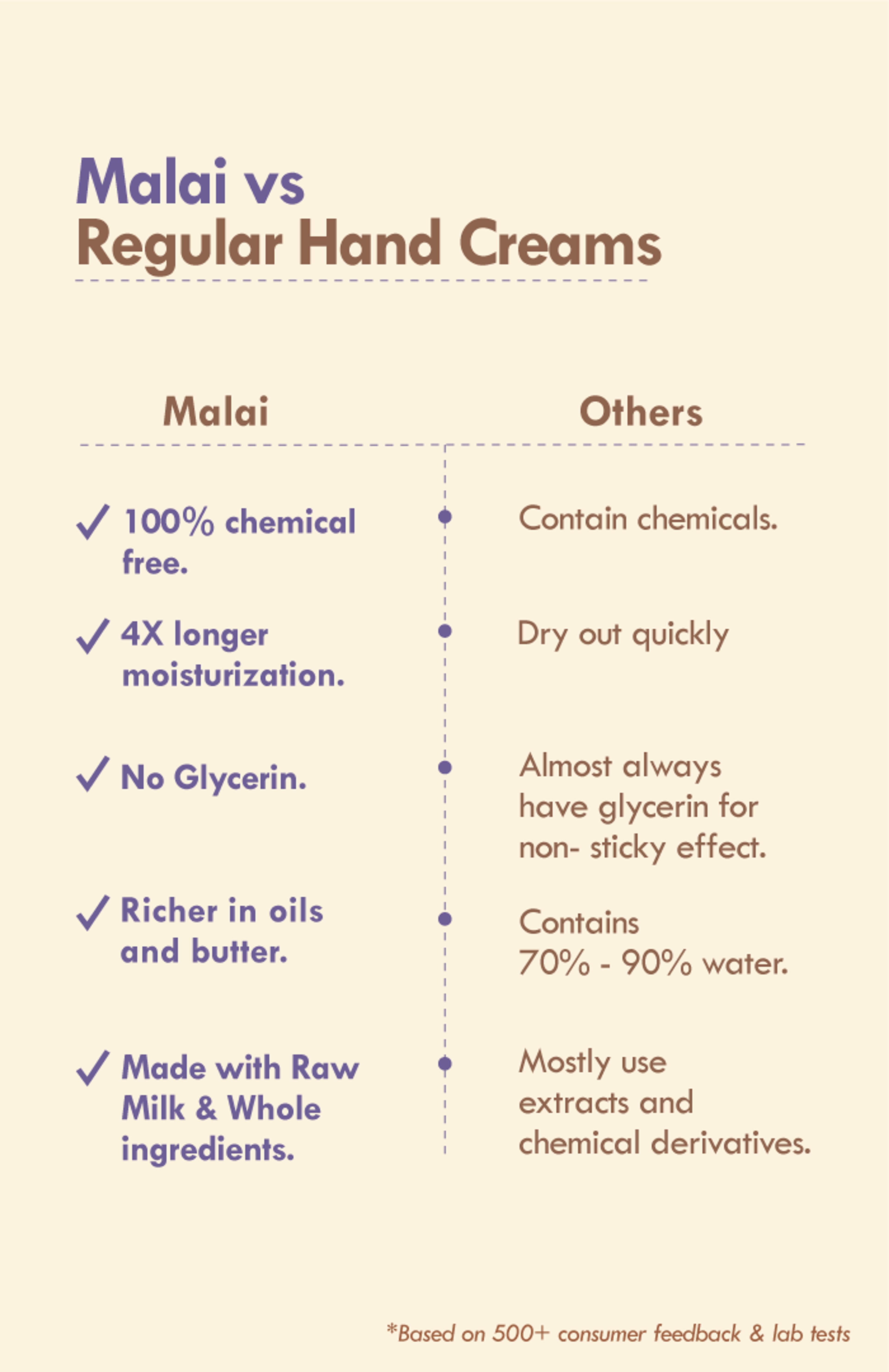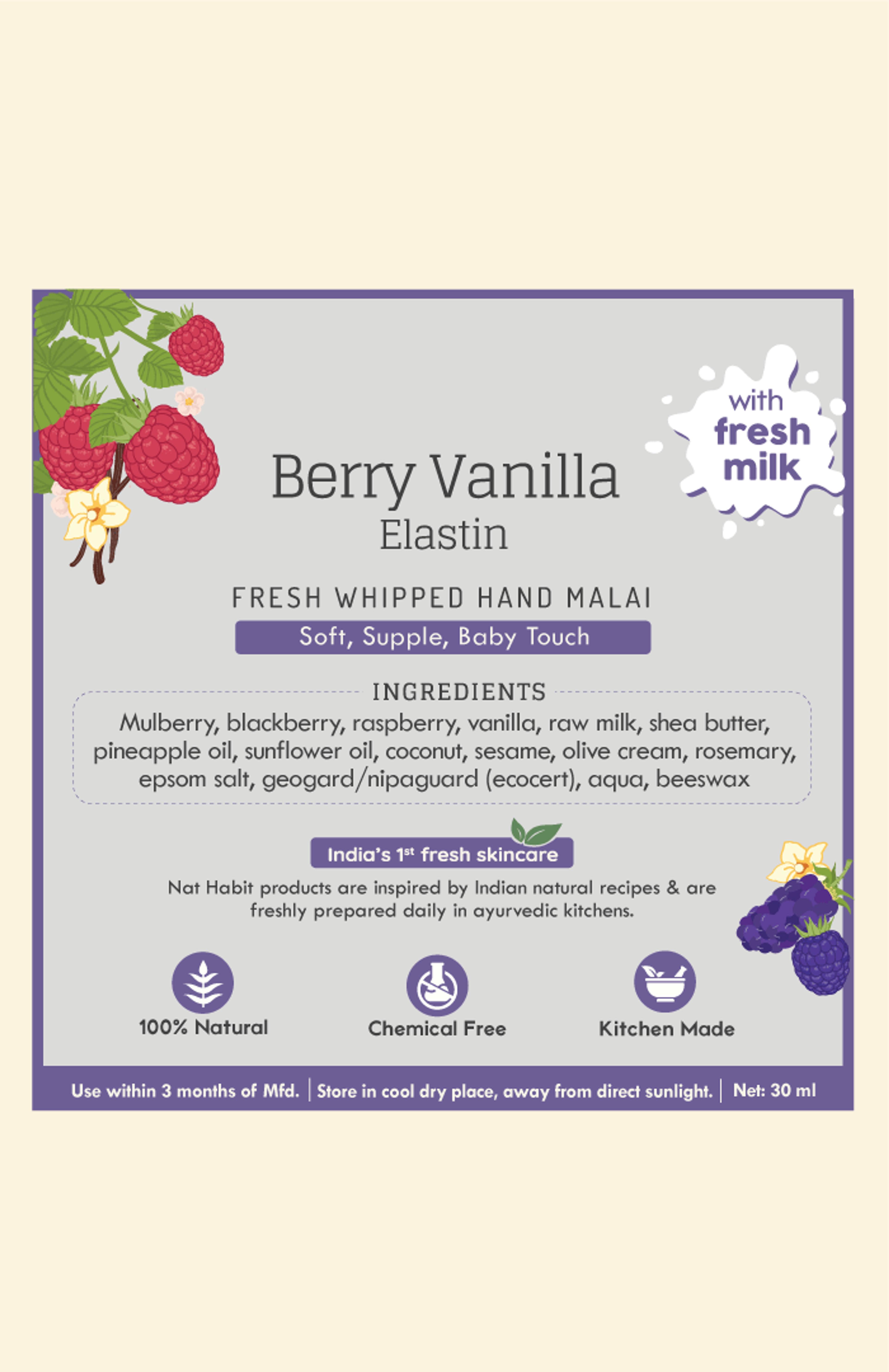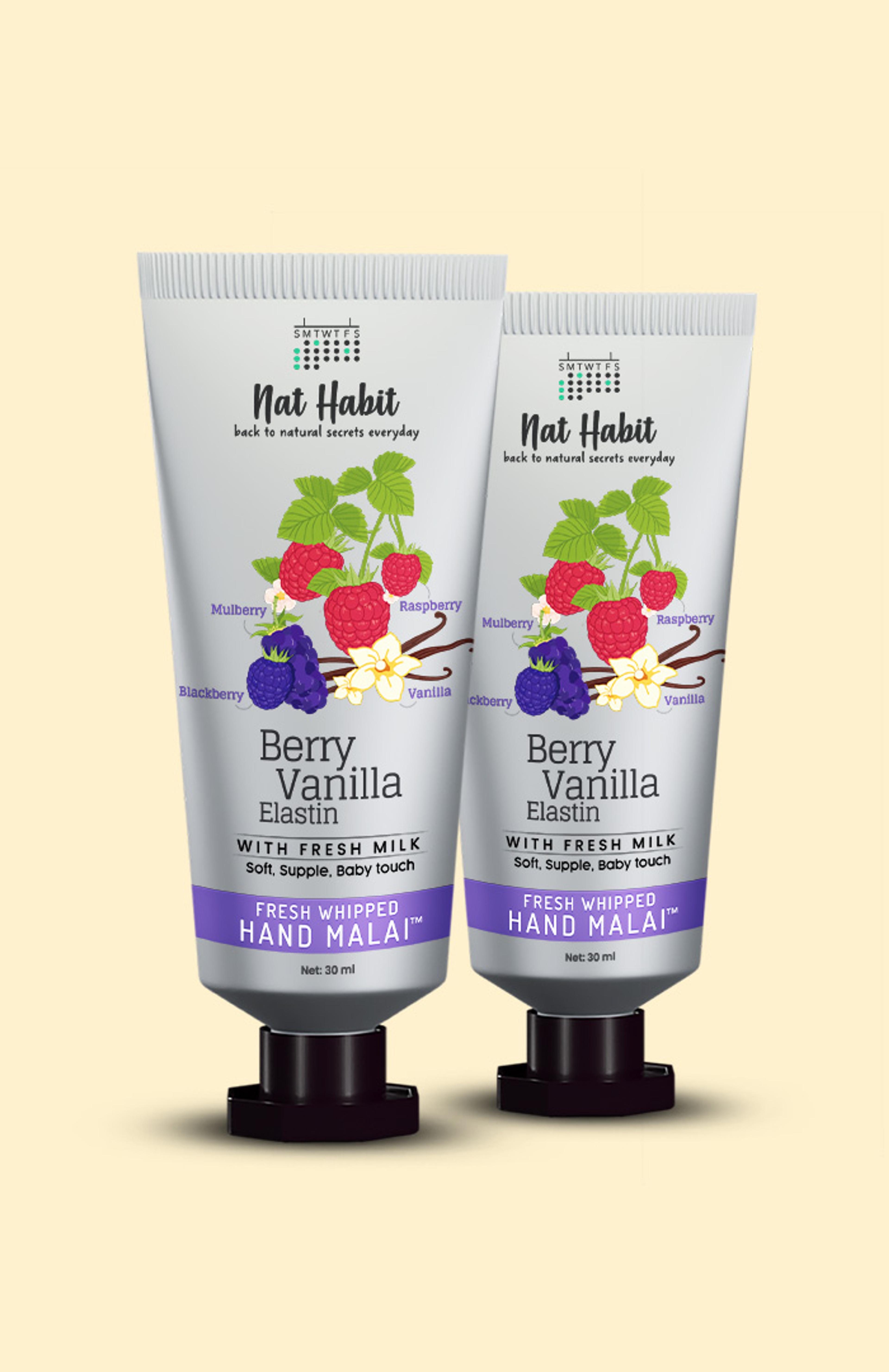 Berry Vanilla Elastin Hand Malai
For Soft, Supple, Baby Touch
Kitchen made hand malai for special protection of palms, fingers & nails. Its made of Fresh Milk and is Glycerin Free.
Delivery
Delhi, Bangalore
2-3 Days After Shipment
Pan India
4-5 Days After Shipment
Free shipping above ₹350
Cash on delivery available at ₹20 COD charges
MANUFACTURED AND MARKETED BY
NaturoHabit Private Limited GP-26, Sector 18, Gurugram, Haryana - 122015
NODAL OFFICER DETAIL
Madhuri Pandey madhuri@nathabit.in
MRP
Price shown above is inclusive of taxes
Key Benefits
Regular usage helps with
Smoothens skin texture making it baby soft

Promotes collagen production

Deeply nourishes & moisturises palms

Softens cuticle & prevents peeling

Keeps skin youth intact preventing wrinkling
Active Ingredients
Fresh & whole picks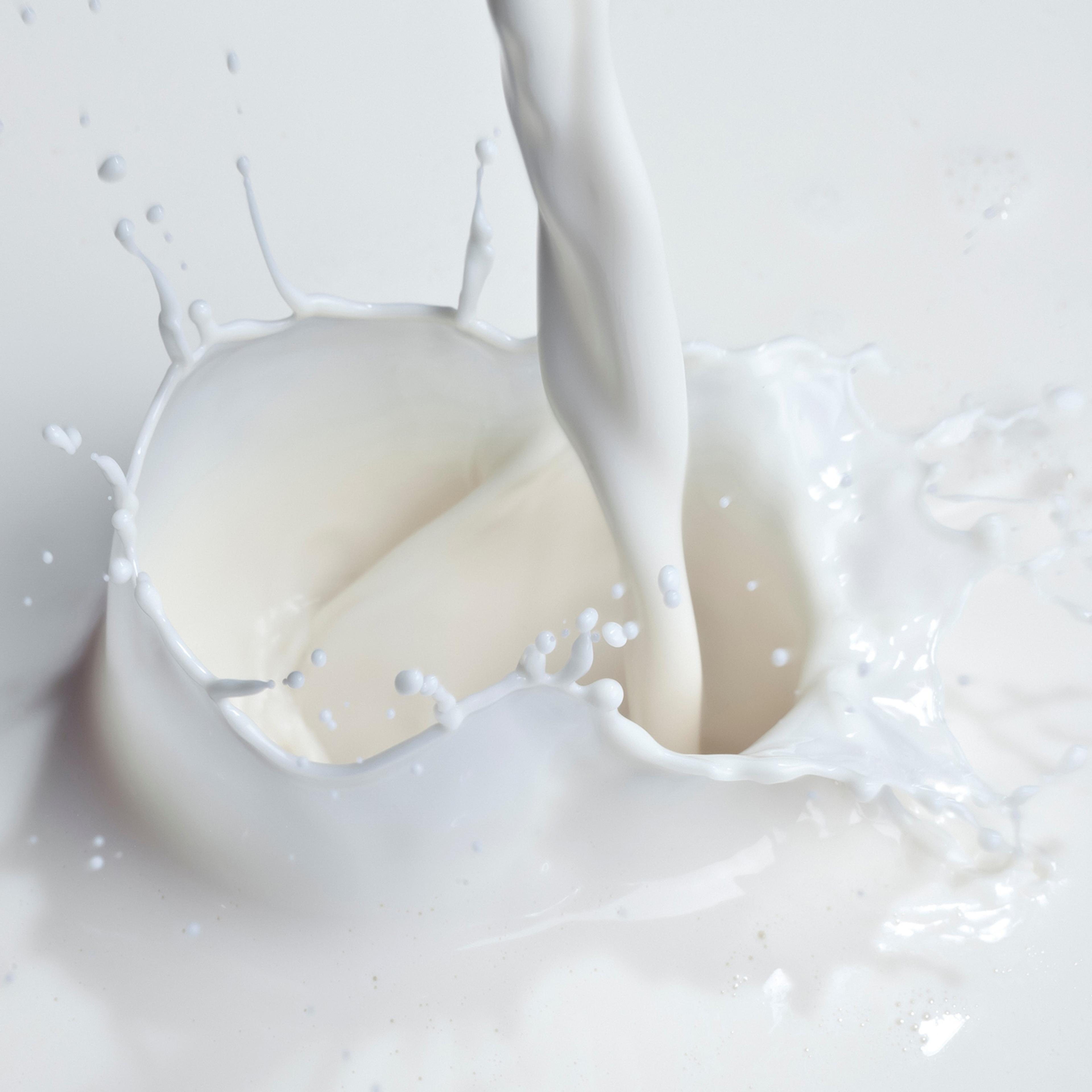 Raw Milk
Nourish & soften skin with multi-nutrients & rich protein.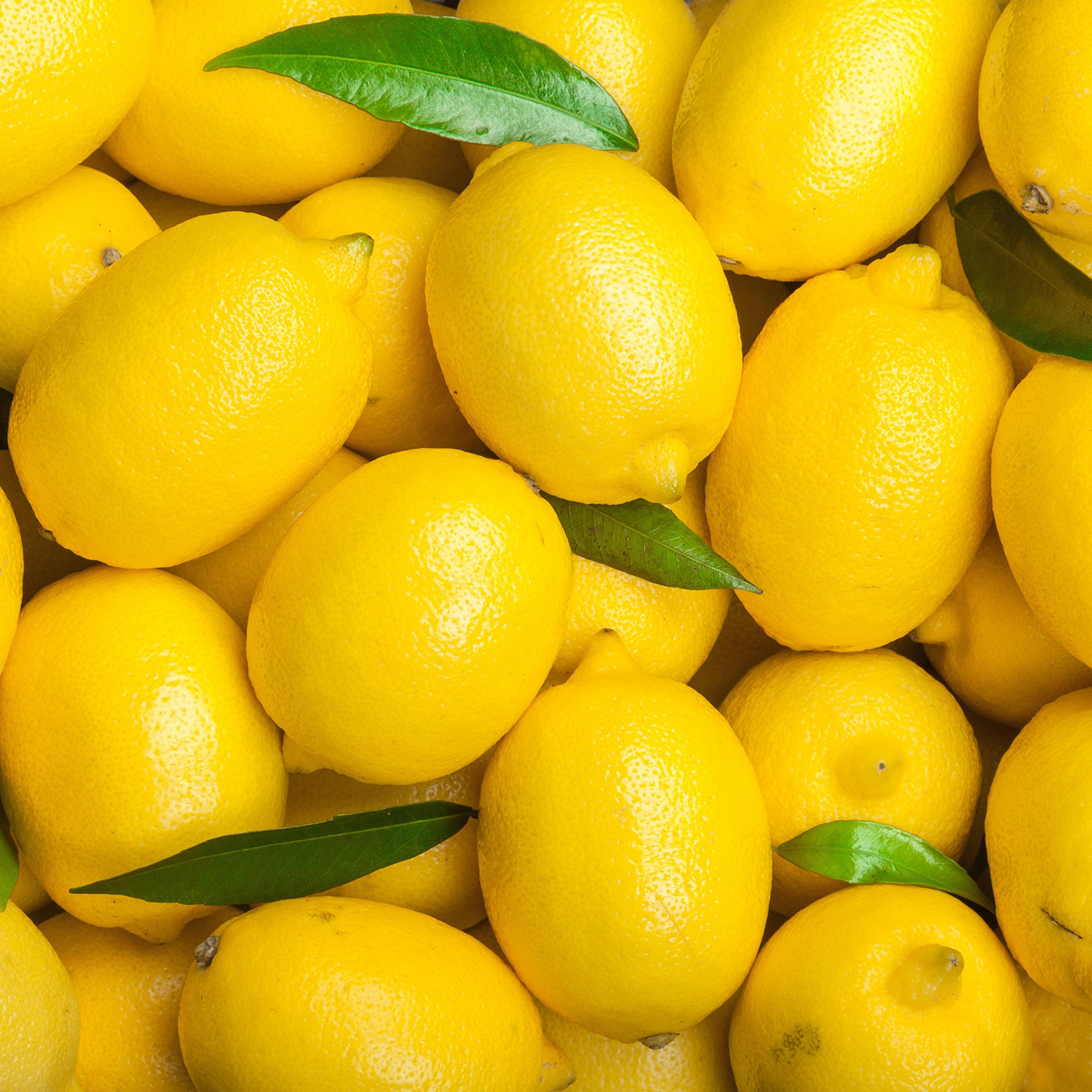 Tucuma Butter
Rich in fatty acids, enhances dermal elasticity & plumpness.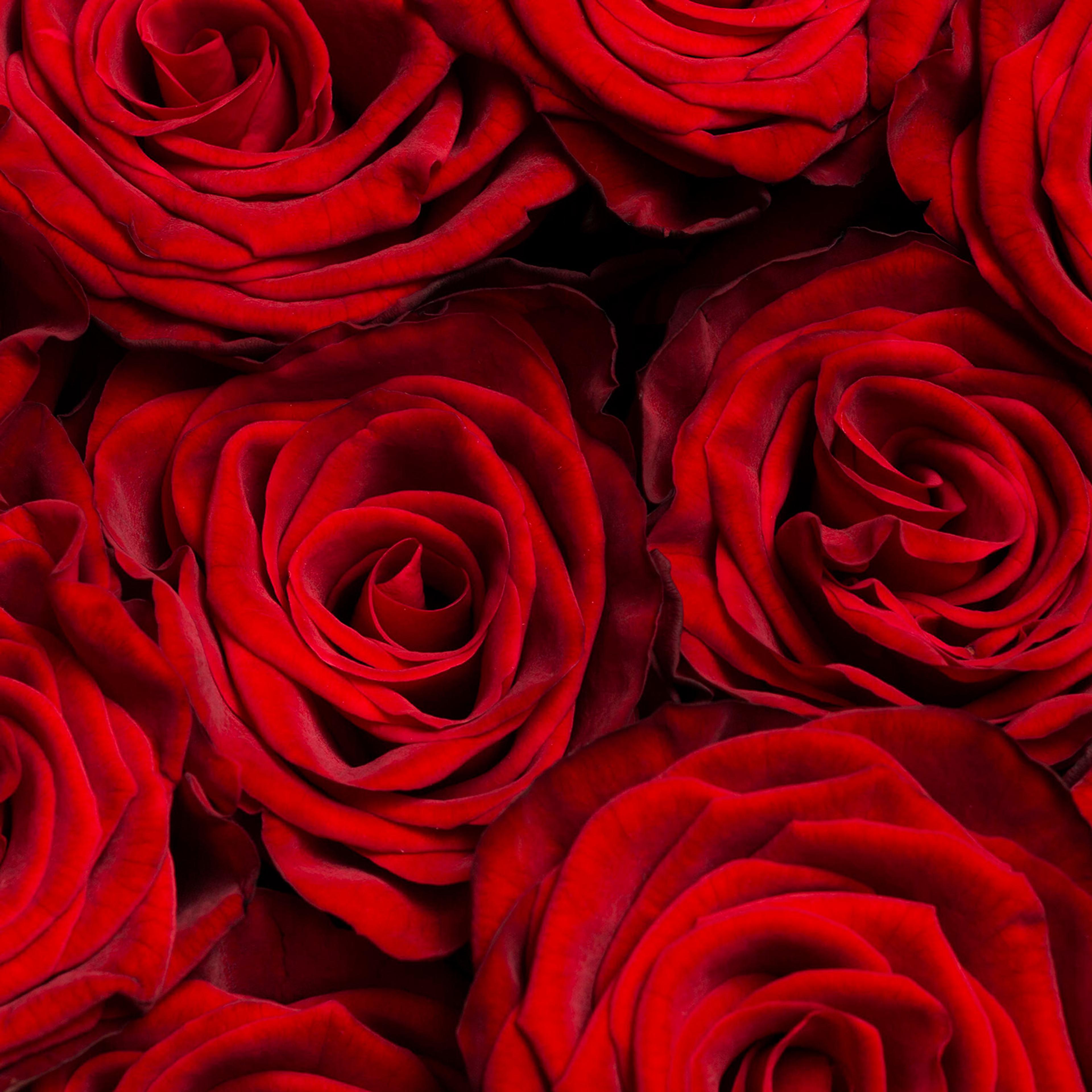 Rose
Loaded with antioxidants, enhances tissue regeneration & prevents aging.
Full Ingredient List: mulberry, blackberry, raspberry, vanilla, raw milk, shea butter, pineapple oil, sunflower oil, coconut, sesame, olive cream, rosemary, epsom salt, geogard/nipaguard (ecocert), aqua, beeswax

Smell
Blast of fruit & spice
Long Term Benefits
of raw milk & butters
Glycerin Free Moisturisation
✓
Slow aging, wrinkling with dryness & AC protection.
✓
Deep tissue protection holding up elasticity.
✓
Strong nails. No palm & cuticle peeling.
✓
Bright & clear skin - blemish & spot free.
✓
Protection against eczema & contact dermatitis.
Malai vs Regular Hand Creams
Chemicals or Preservatives
100% chemical or preservative free
Always have glycerin for non-sticky effect
Richer in oils & butters & made with raw milk & whole ingredients
Others contains 70-90% water content & uses extracts & chemical derivatives.
Usage
Who Should Definitely Use
Immediately after washing hands/ using sanitizer.
In every 2 hours when sitting in AC.
Before you step out in sun, for protection.
After indulging in heavy cleansing activity like dish washing.
After bathing.
At night for deep restore.
Suitable for, Storage & Expiry
All skin types & all types of weather
Safe to use during pregnancy.
Safe for kids above 2yrs but recommended to start using regularly only after 12yrs of age.
Use within 3 months of Mfg. Date.
Why Special Care
for Hands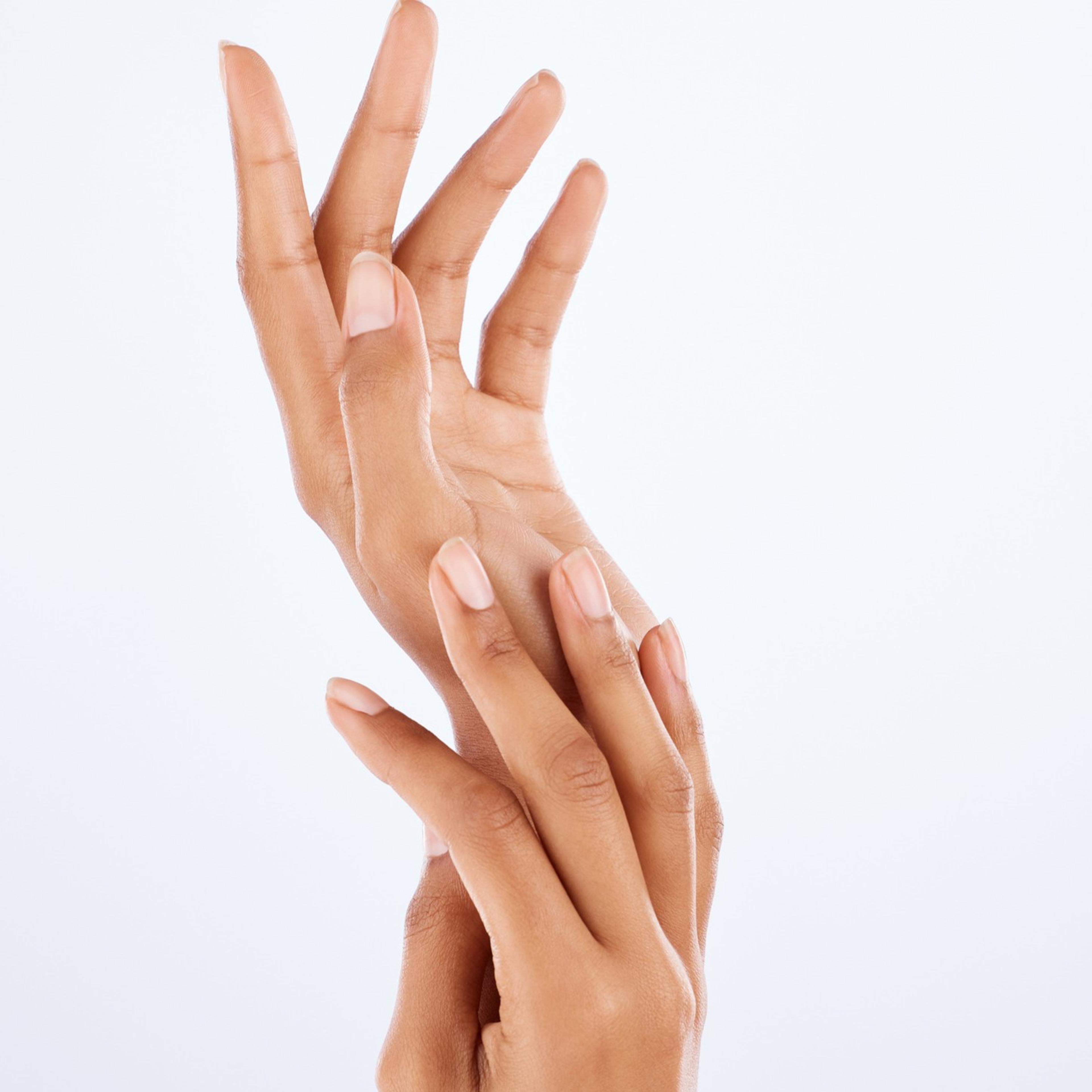 Click to Know More
Extreme activities calls for more care
Frequent washing, low tissue level, intense activities & more exposure to stressors, the chance of dryness, dullness & wrinkles increases.
Low underlying fat tissues
Palms have low underlying fatty tissue that leads to loss of skin elasticity and wrinkling, therefore, requiring a collagen & elastin boost.
Frequent moisture strip off
Frequent exposure with water, soap, dust, AC & other drying factors strips off natural moisture.
More movements mean more wrinkles
Due to extreme activities & movements, hands are more prone to fine lines, wrinkles, tissue & cell damage & brittle nails.
Exposure to environmental stressors
Thin & uncovered skin on hands is often exposed to variety of environmental stressors including UV rays and climatic extremes.
Increasing age, hence, increased care
The reducing fat with growing age contributes even more to wrinkling & dryness.
Easy Hand Care Tips
Moisturise often

Choose nourishing hand creams and massage well.

Cover when out

While stepping either wear gloves or try covering your hands for protection against sun damage, toxin, dust & pollutants.

Protect against harsh soap & detergents & deep moisturise.

Choose hand wash without harsh detergents & surfactants. While cleansing, dish washing etc. ensure your hands are well protected with gloves. If not gloves then definitely deep moisturise immediately after.

Exfoliate often

It will give you smooth hands and allows deeper penetration of product.
Awesome product! Unmatchable!! I bought hand malai whipped cream and In an hour I could see it??s effectReally happy with the product

Nita Srivastava
More Information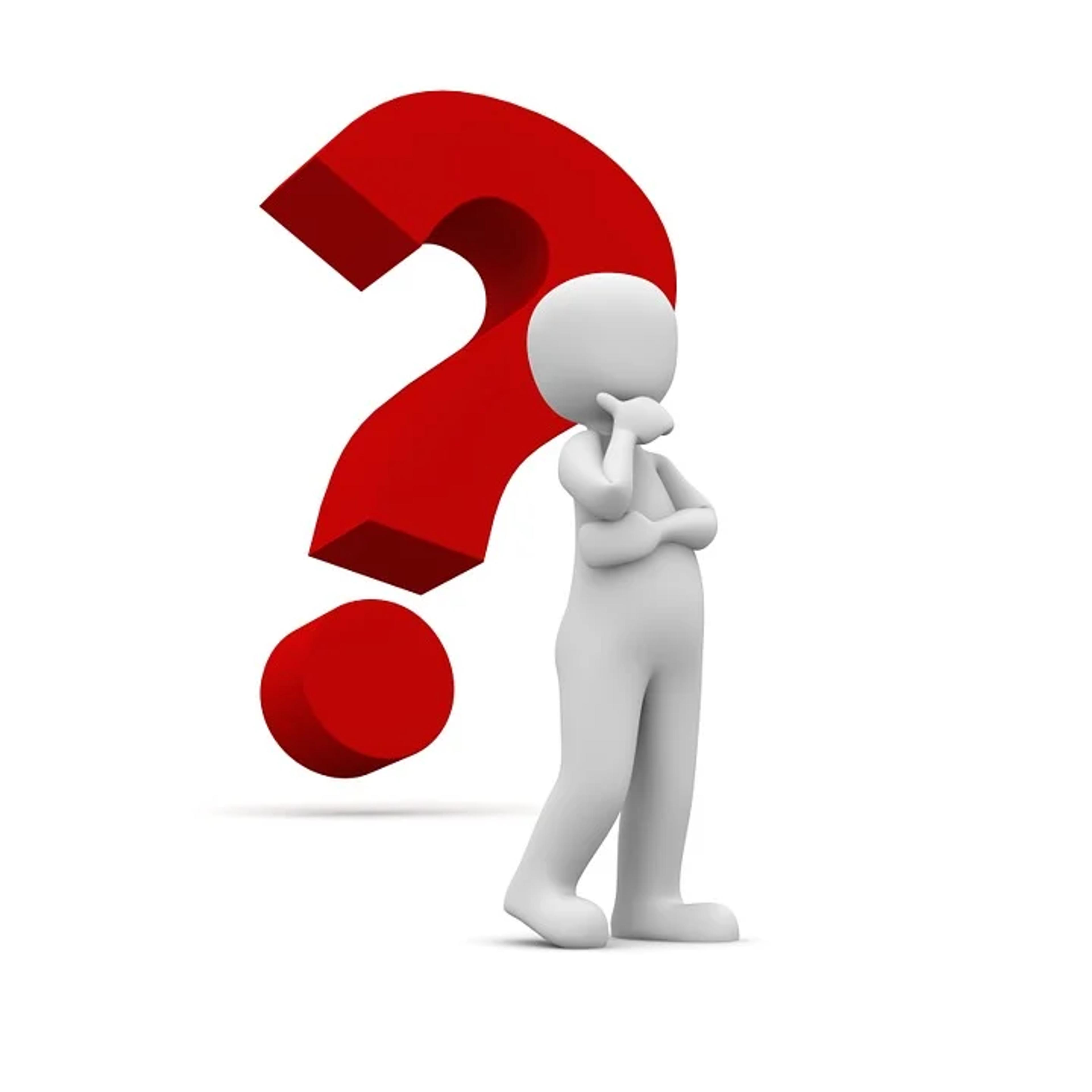 Use within 3 months of Mfg Date
Store away from direct sunlight, in a cool dry place. Refrigeration not required.
Explore our other Categories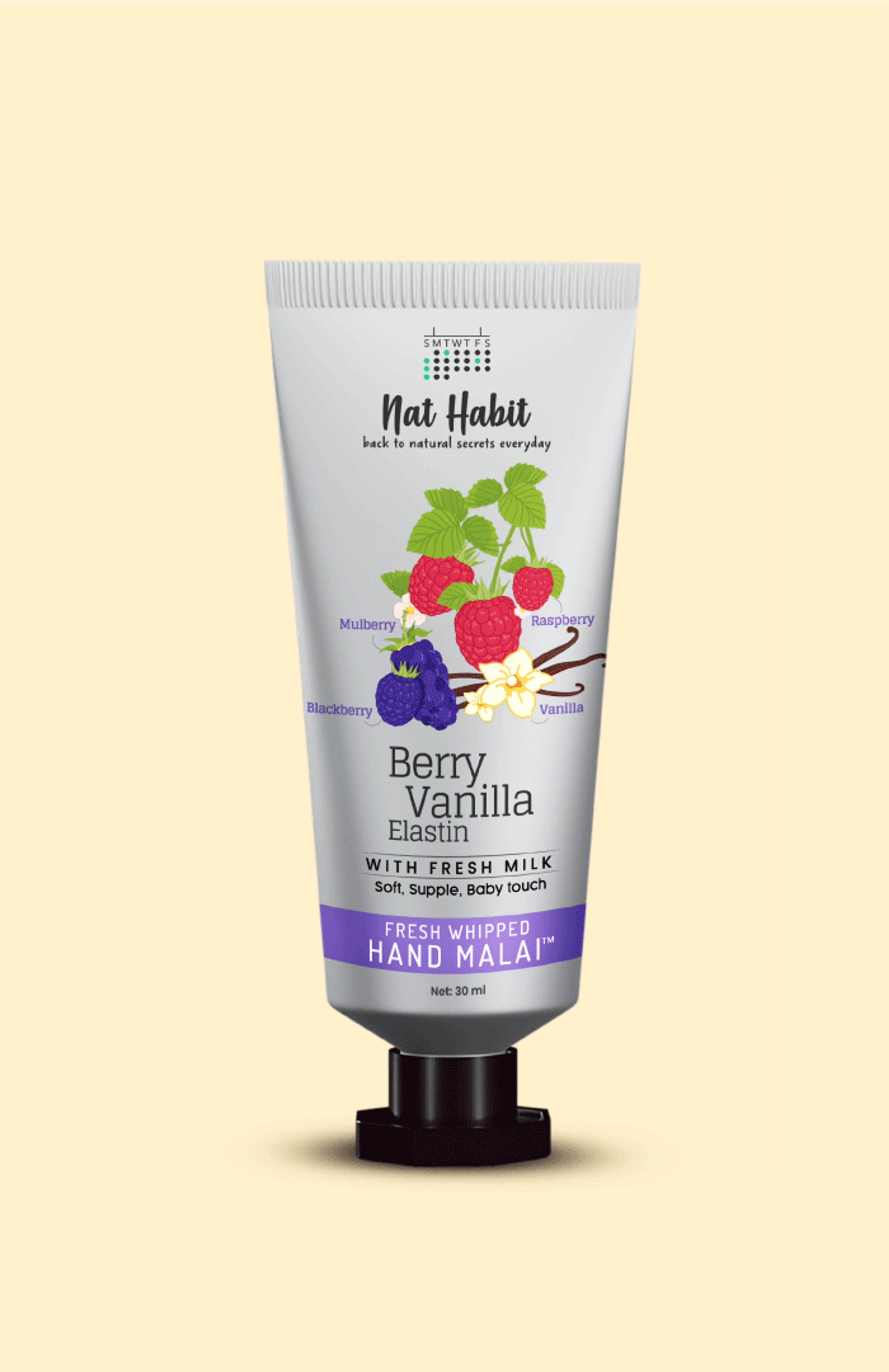 Berry Vanilla Elastin Hand Malai