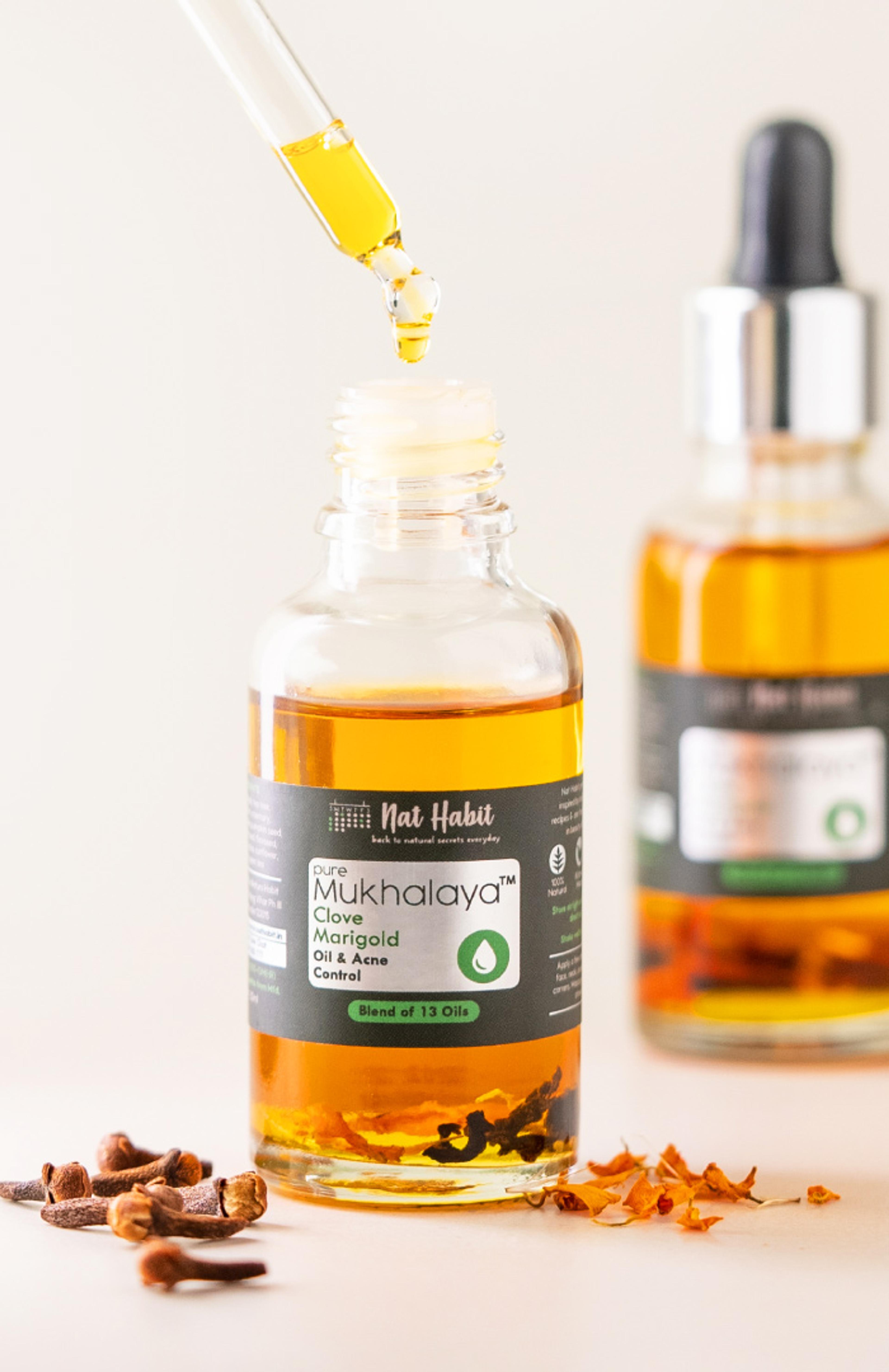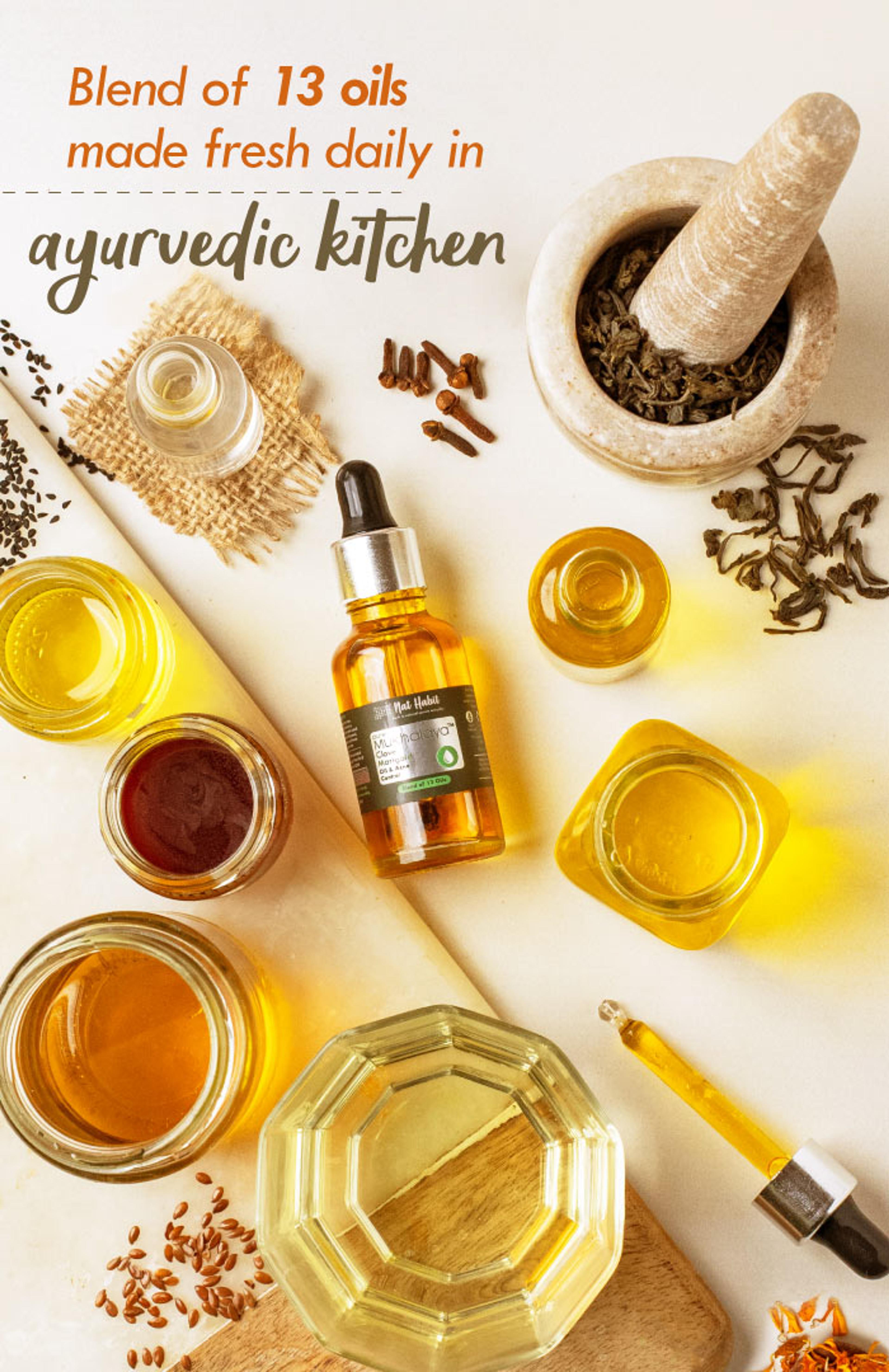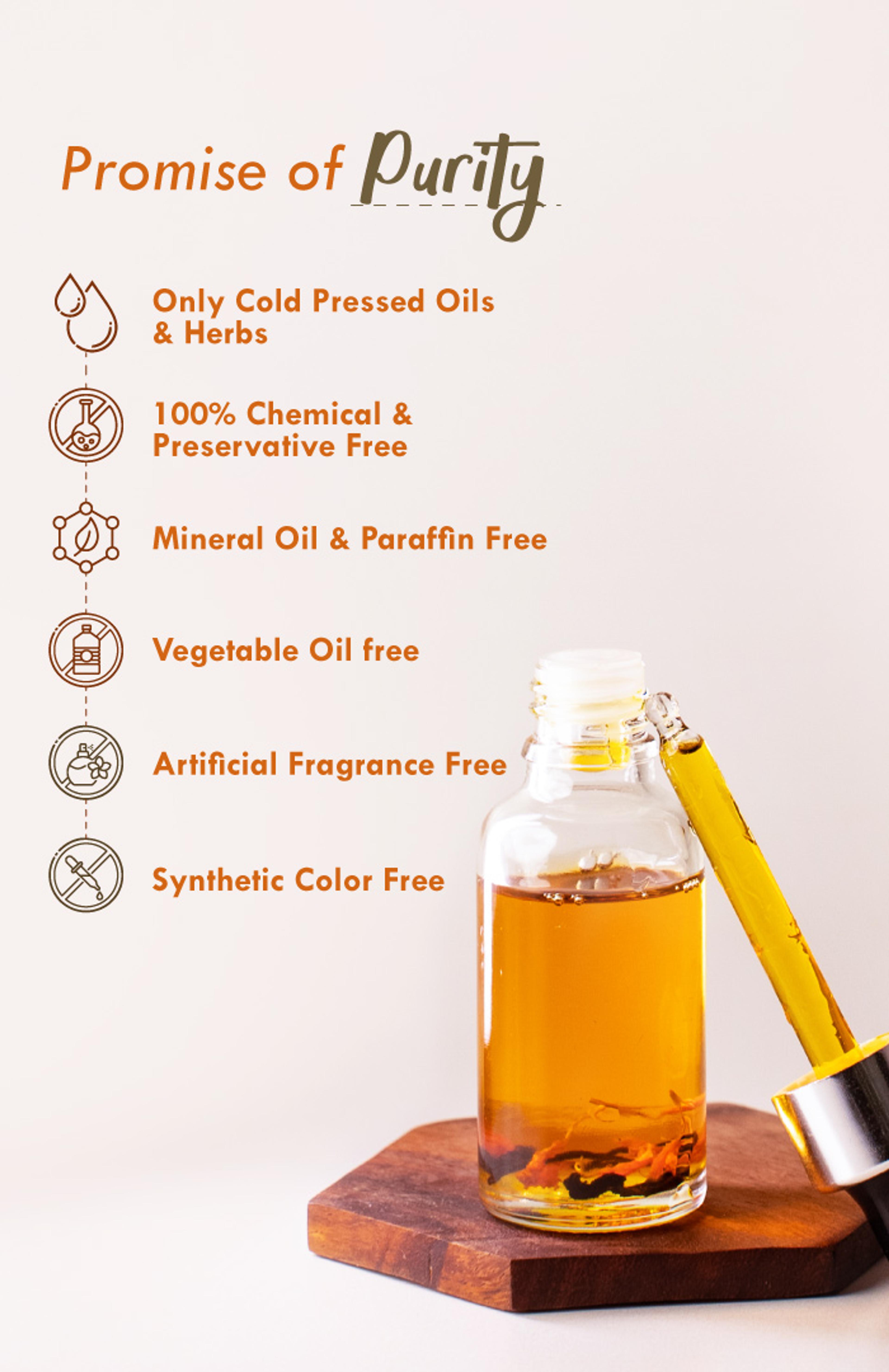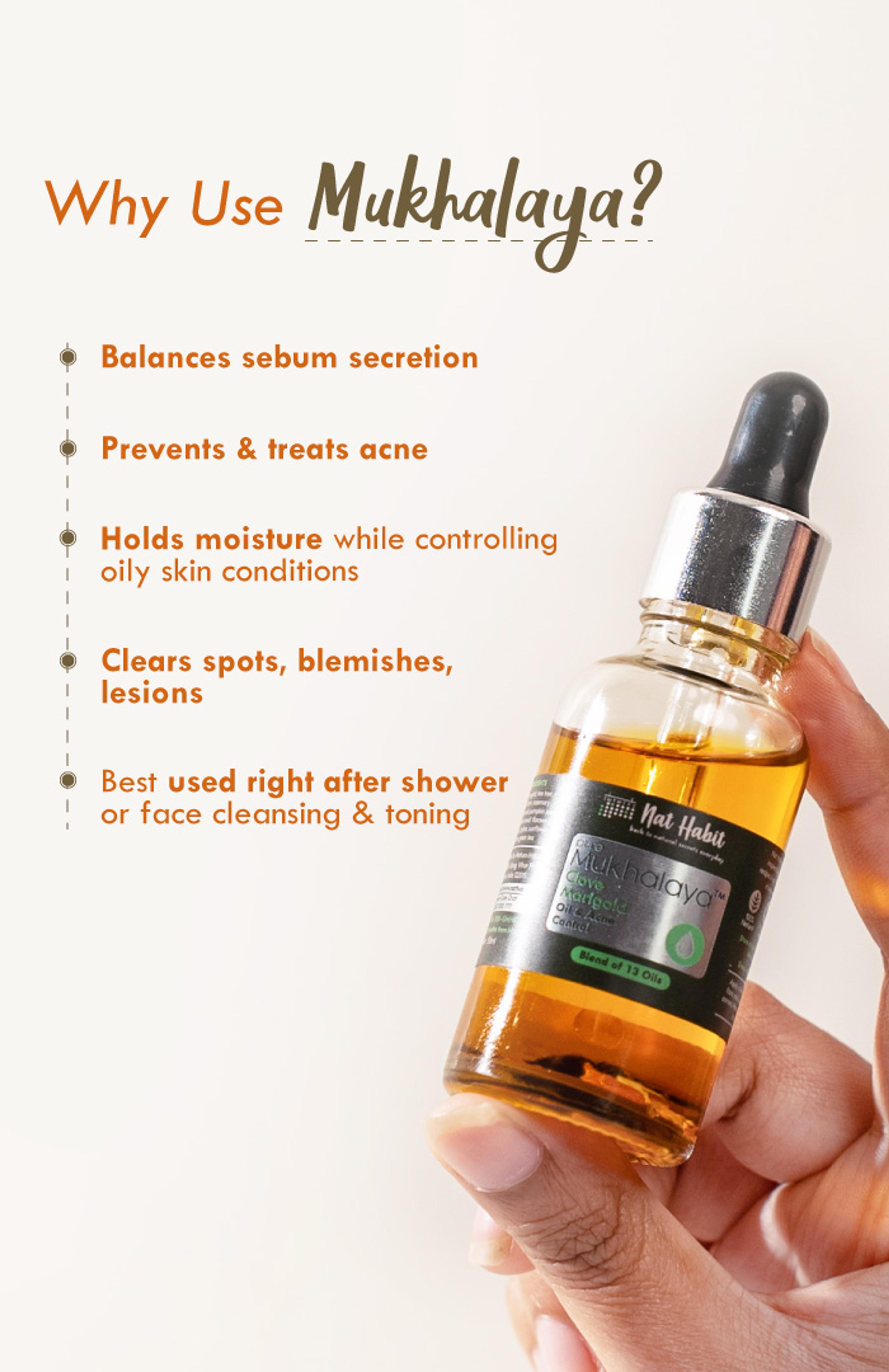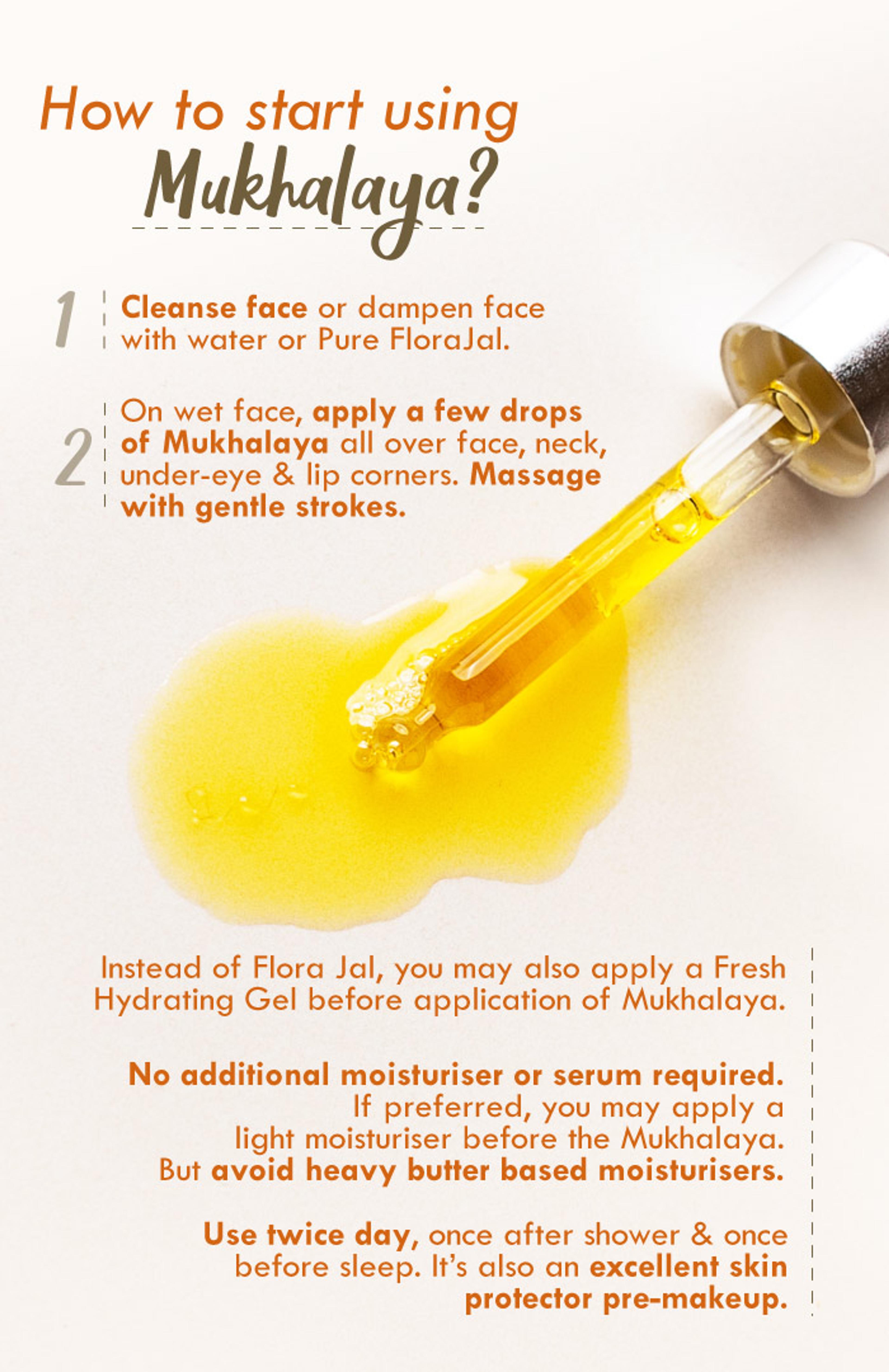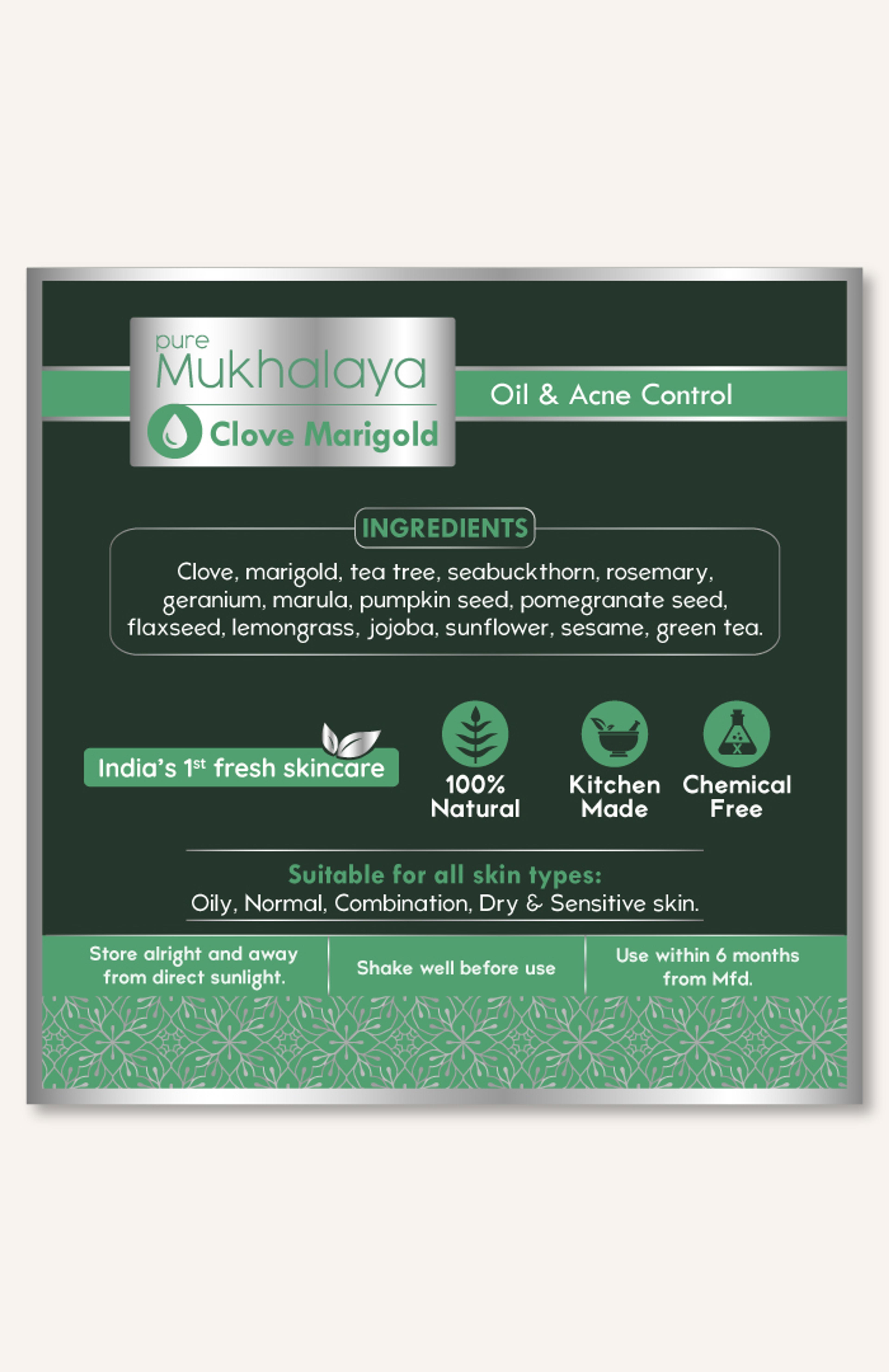 Pure Clove Marigold Mukhalaya
Oil & Acne Control
Pristine & fresh blend of 13 oils to treat oily skin condition & prevent acne with clove, marigold, tea tree, seabuckthorn and other spices & herbs
Delivery
Delhi, Bangalore
2-3 Days After Shipment
Pan India
4-5 Days After Shipment
Free shipping above ₹350
Cash on delivery available at ₹20 COD charges
MANUFACTURED AND MARKETED BY
NaturoHabit Private Limited GP-26, Sector 18, Gurugram, Haryana - 122015
NODAL OFFICER DETAIL
Madhuri Pandey madhuri@nathabit.in
MRP
Price shown above is inclusive of taxes
Key Benefits
Regular usage helps with
Balances sebum secretion.

Prevents & treats acne.

Holds moisture while controlling oily skin conditions.

Clears spots, blemishes, lesions.

Best used right after shower or face cleansing & toning.
Active Ingredients
Fresh & whole picks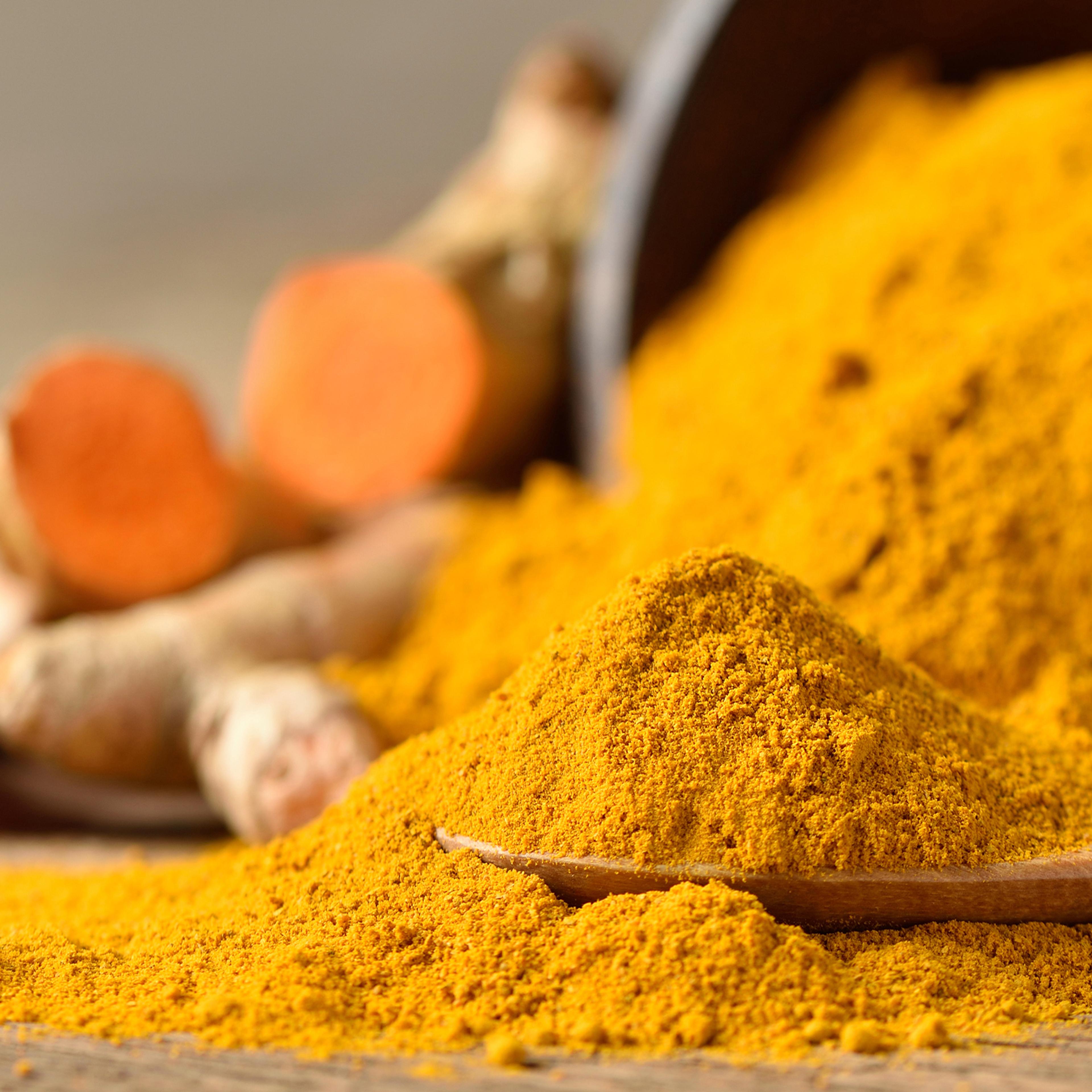 Turmeric
Rich in curcumin, inhibits melanin production, reduces dark spots, tan & pigmentation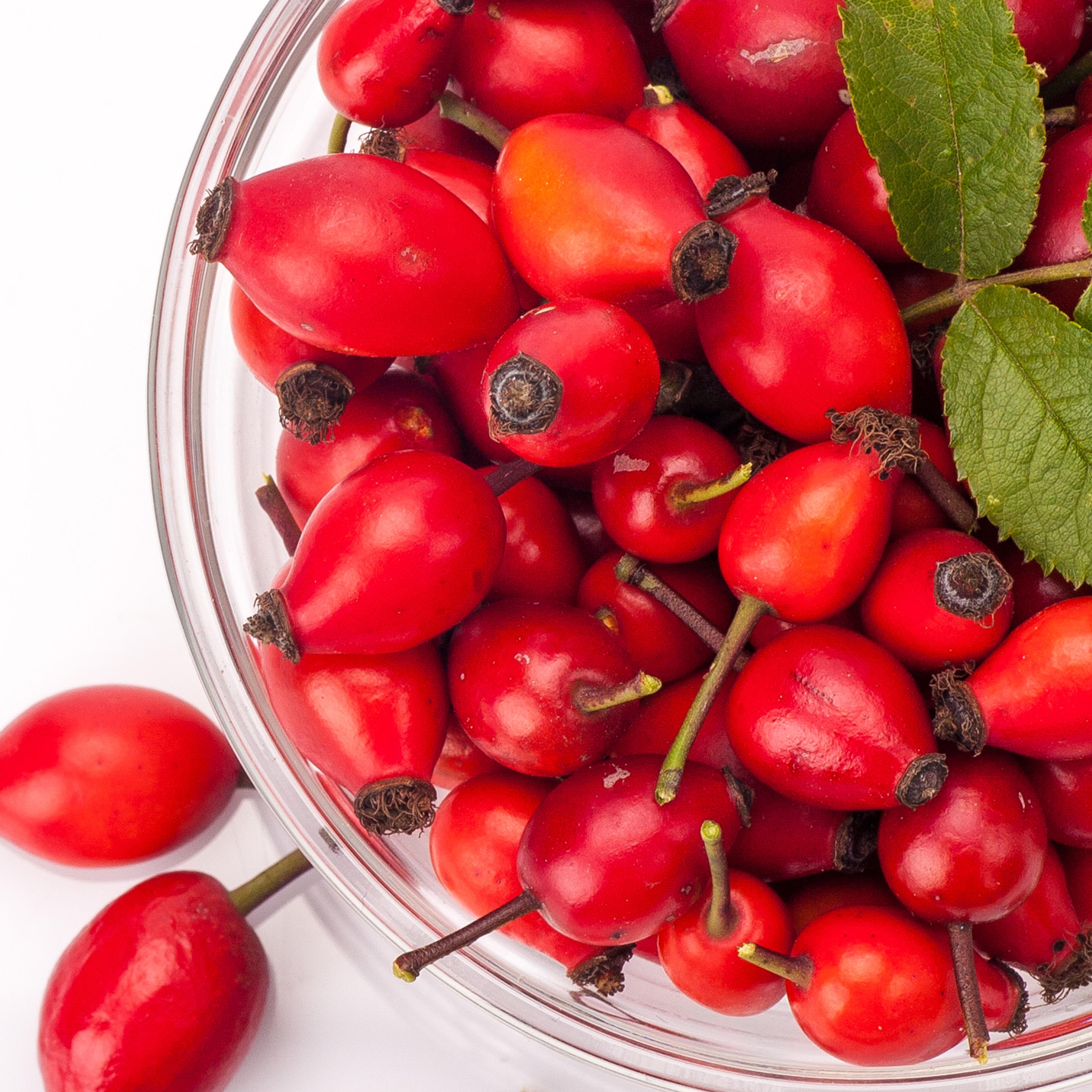 Rosehip
Rich in vitamins A, C & E, even tones skin & encourages cell turnover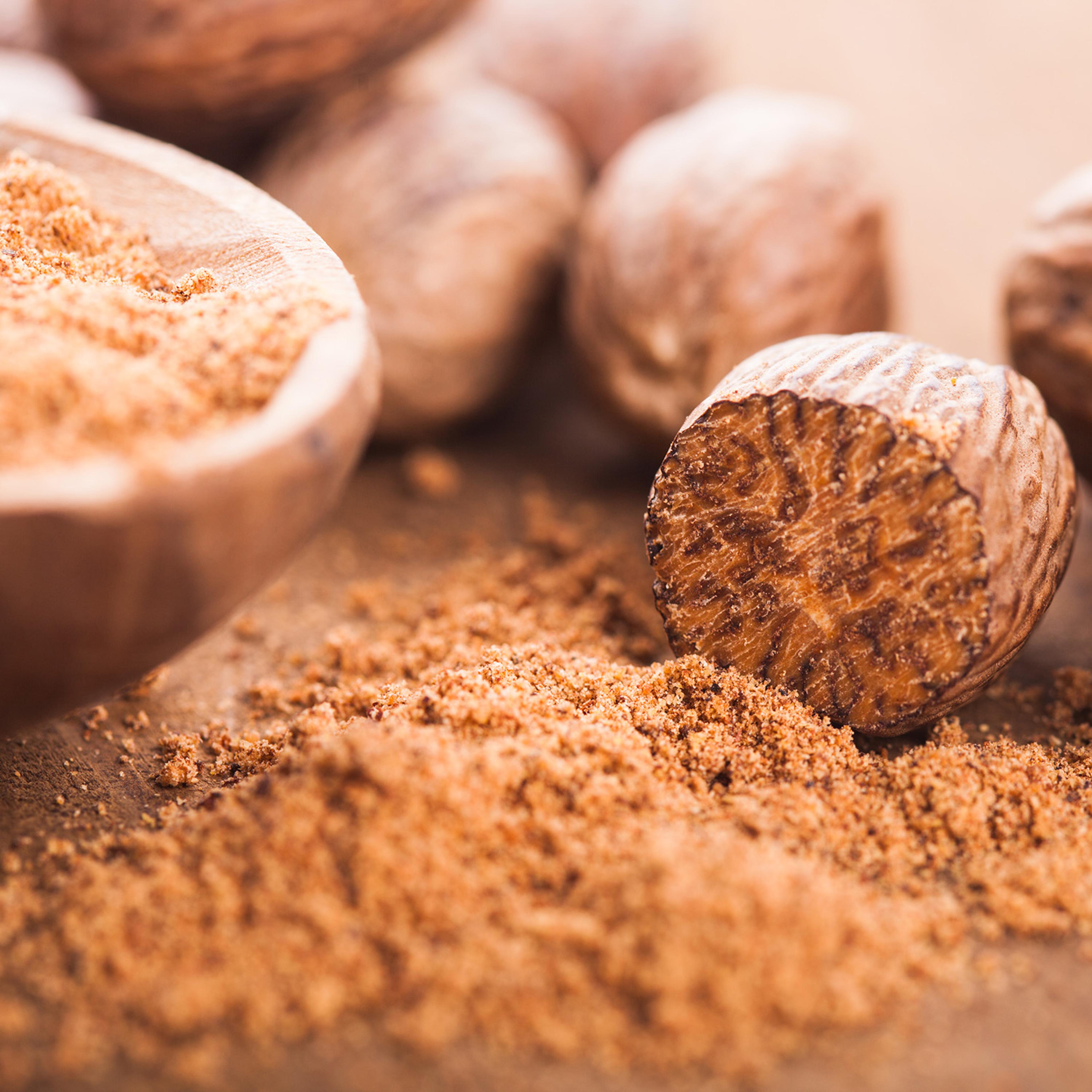 Nutmeg
Loaded with vitamins & nutrients reduces hyperpigmentation, dark spots & blemishes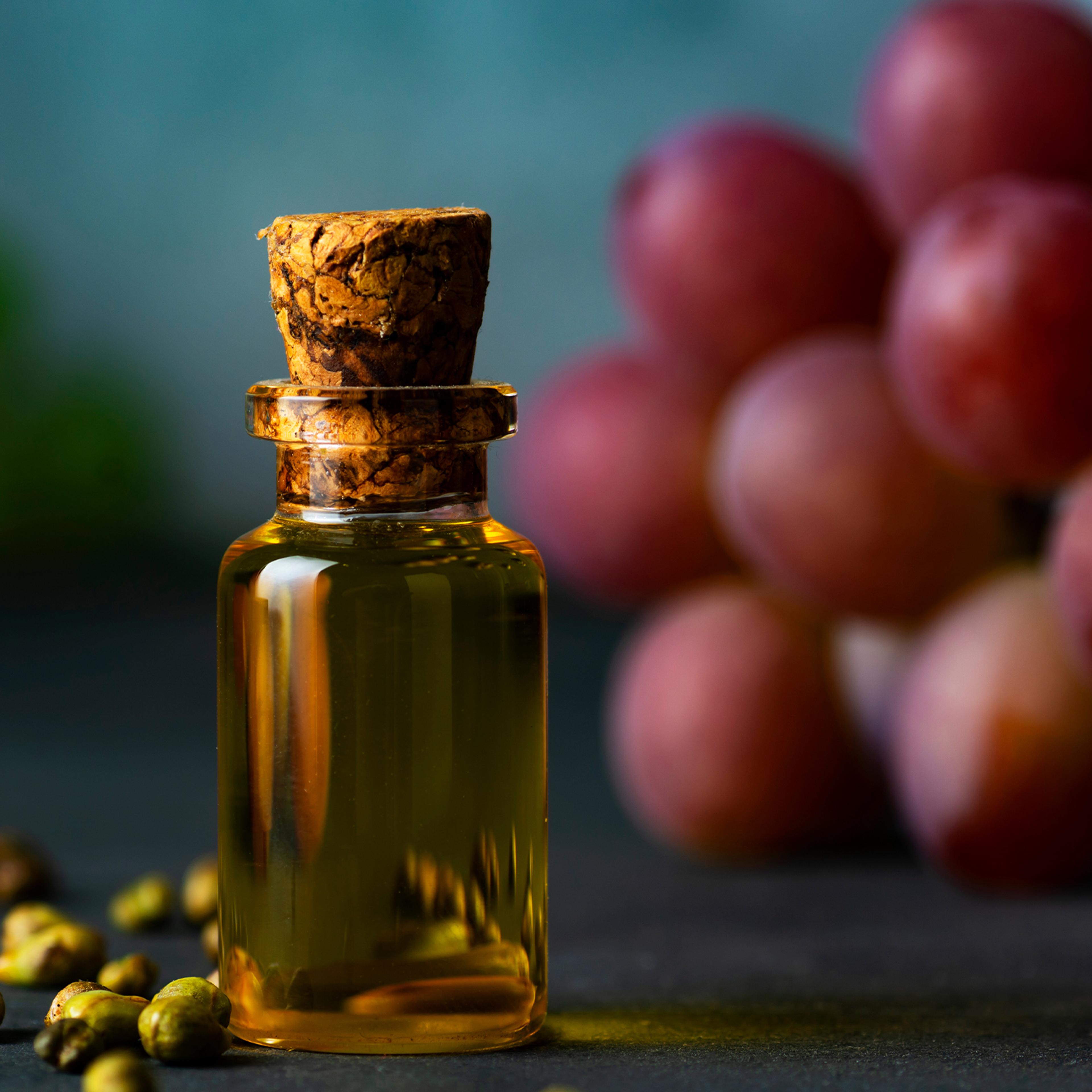 Grapeseed
Rich in vitamin E & linoleic acid lightens acne scars & sunspots, enhancing even tone complexion
Full Ingredient List: clove, marigold, tea tree, seabuckthorn, rosemary, geranium, marula, pumpkin seed, pomegranate seed, flaxseed, lemongrass, jojoba, sunflower, sesame & green tea.
Purity Check
✓
Only cold pressed oils and herbs used
✓
100% chemical and preservative free
✓
Artificial fragrance free
Trust me it is the best facial oil serum .. it reduced my pores and acne and I got a pinkish glow on my cheeks my skin is almost clear now. Thank you so much for such good products

Ashwathy None
Usage & Suitability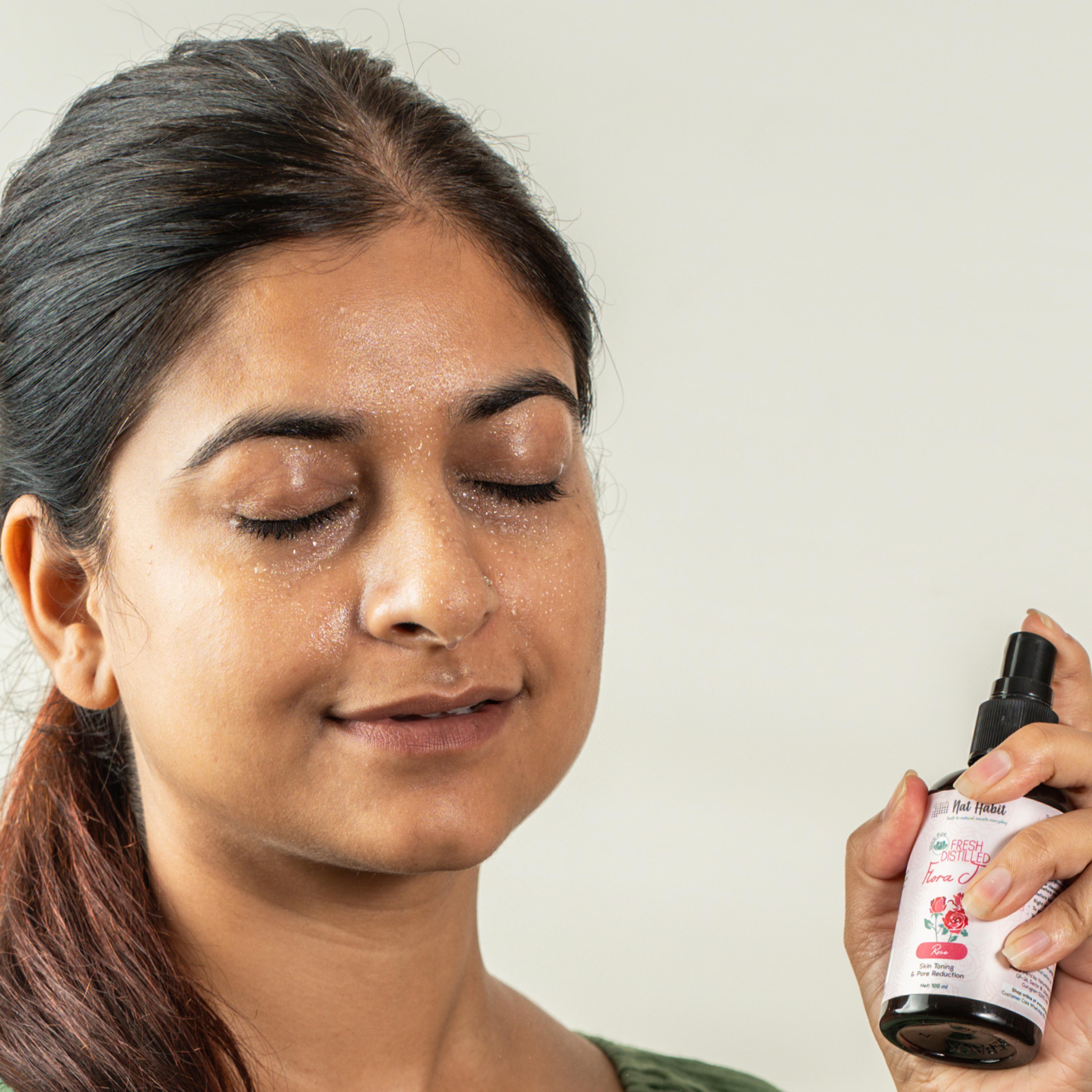 Step 1
Cleanse face or dampen face with water or Pure FloraJal or Fresh Hydrating Gel before application of Mukhalaya.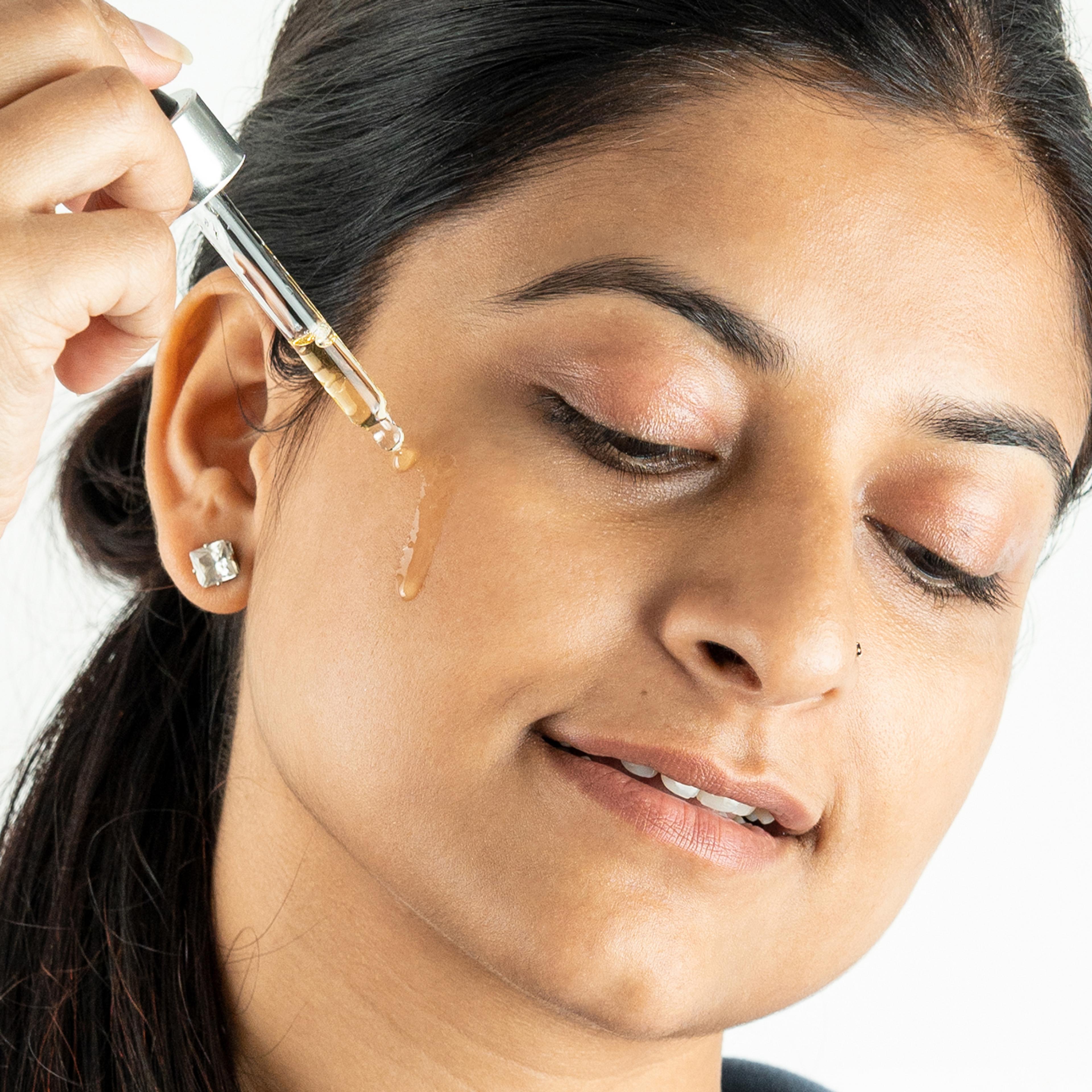 Step 2
On wet face, apply a few drops of Mukhalaya covering all over face & neck.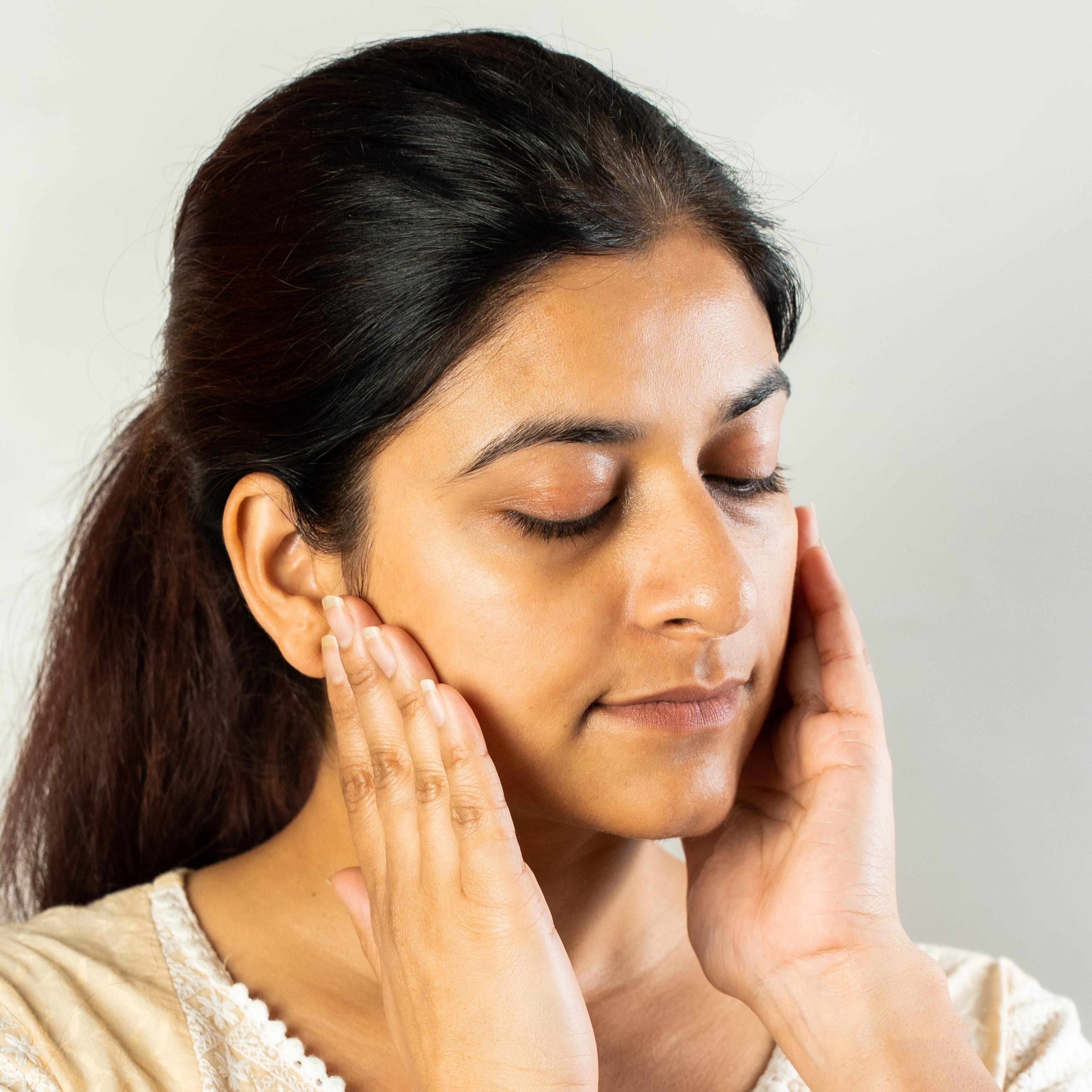 Step 3
Massage with gentle strokes on face, neck, under-eye & lip corners. Use twice a day, once after shower & once before sleep.
Applying oil on dry face without hydration will cause breakouts. Always make your skin a little wet with water, flora jal or light moisturiser and then apply the oil.
For all seasons. In summer & humid conditions, use less quantity of Mukhalaya & more FloraJal or water, during application.
For oily & combination skin.
Additional Moisturisation
No additional moisturiser or serum required. If preferred, you may apply a light moisturiser before the Mukhalaya. But avoid heavy butter based moisturisers.
Can be used as it is an excellent pre-makeup skin protector.
A few skin types may feel a little tingling or burning sensation; it's just your skin getting used to the nutmeg that clears skin. After a few uses, you'll not experience the sensation.
Facial oils balance skin's state, providing absolute healing & rejuvenation while nourishing deep lying tissues, ultimately protecting supple youth.

Ayurveda
More Information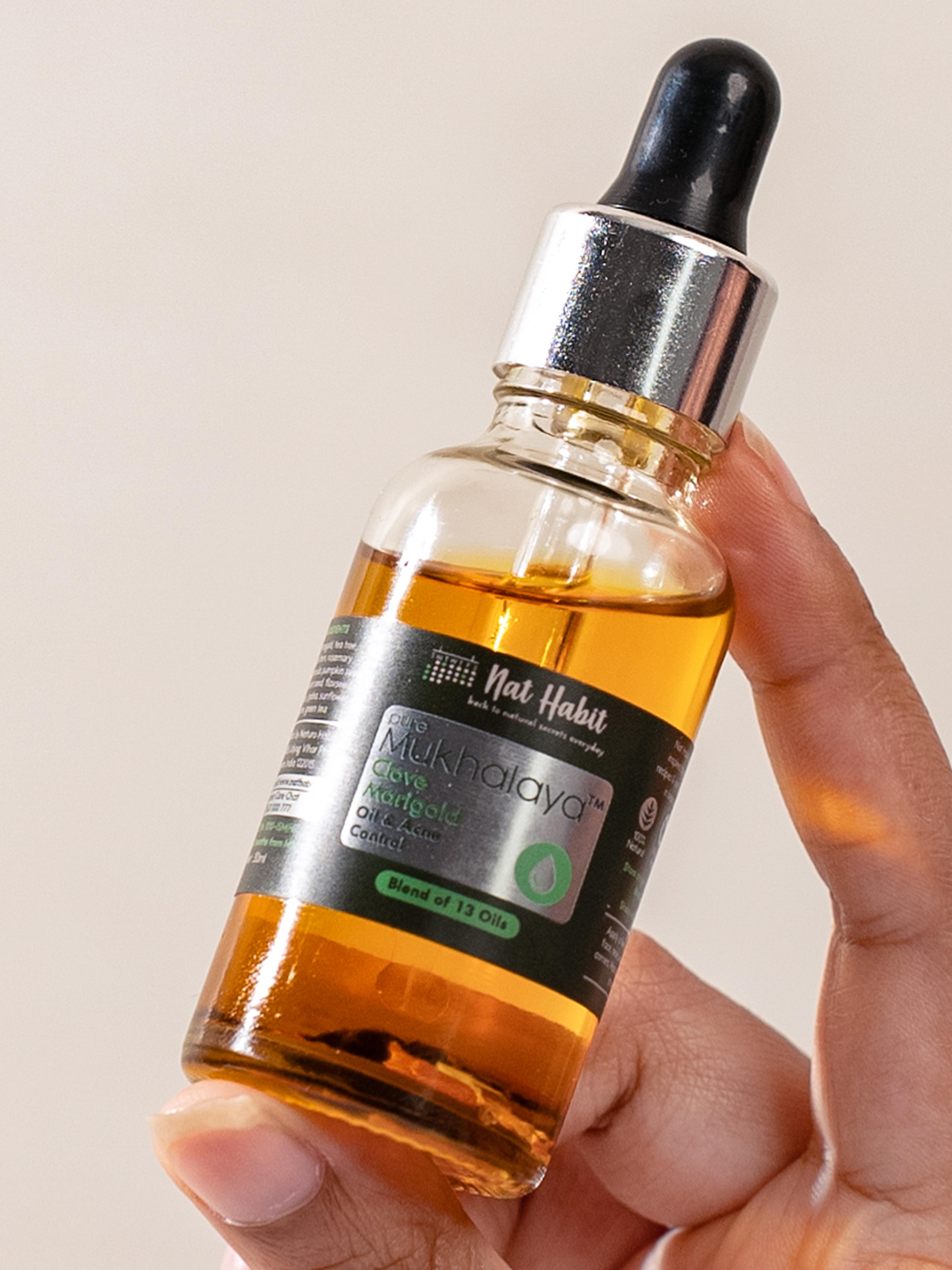 Store airtight away from direct sunlight.
Use within 6 months of Mfg. Date.
Explore our other Categories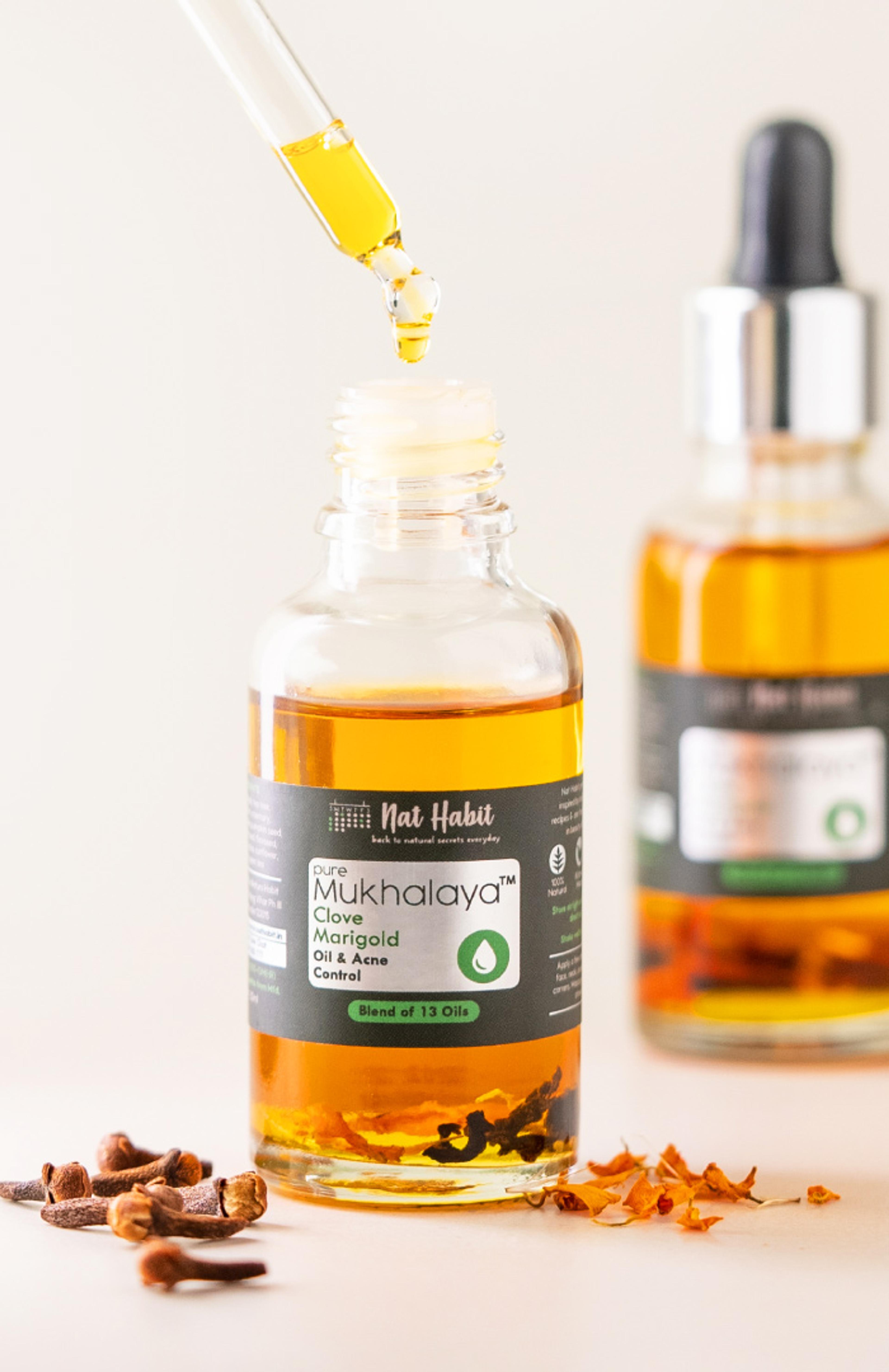 Pure Clove Marigold Mukhalaya