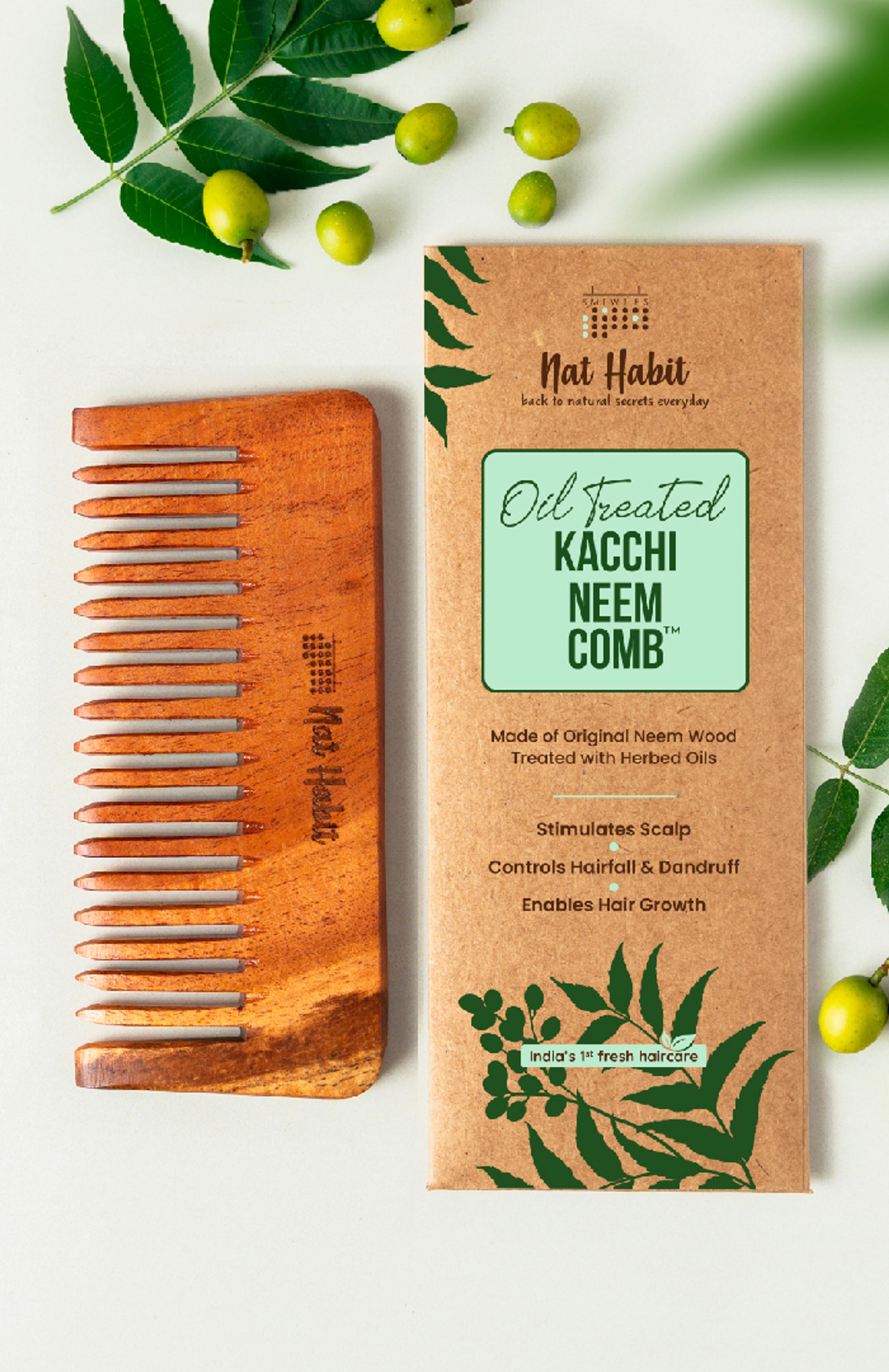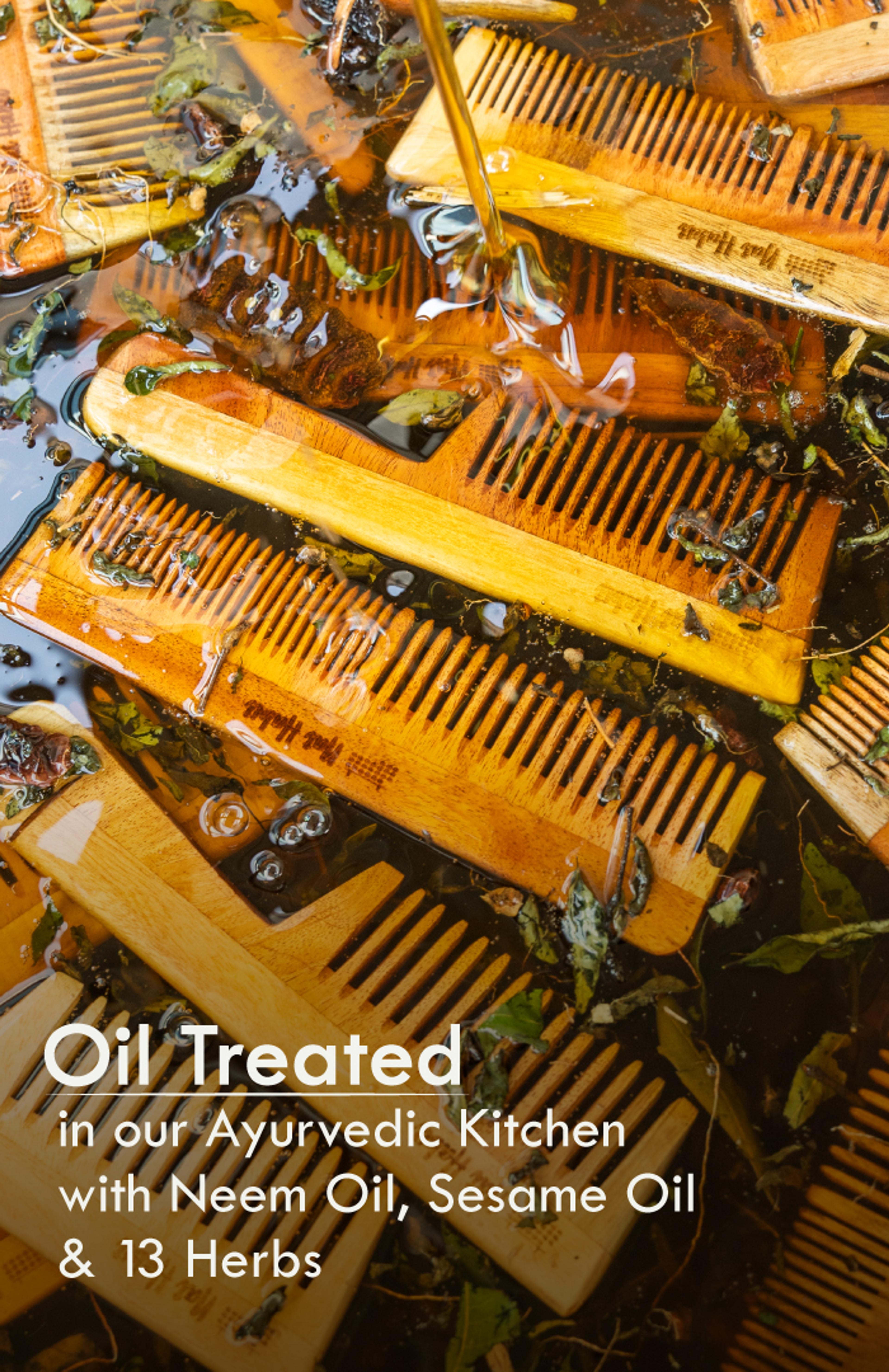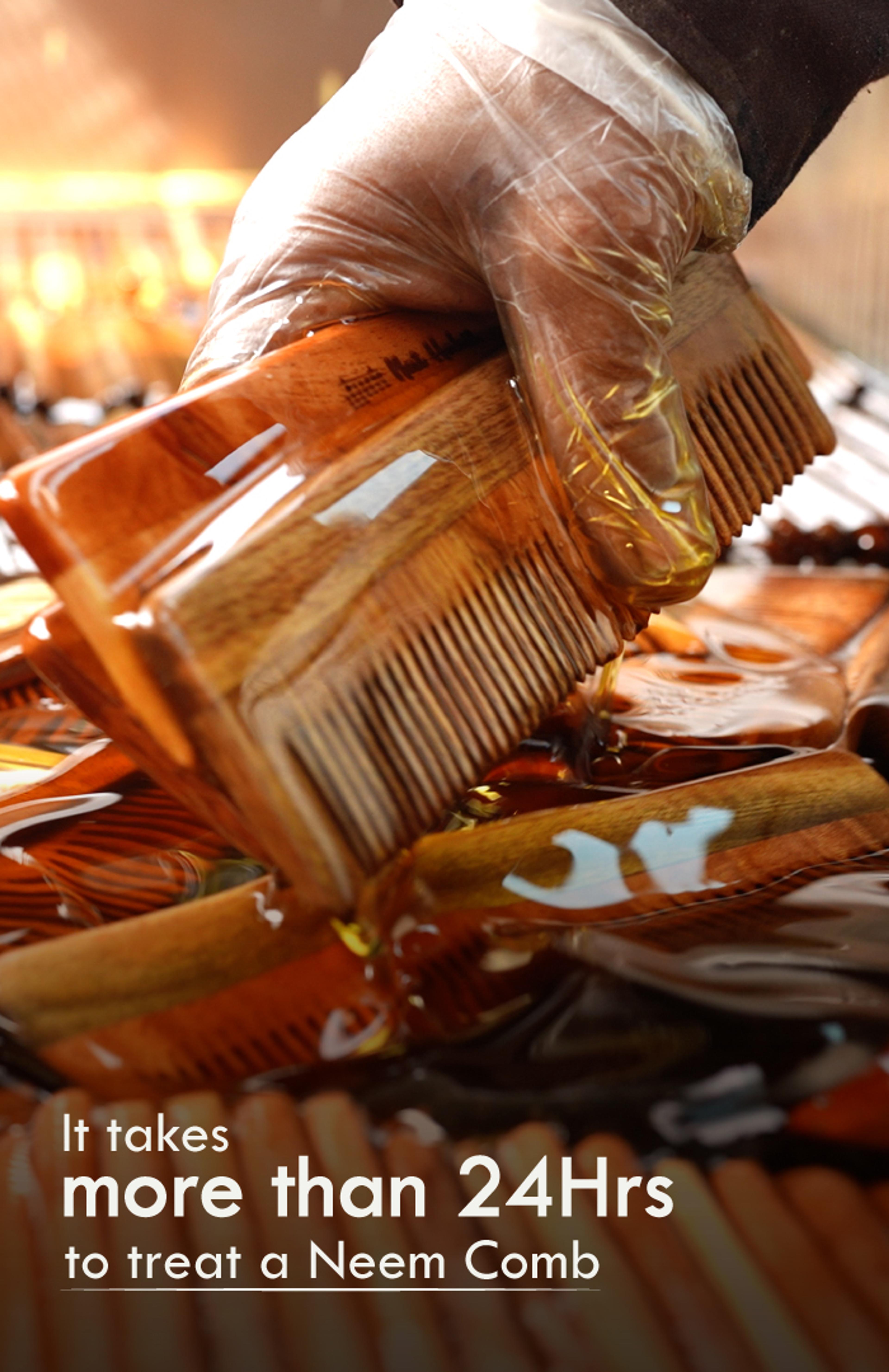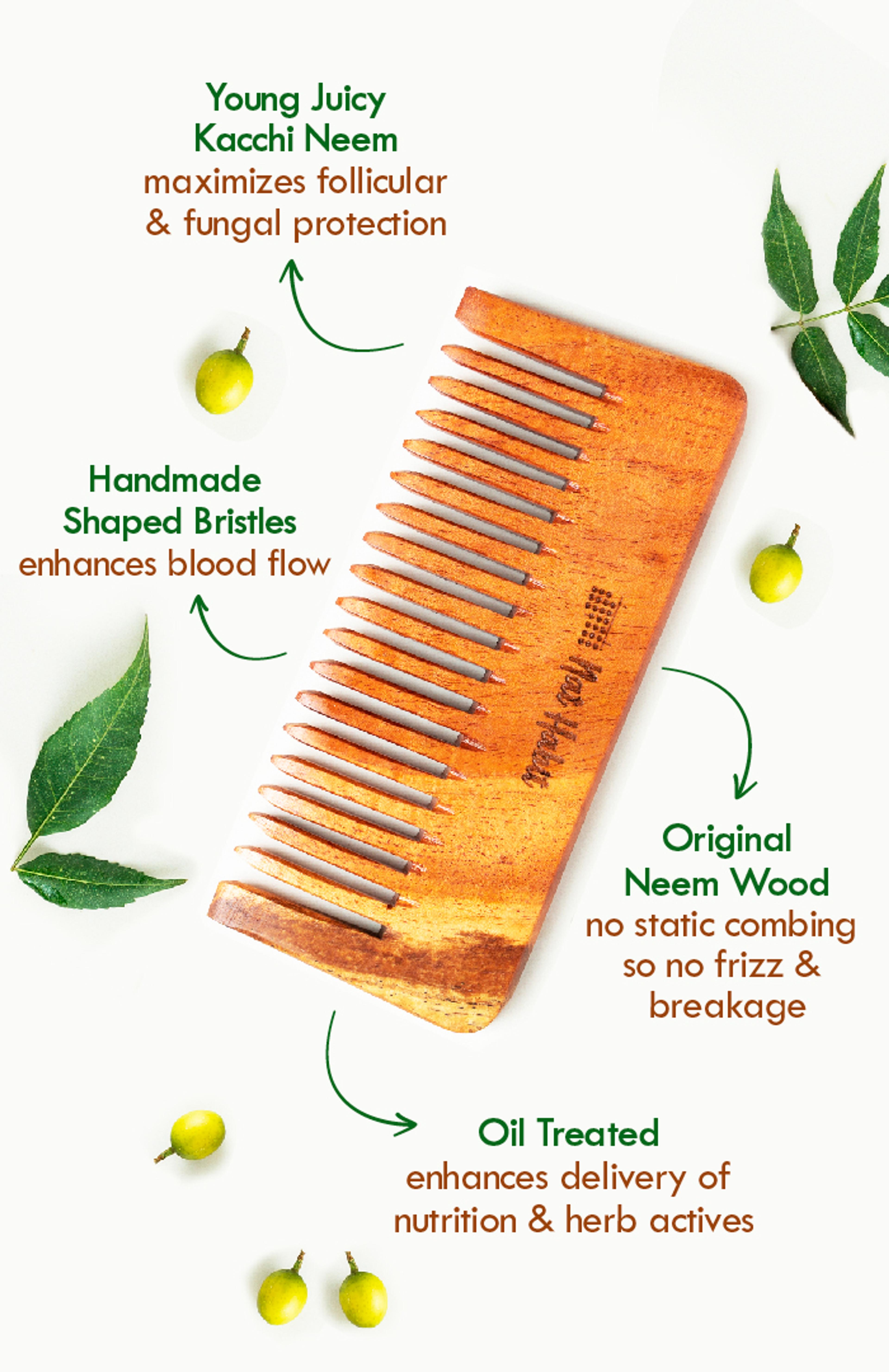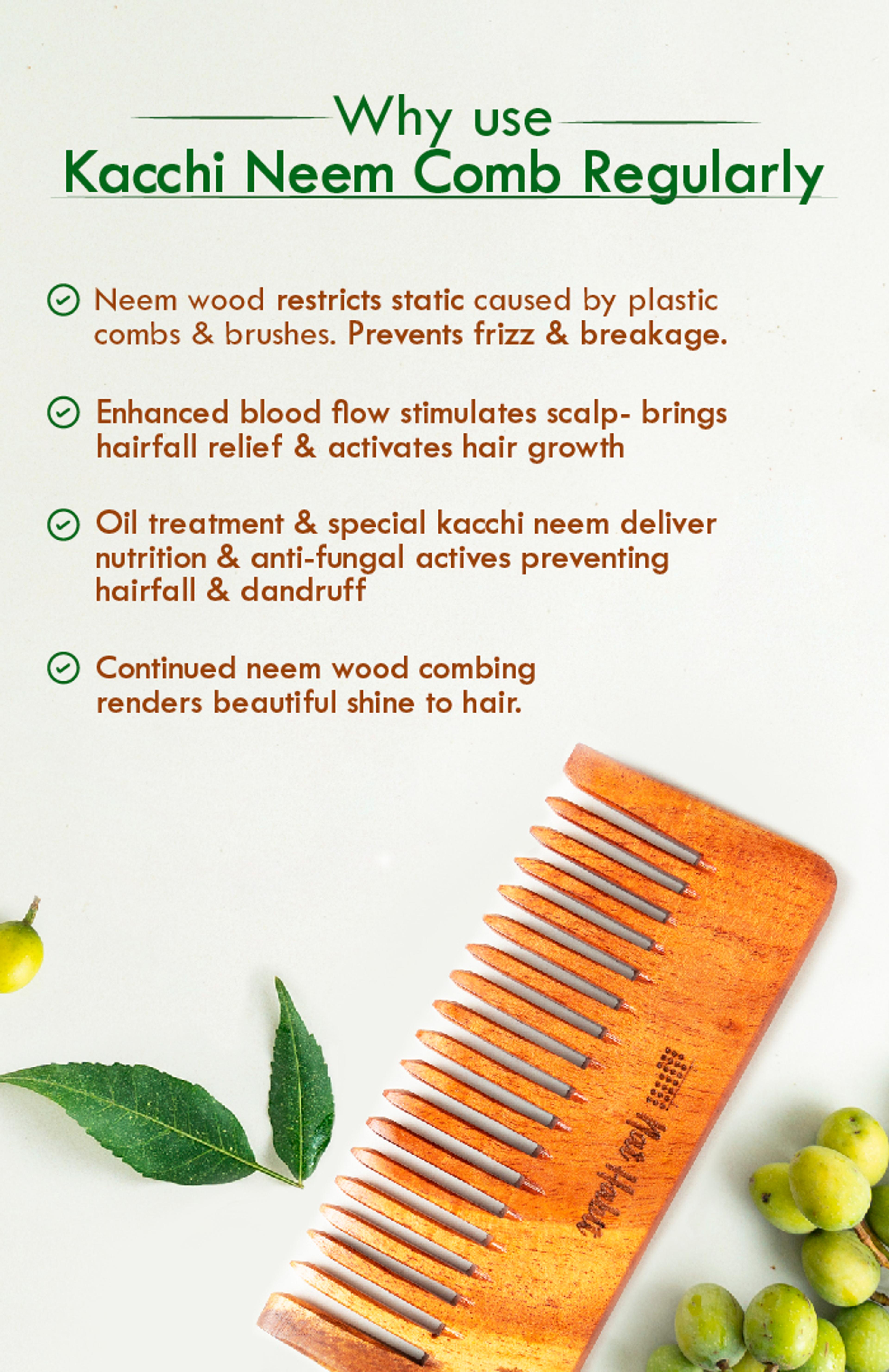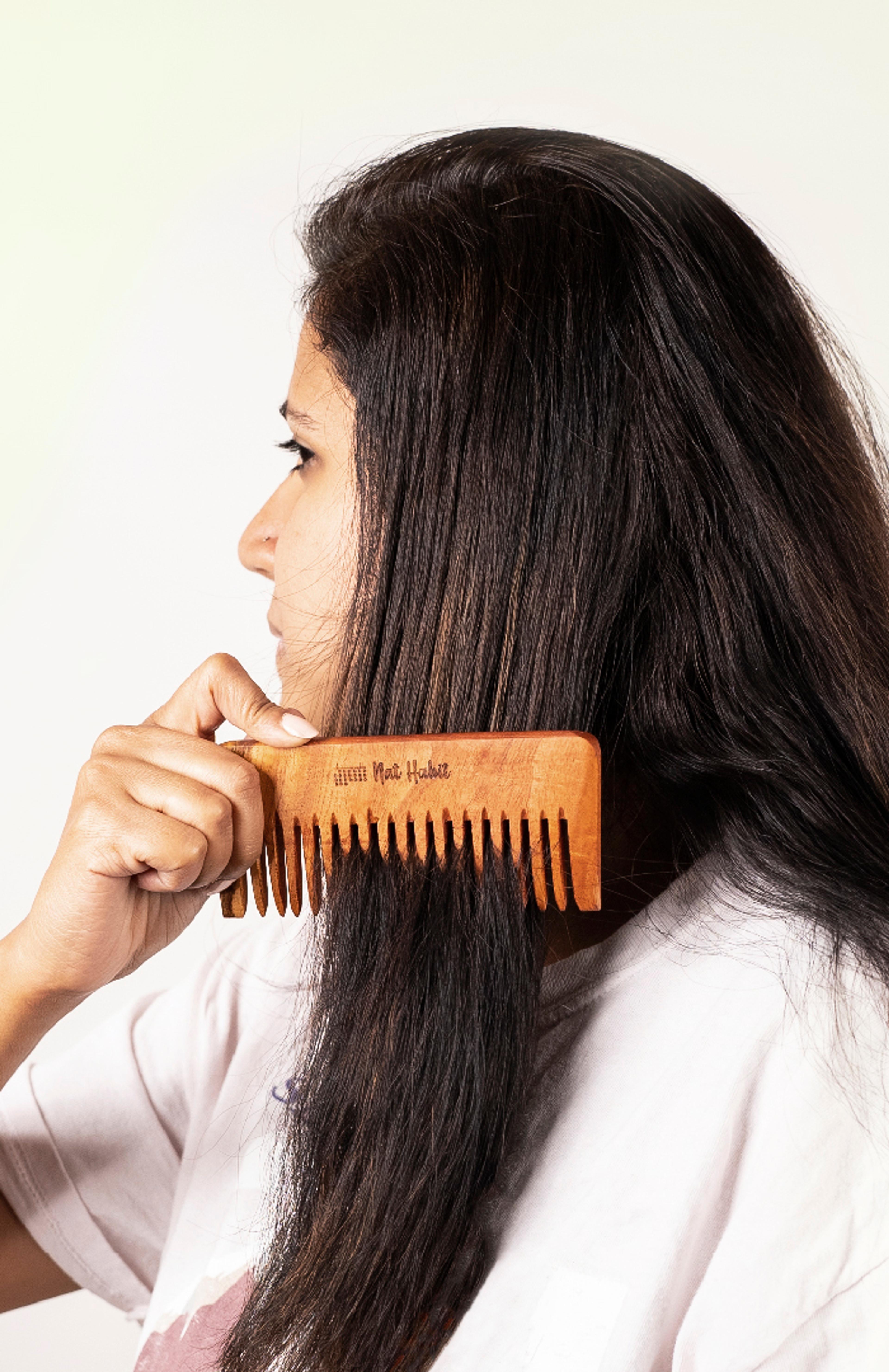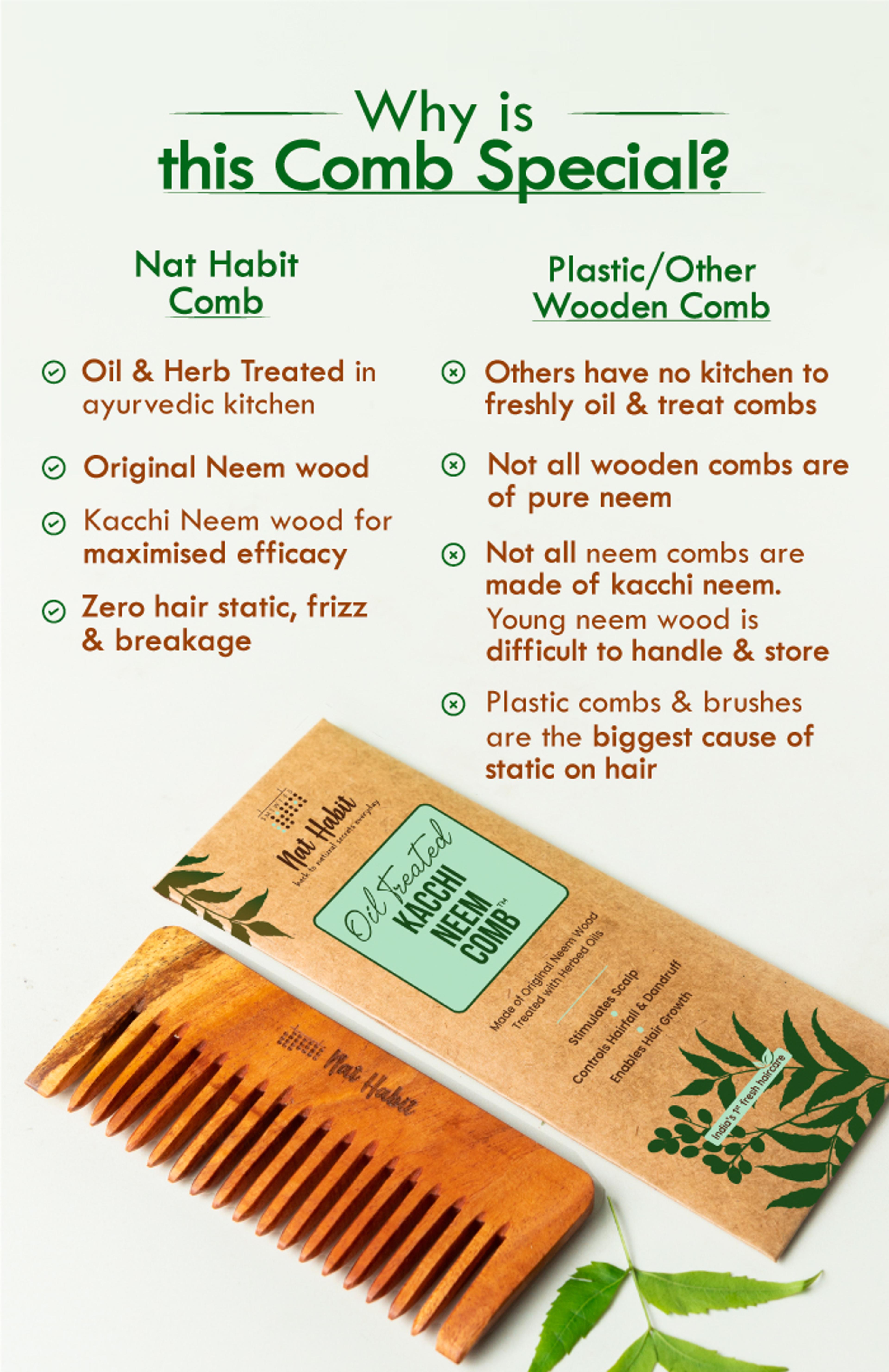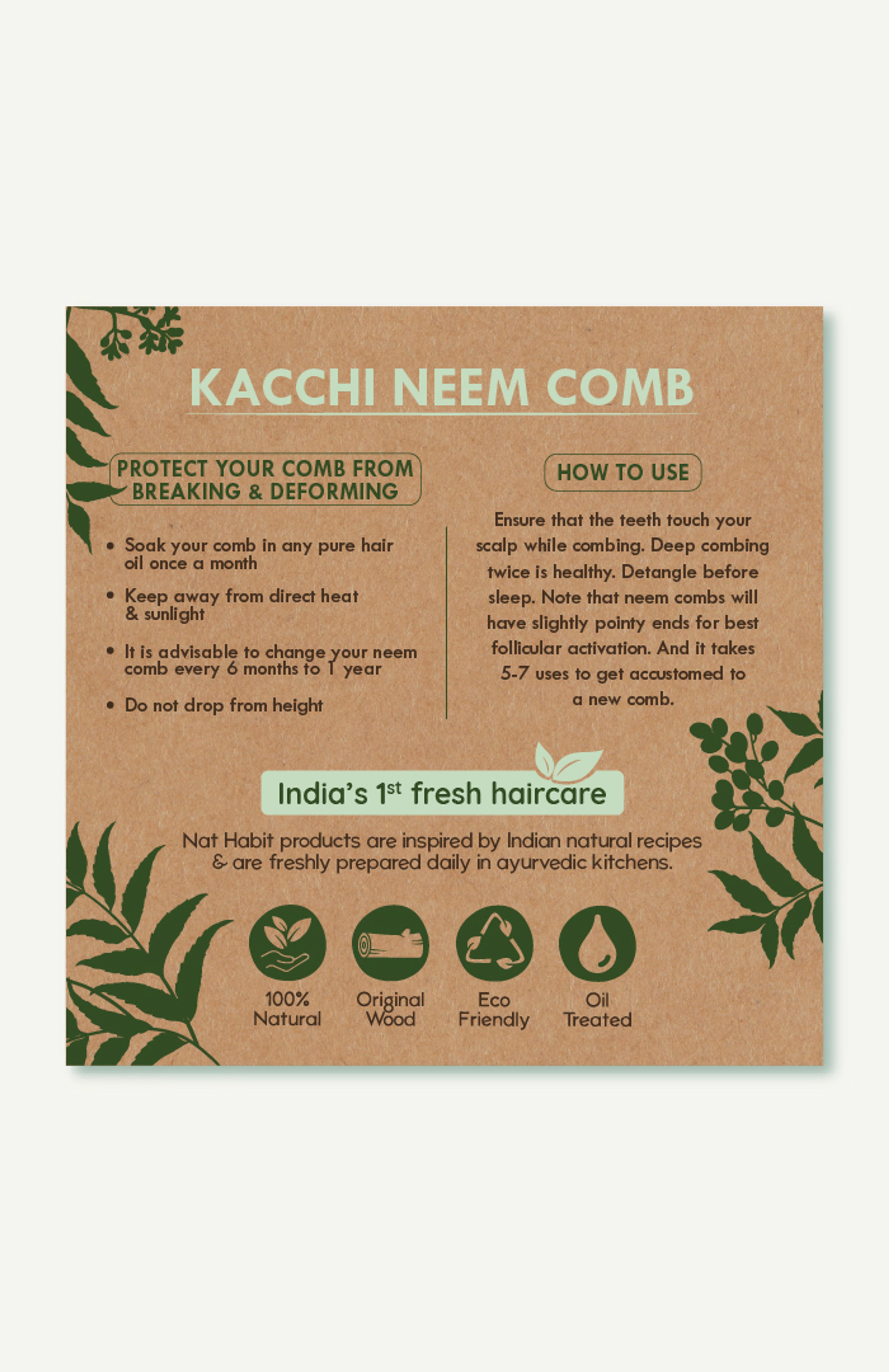 Wide Tooth Kacchi Neem Shampoo Comb
Post Shampoo Detangling, Small Size
Oil treated in our Ayurvedic kitchen for more than 24 hrs with neem oil, sesame oil & 13 herbs. For Post Shampoo Detangling - Ergonomic SMALL design. Also perfect for traveling.
Delivery
Delhi, Bangalore
2-3 Days After Shipment
Pan India
4-5 Days After Shipment
Free shipping above ₹350
Cash on delivery available at ₹20 COD charges
MANUFACTURED AND MARKETED BY
NaturoHabit Private Limited GP-26, Sector 18, Gurugram, Haryana - 122015
NODAL OFFICER DETAIL
Madhuri Pandey madhuri@nathabit.in
MRP
Price shown above is inclusive of taxes
Power Combing
✓
Young juicy kacchi neem maximizes follicular & fungal protection
✓
Handmade shaped bristles enhances blood flow
✓
Original neem wood, no static combing so no frizz & breakage
✓
Oil treated enhances delivery of nutrition & herb actives
Why Use
Kacchi neem comb regularly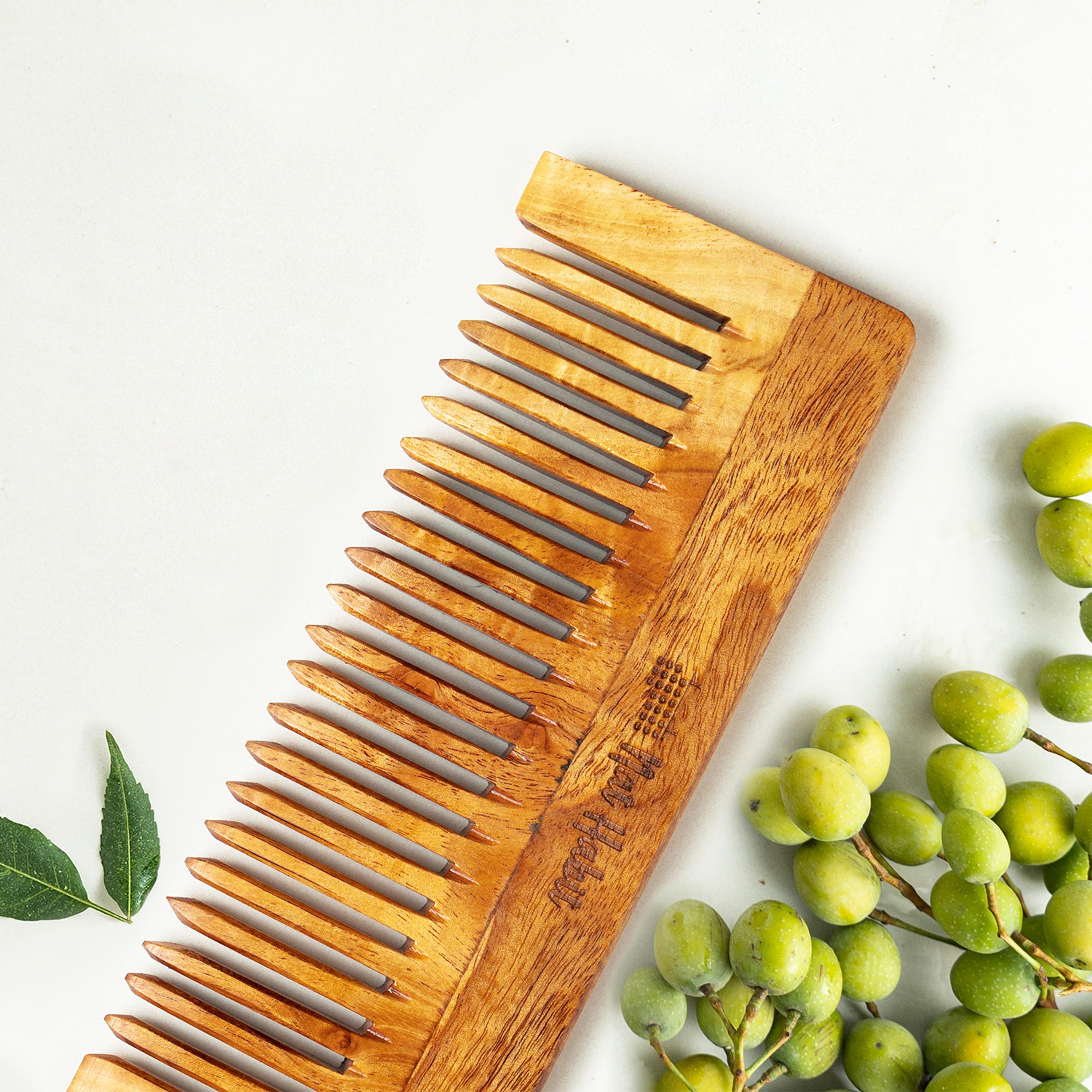 Click to Know More
Prevents frizz & breakage
Neem wood restricts static caused by plastic comb & brushes .
Enhanced blood flow stimulates scalp- brings hairfall relief & activates hair growth.
Prevents hairfall & dandruff
Oil treatment & special kacchi neem deliver nutrition & anti-fungal actives preventing hairfall & dandruff.
Continued neem wood combing renders beautiful shine to hair.
Key Benefits
Regular usage helps with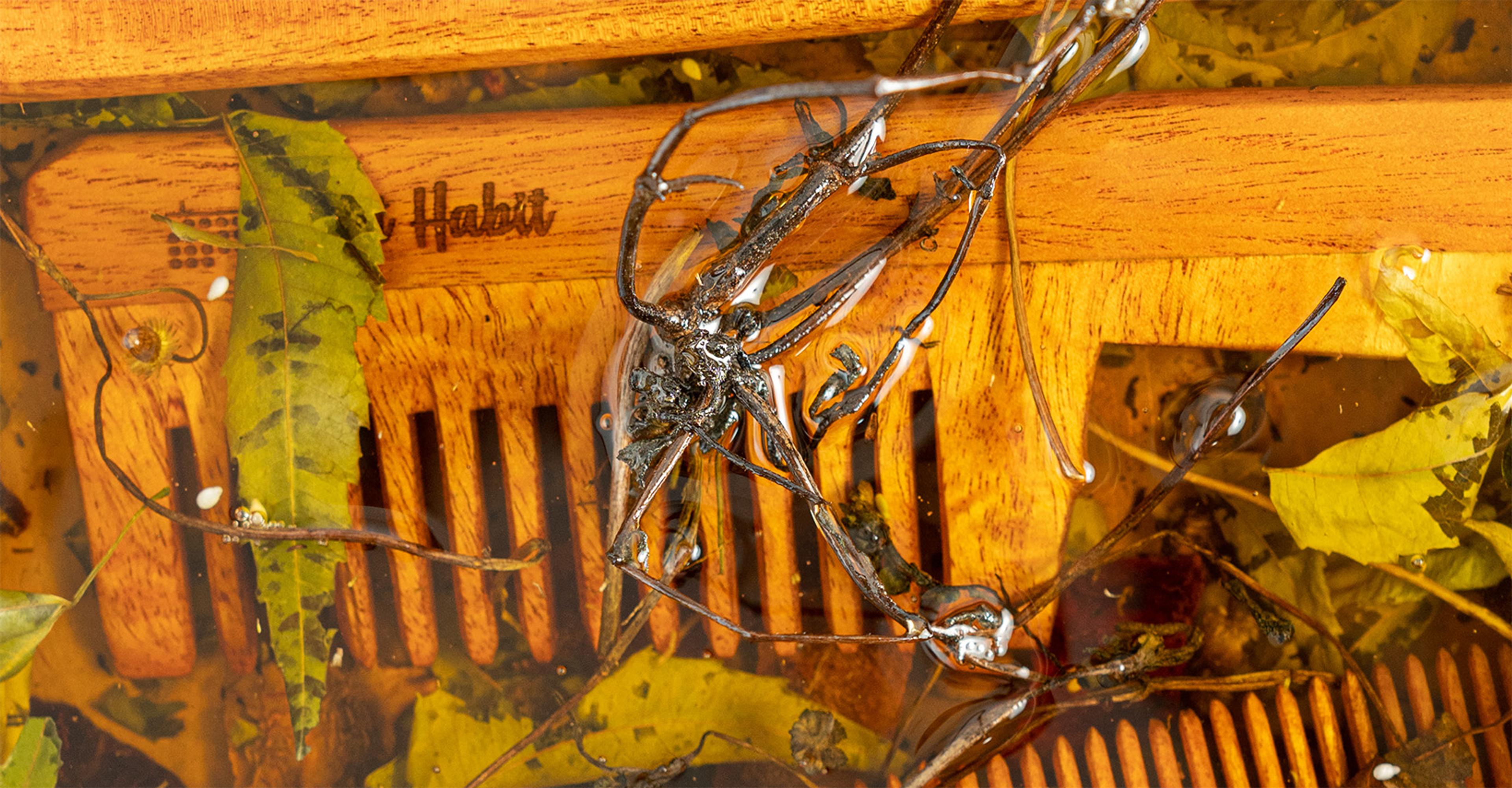 Drives hair growth & thickness.

Halts hair loss & thinning.

Prevents brittleness, cuticle damage & hair breakage.

Treats dandruff & itchy scalp.

Prevents premature hair greying.

Induces good sleep with deep combing.

Relieves anxiety, fatigue & stress.
Works wonderfully on wet hair. It is easy to hold & gently detangles without breaking.

Heena, Harayana
In the Making
Kacchi Neem Comb
Why is this Comb Special
Plastic/ Other Wooden Comb
Oil & herb treated in ayurvedic kitchen
Less or no oil or herbs treatment at all
Plastic or other wooden material
Kacchi neem wood for maximised efficiency
No kacchi neem used as it is difficult to handle & store
ZERO hair static, frizz & breakage
Plastic combs & brushes are the biggest cause of static on hair
Usage & Suitability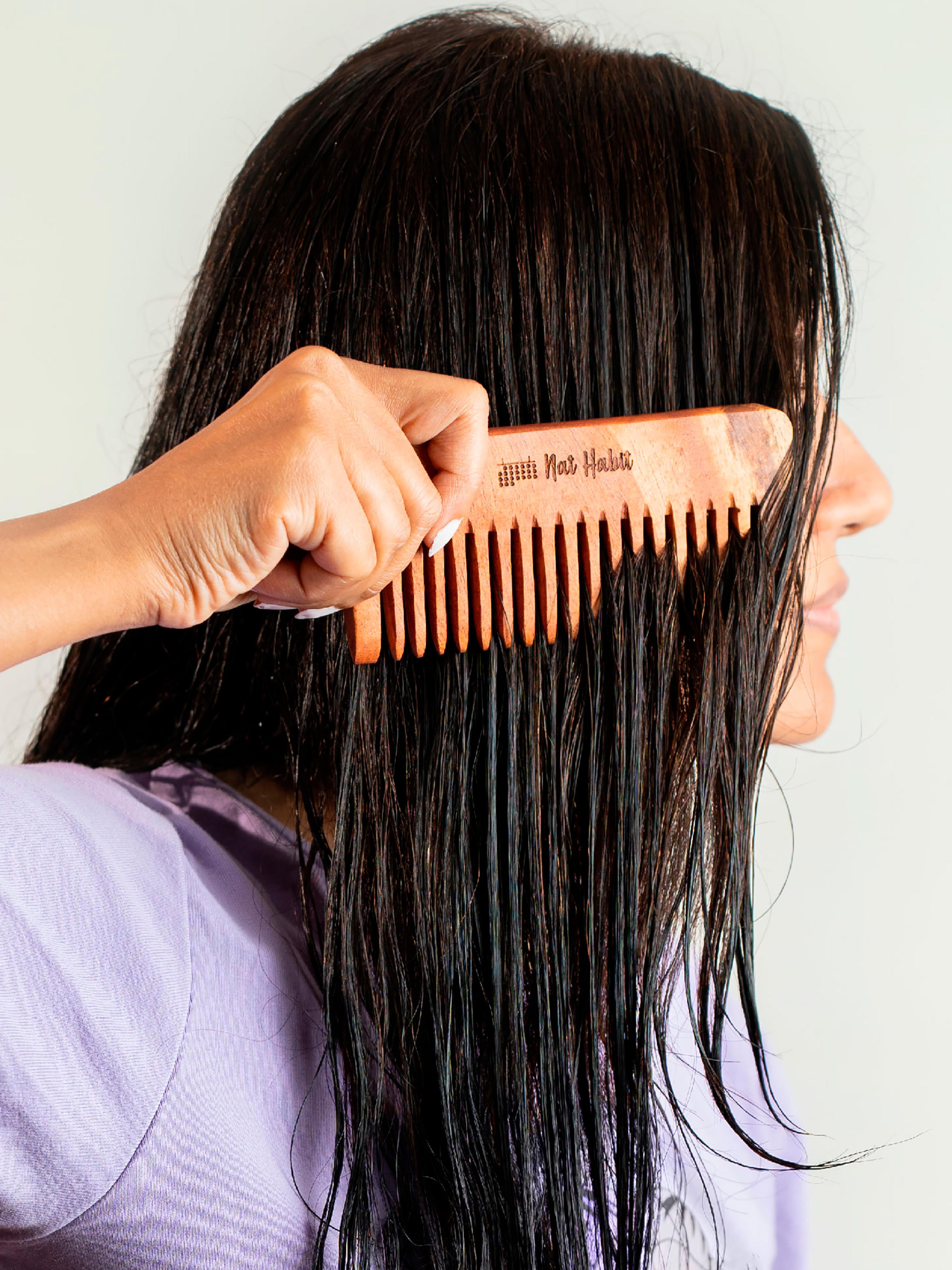 Ensure that the teeth touch your scalp while combing. Deep combing twice is healthy. Detangle before sleep. Note that neem combs will have slightly pointy ends for best follicular activation. And it takes 5-7 uses to get accustomed to a new comb.
Suitable for and dimensions
Well suited for gentle detangling of long/thick hair.
L x W = 13.42 x 6.1 (in cms)
Nice comb for using after hair wash. Detangles easily without being harsh on tresses.

Unnati, Delhi
Maintenance Tips
Care for your neem comb for enhanced benefits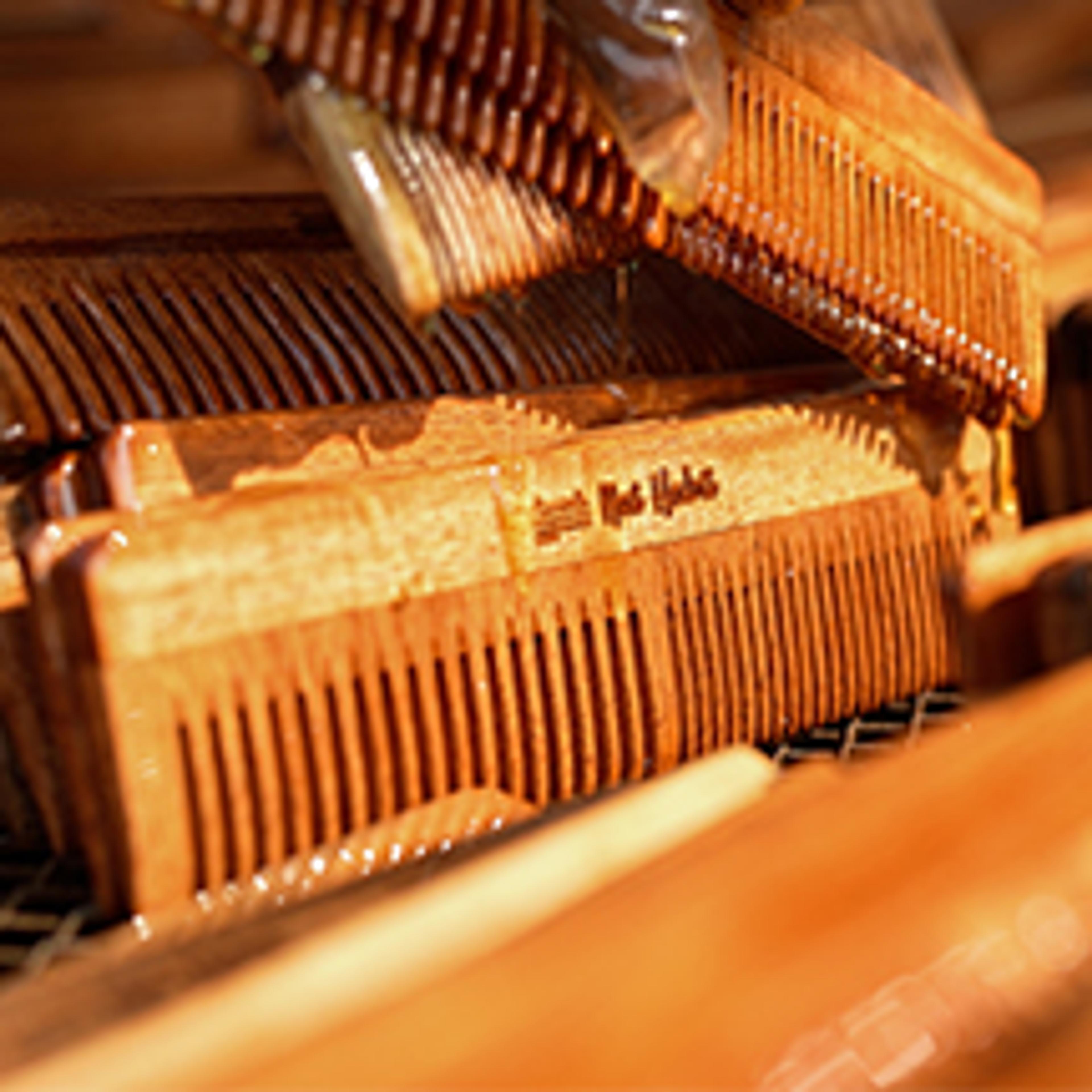 Soak your comb in any pure herbal hair oil once a month for best results.

Keep away from direct heat & sunlight.

Neem combs change shape with time & use. They also dry out over time.

It is advisable to change your neem comb every 6 months to 1 year.
Explore our other Categories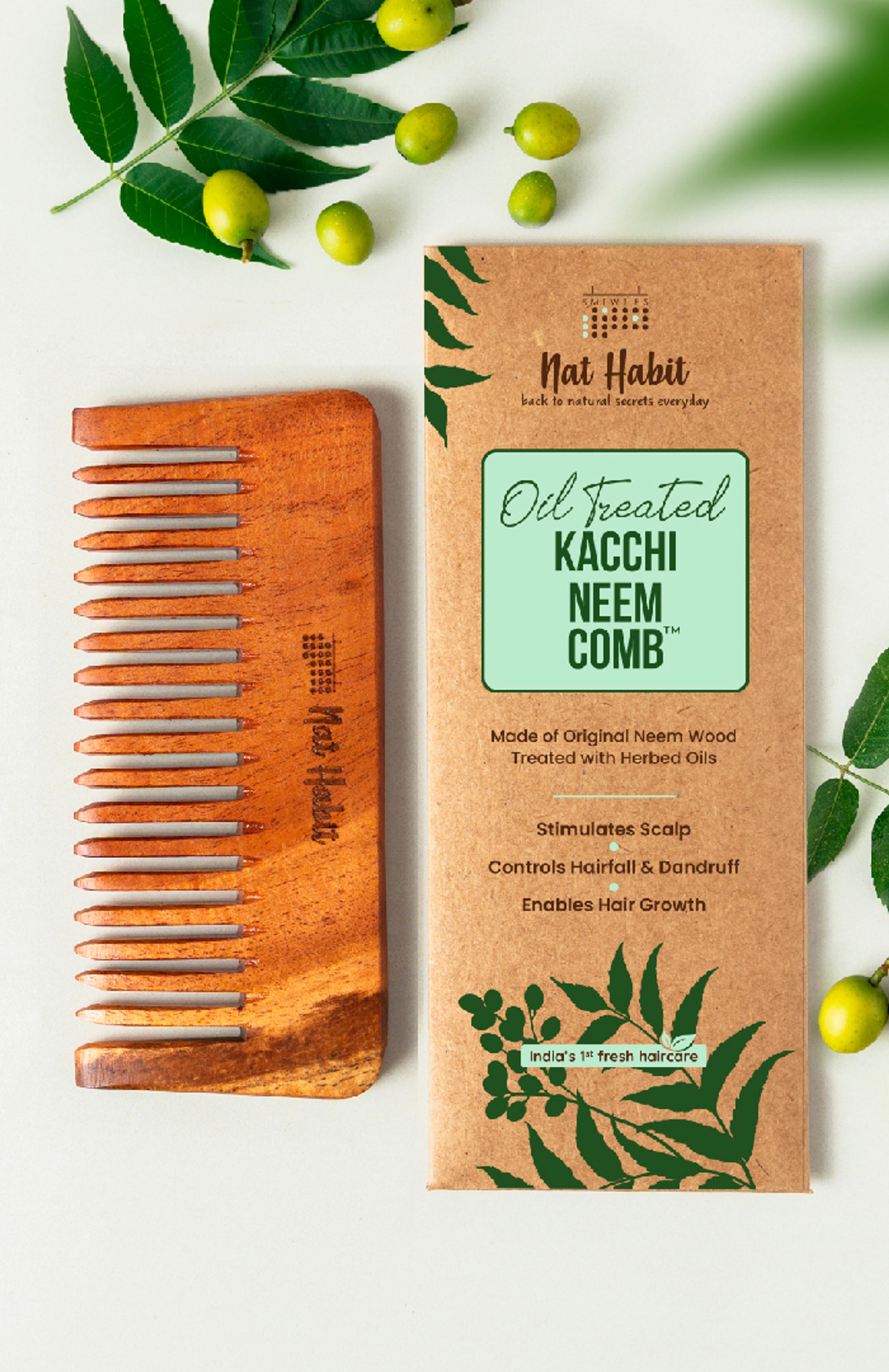 Wide Tooth Kacchi Neem Shampoo Comb