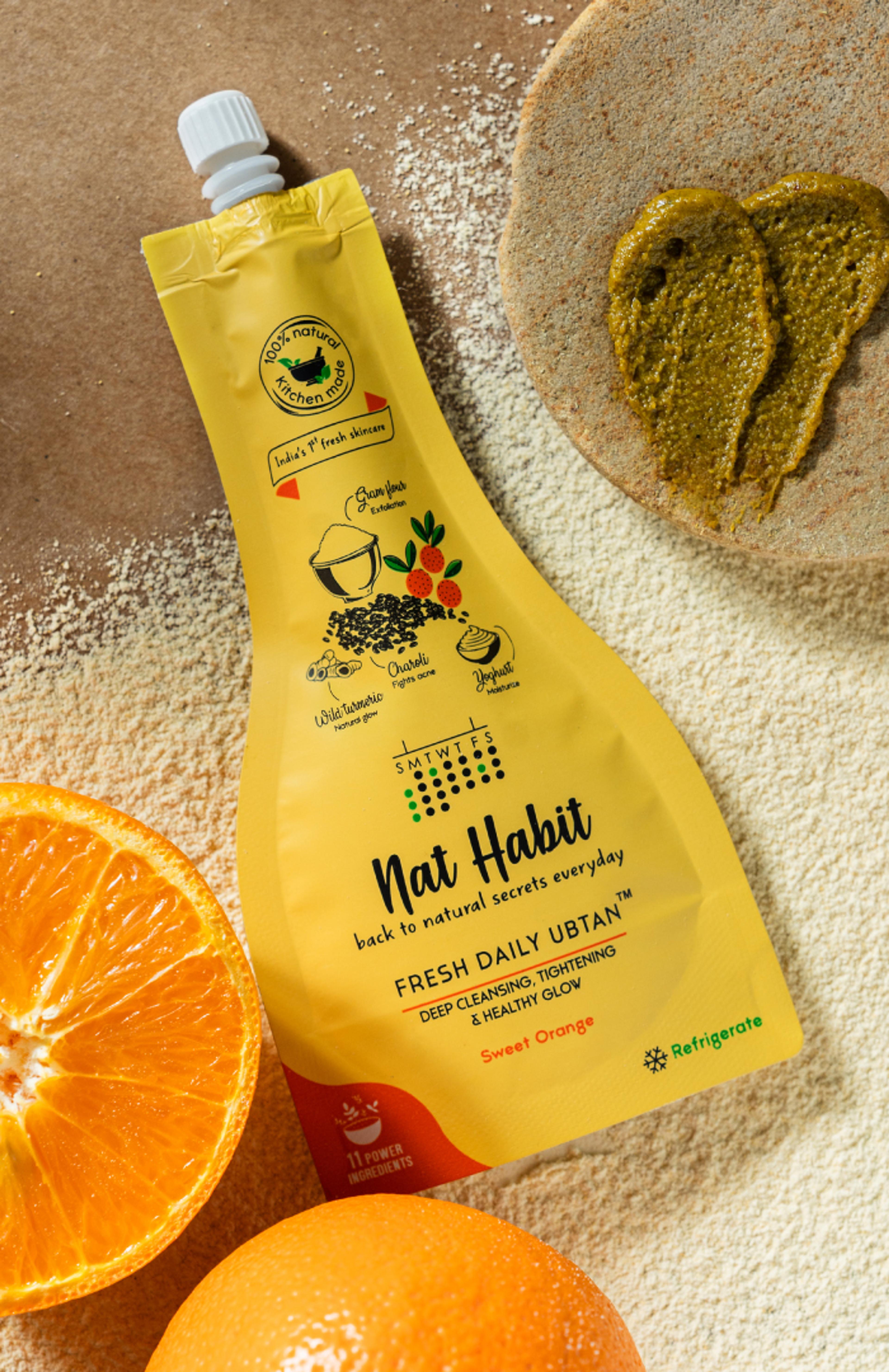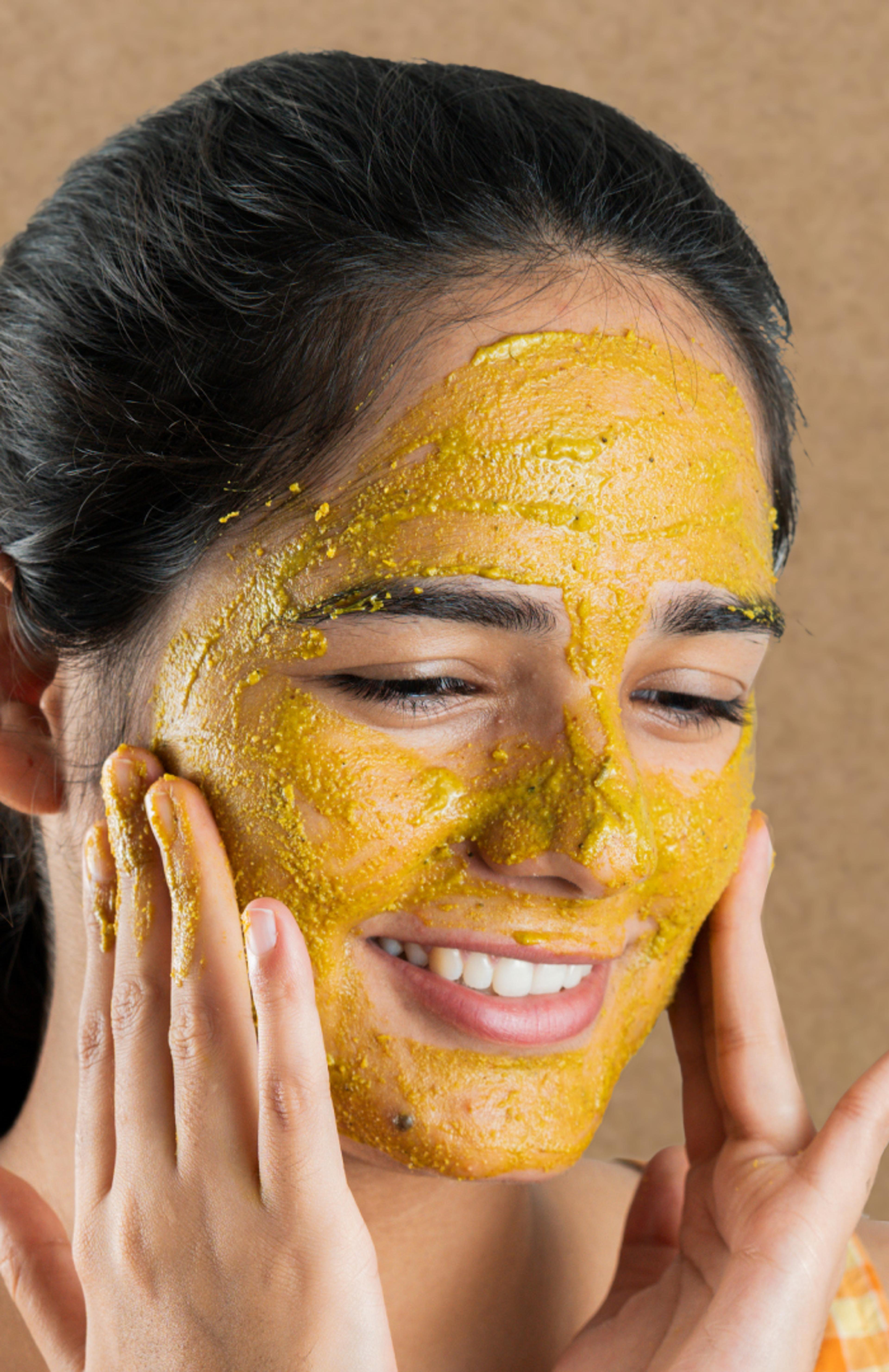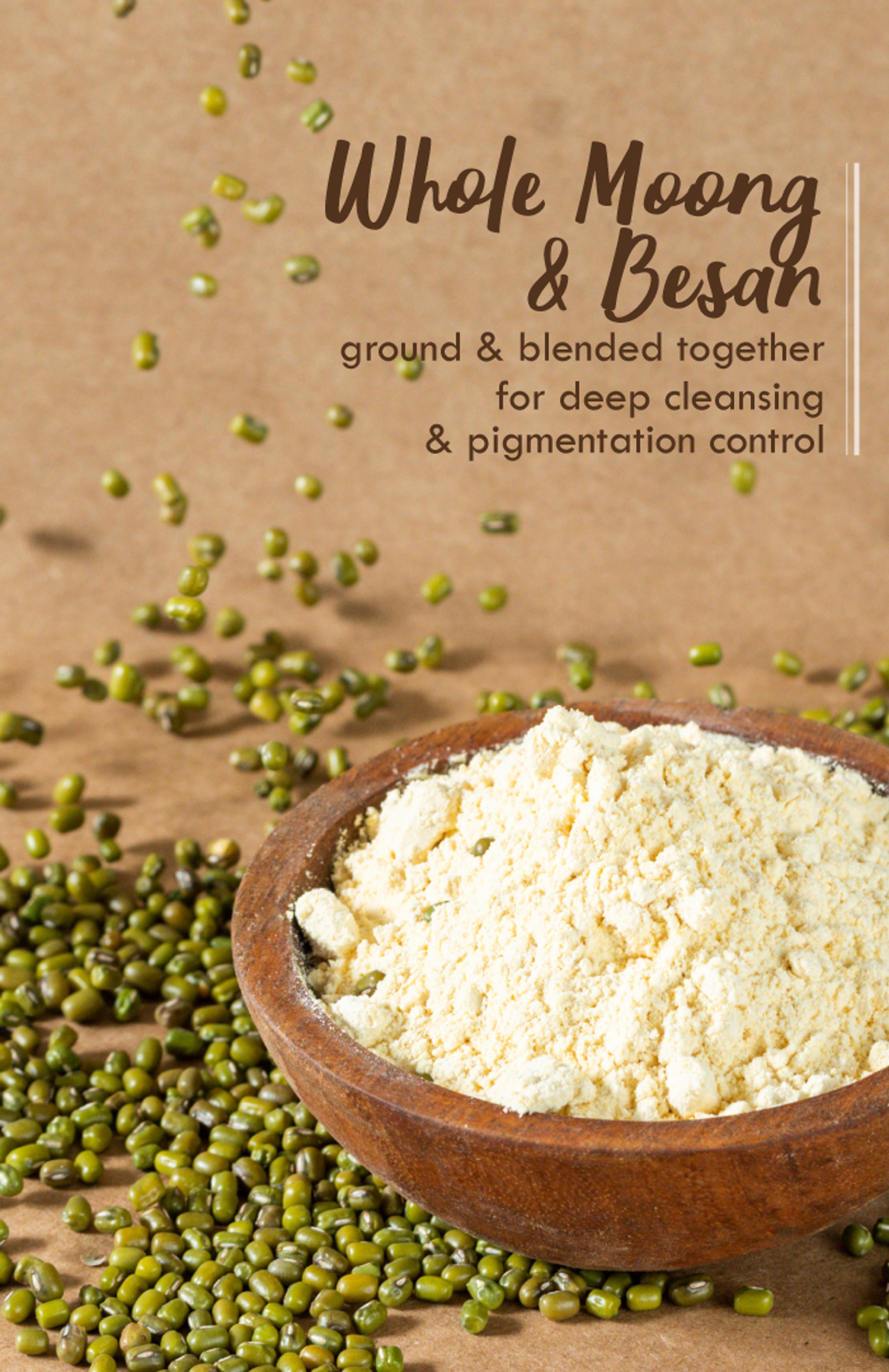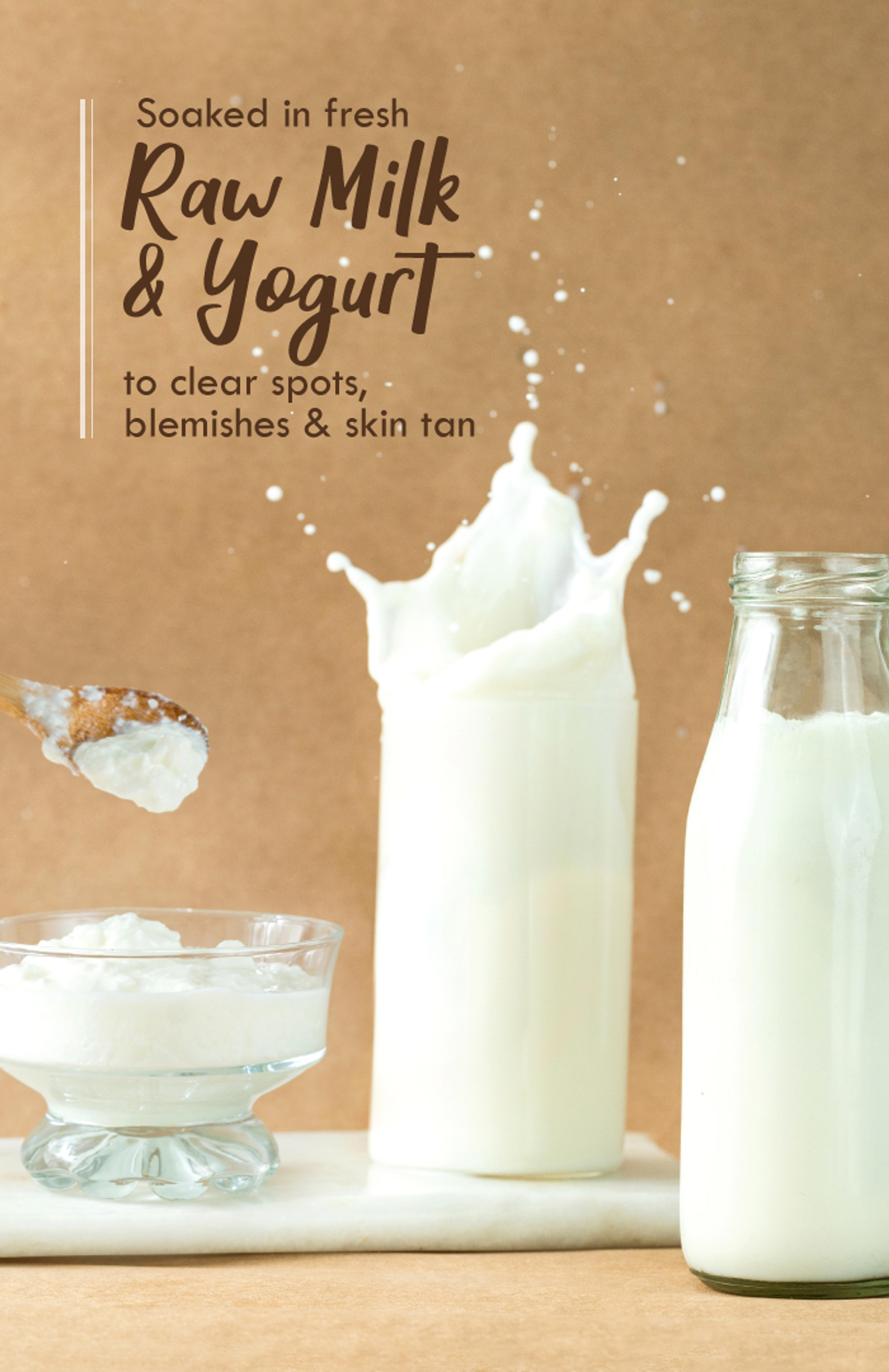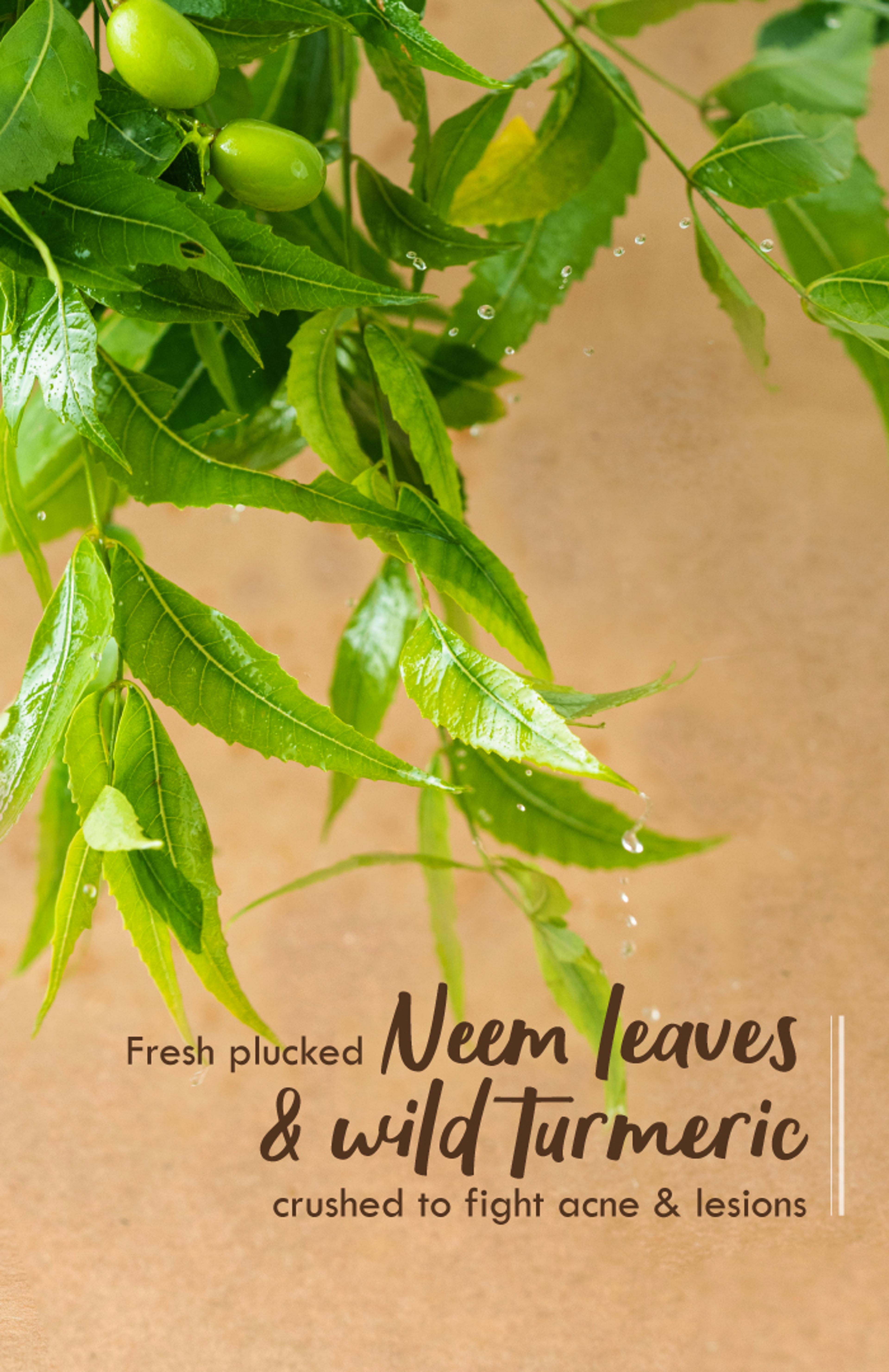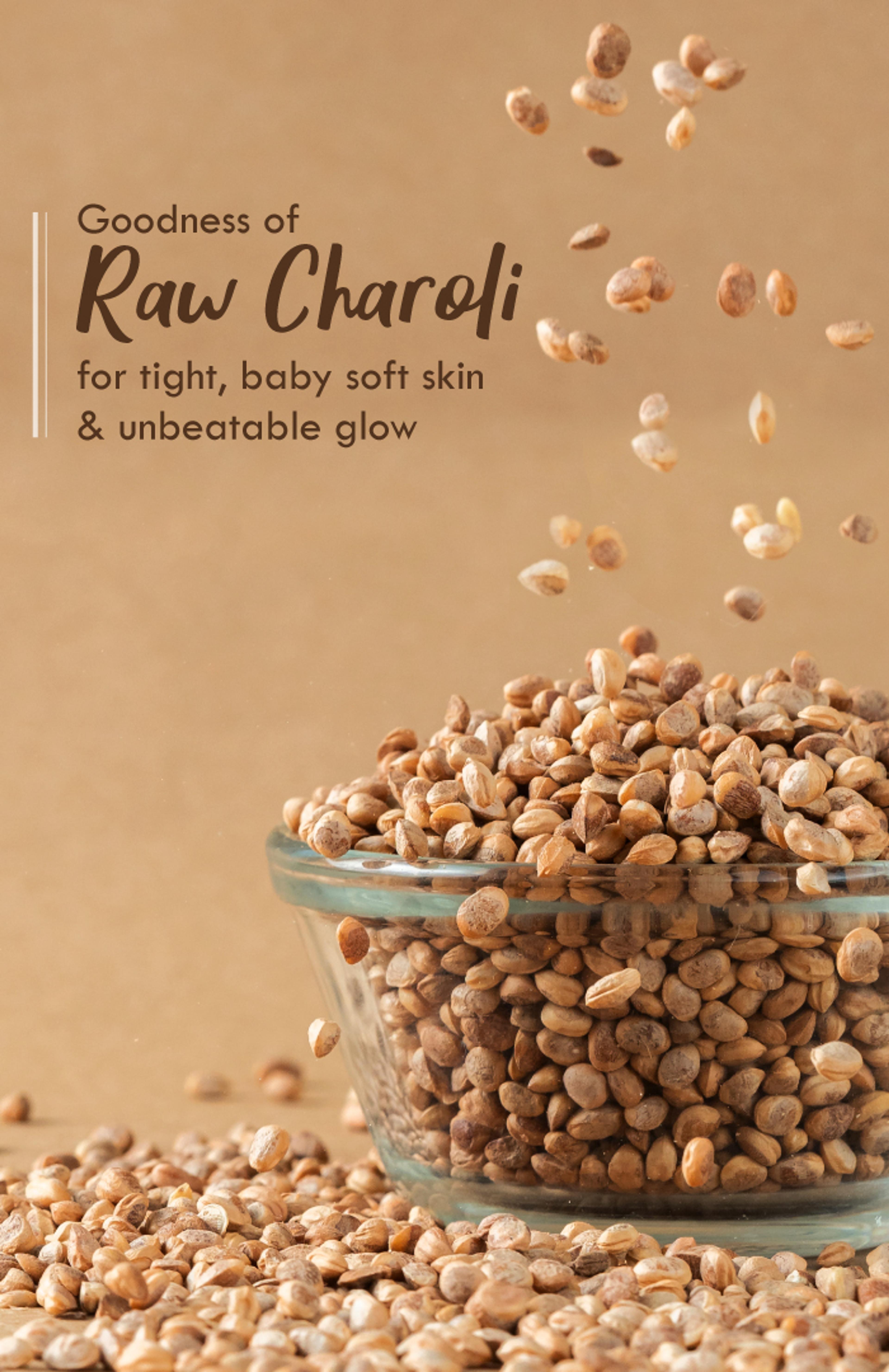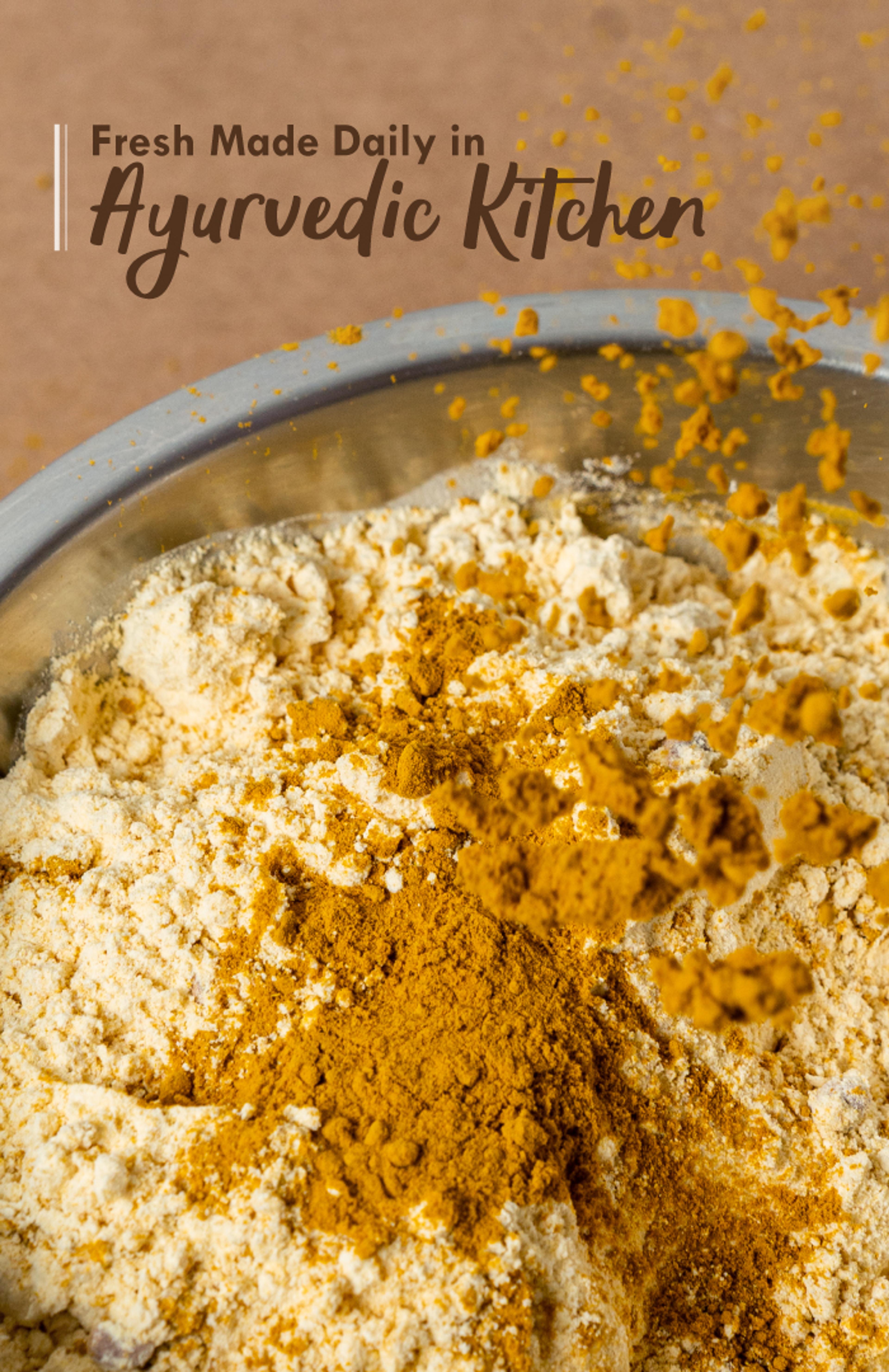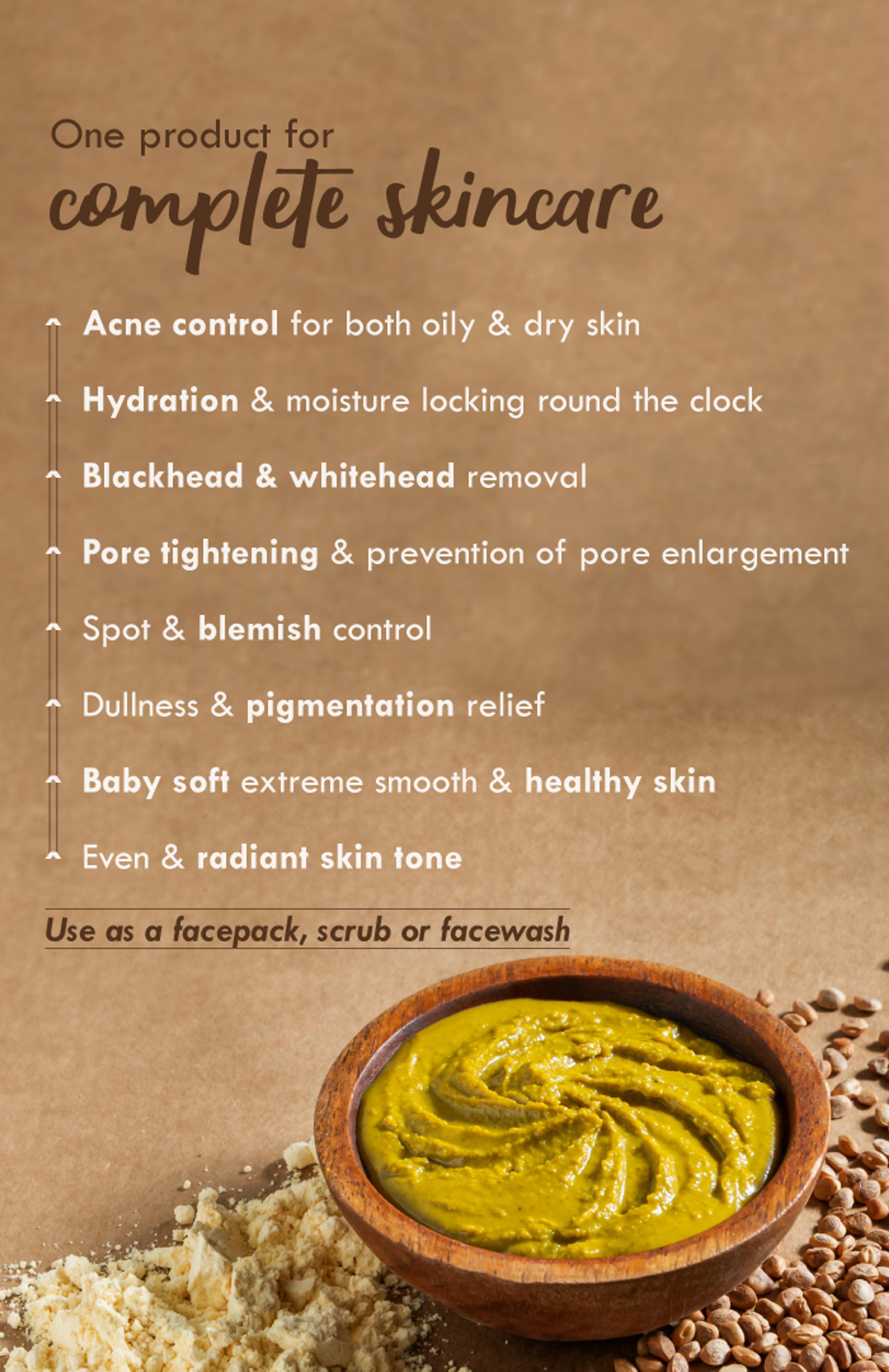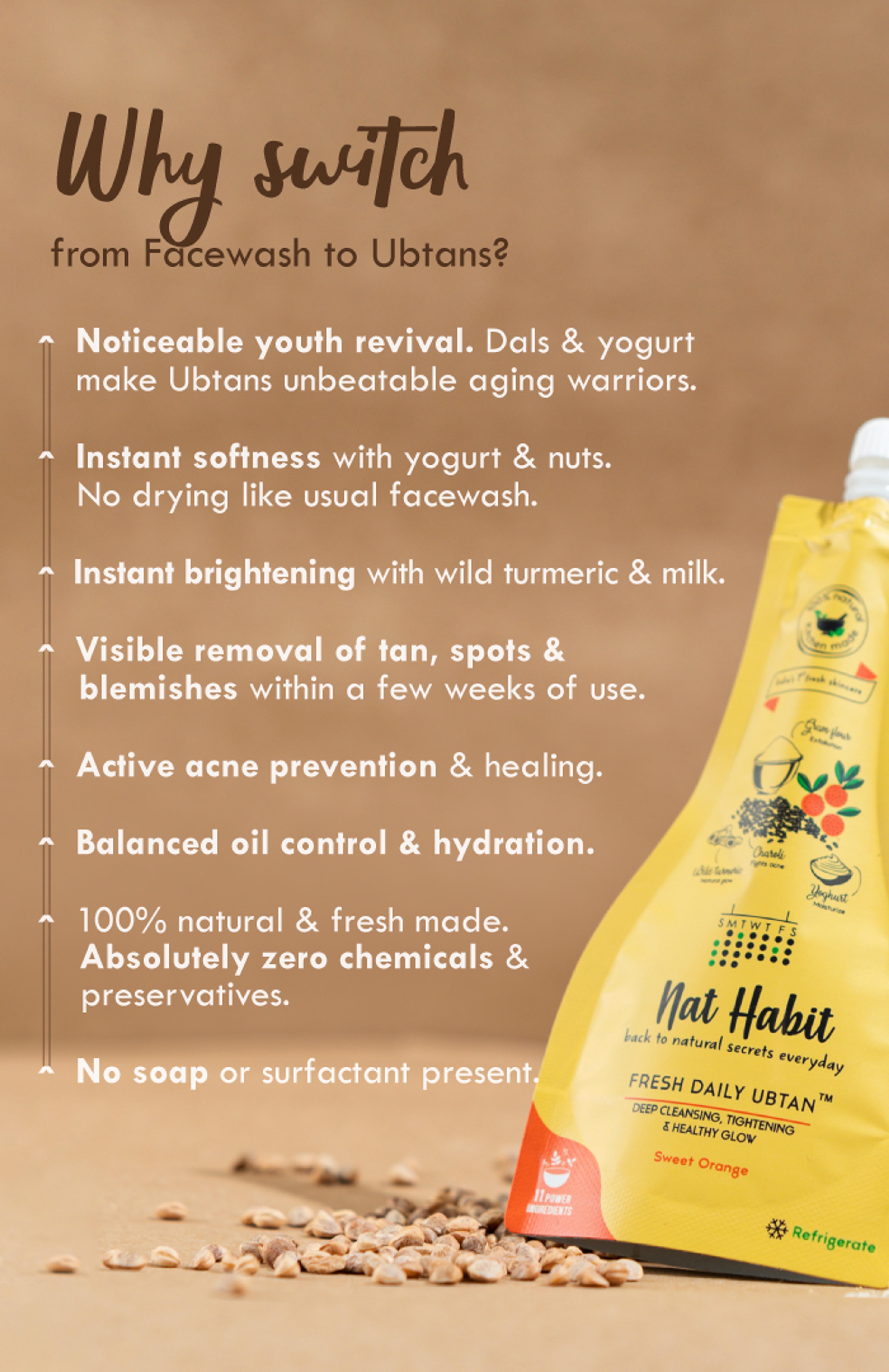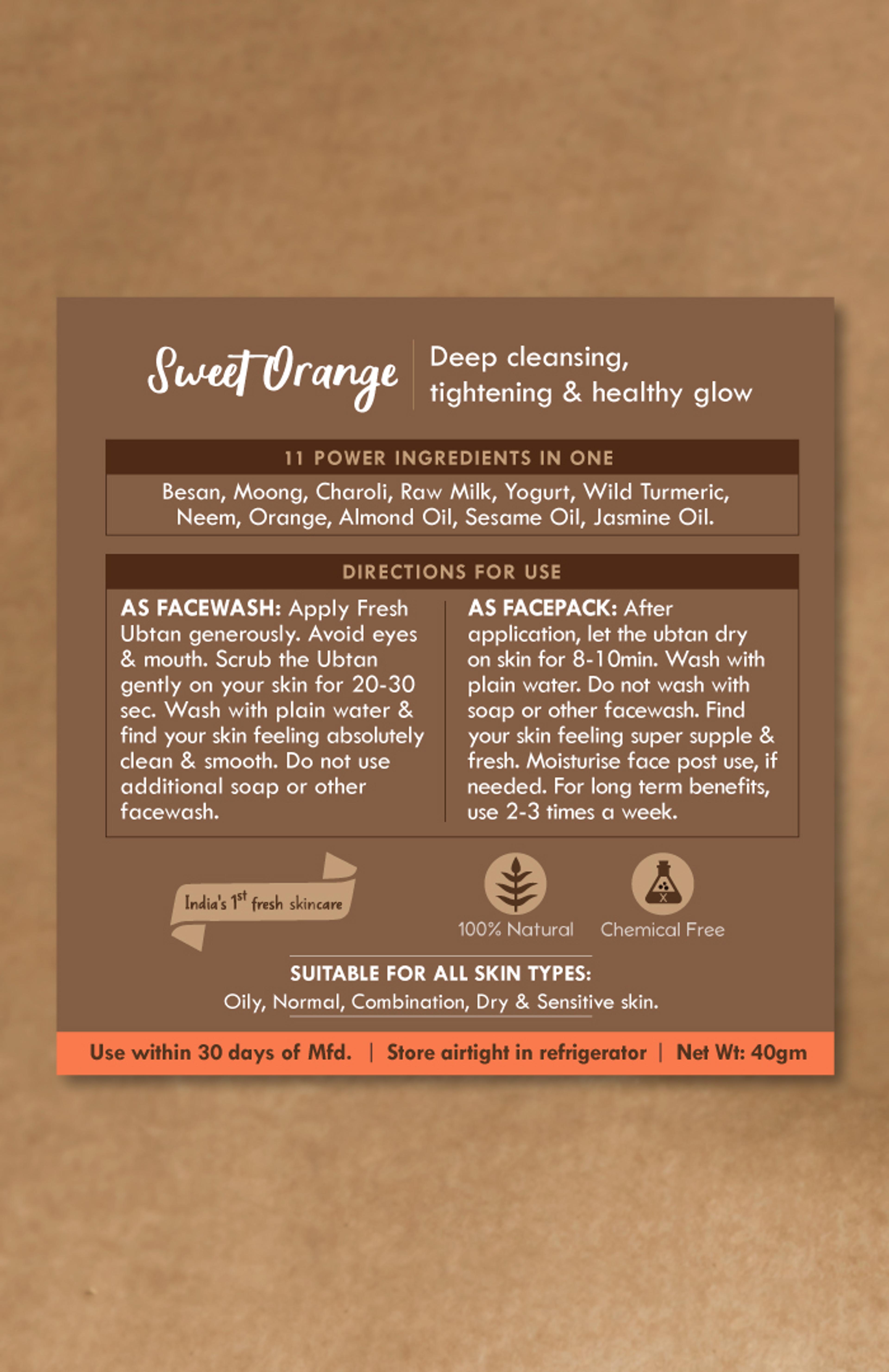 Sweet Orange Daily Ubtan Cleanser
Deep Cleansing, Tightening & Instant Glow
Kitchen made ubtan packed with 11 power ingredients such as besan, moong, charoli, raw milk, yoghurt, neem, orange & more.
Delivery
Delhi, Bangalore
2-3 Days After Shipment
Pan India
4-5 Days After Shipment
Free shipping above ₹350
Cash on delivery available at ₹20 COD charges
MANUFACTURED AND MARKETED BY
NaturoHabit Private Limited GP-26, Sector 18, Gurugram, Haryana - 122015
NODAL OFFICER DETAIL
Madhuri Pandey madhuri@nathabit.in
MRP
Price shown above is inclusive of taxes
Key Benefits
360° skin protection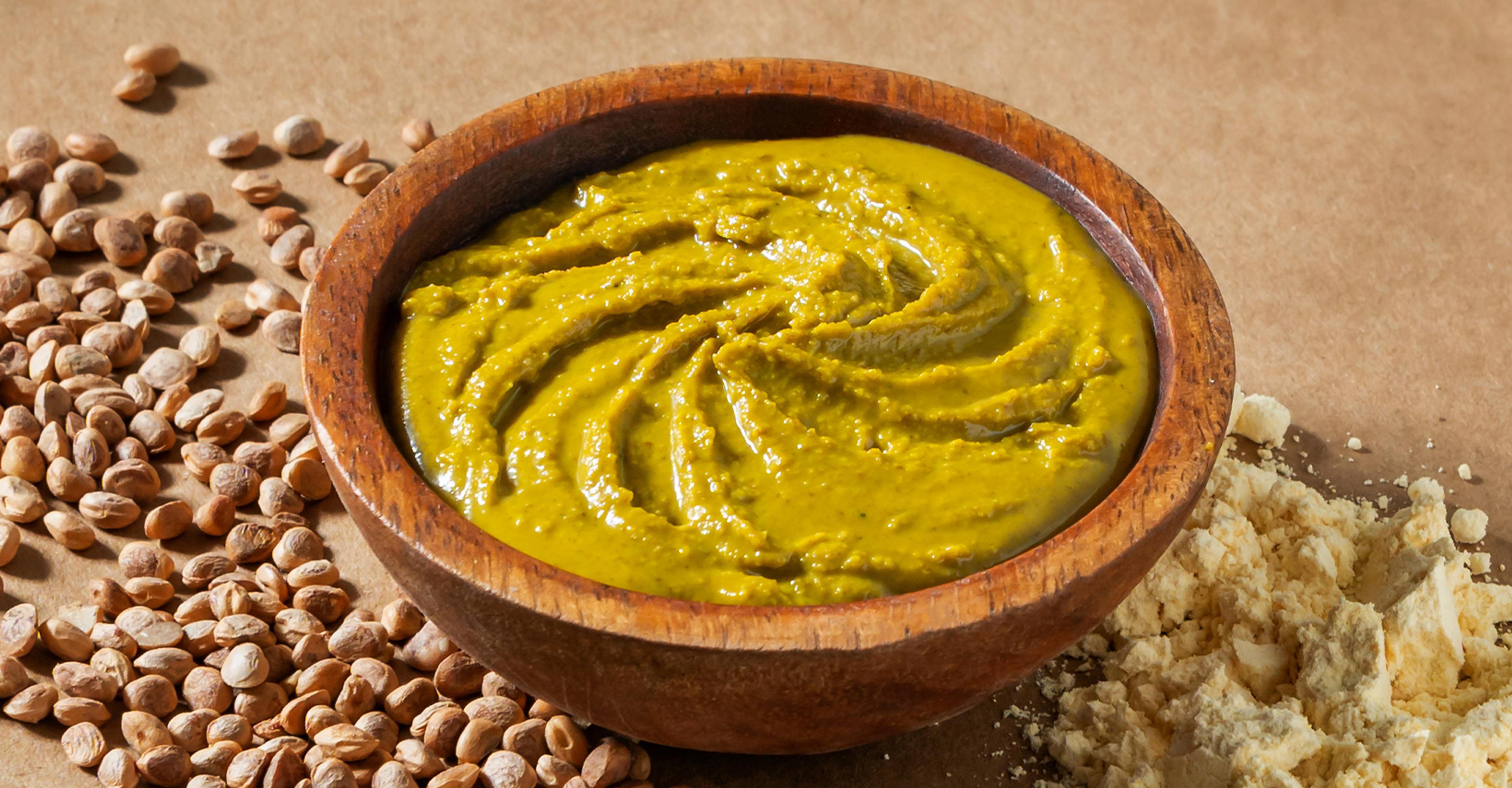 Acne control for both oily & dry skin.

Hydration & moisture locking round the clock.

Accelerated detan, spot & blemish removal.

Blackhead & whitehead removal.

Dullness & pigmentation relief..

Baby soft extreme smooth & healthy skin.

Collagen boosting wrinkle protection & ageing prevention.

Detox from dust & pollution.
Active Ingredients
Fresh & whole picks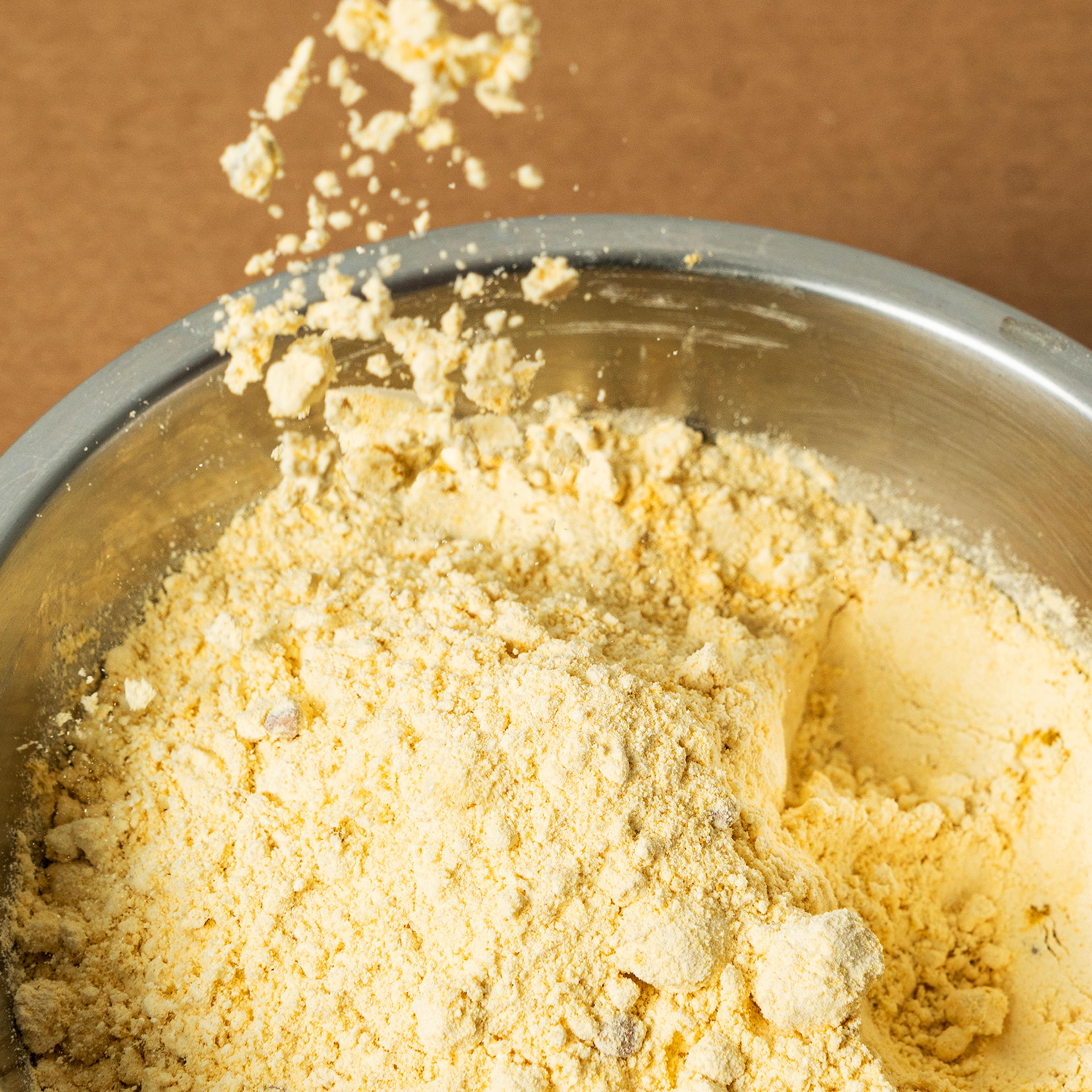 Besan
Exfoliates dead skin, removes fine facial hair.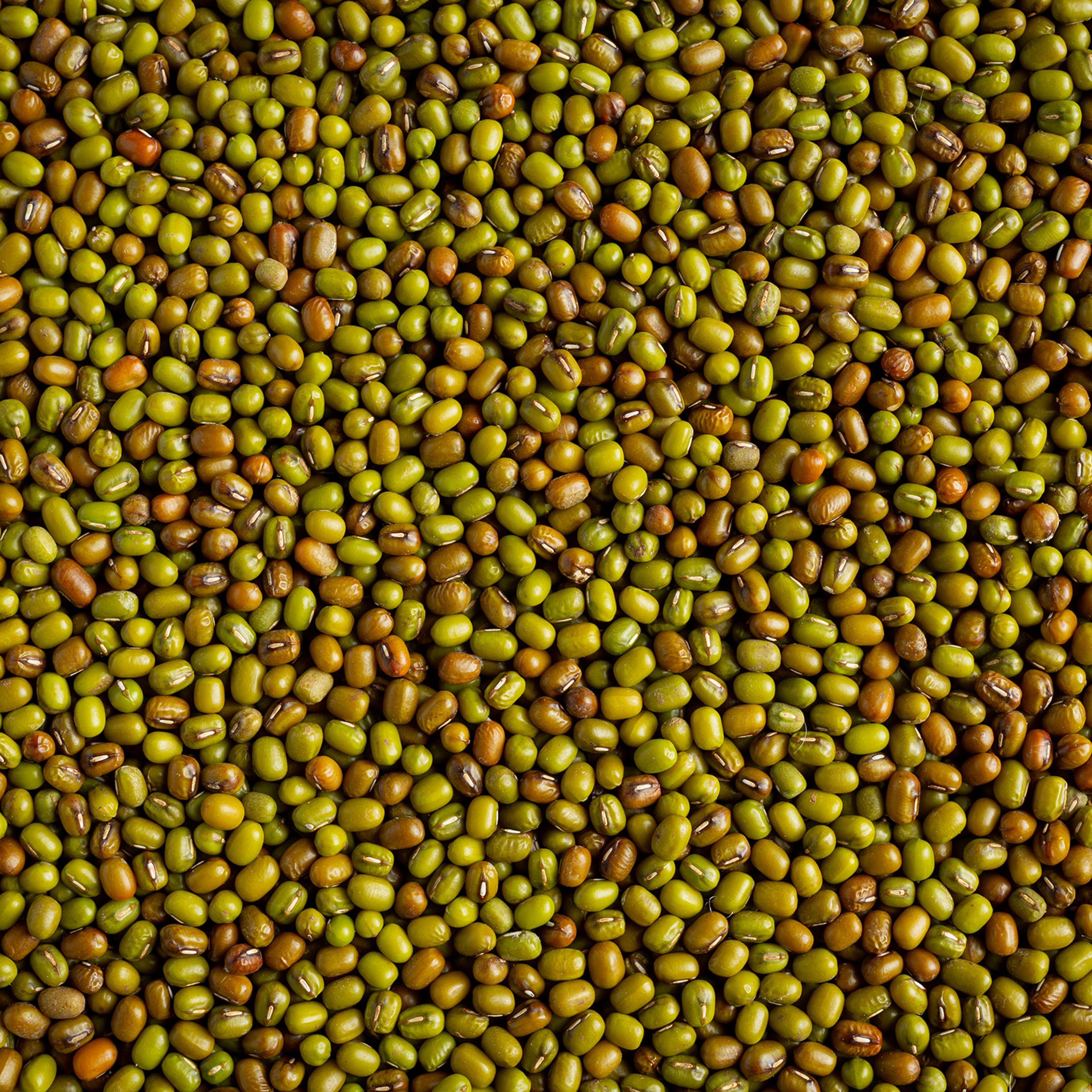 Green Gram
Prevents acne, brightens skin, de-tans.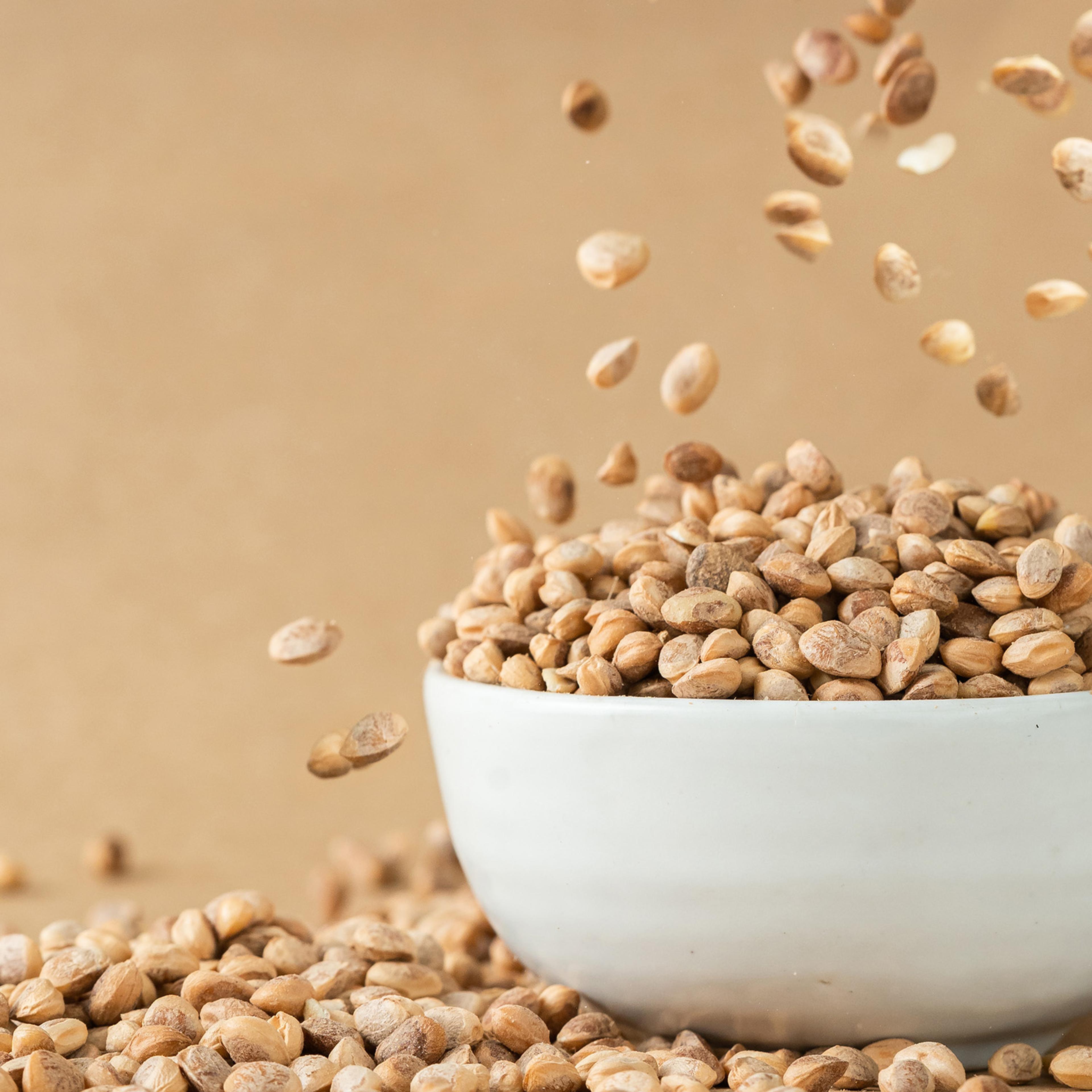 Charoli
Rich in vitamin B1, B2 & C, prevents pimple & skin infection.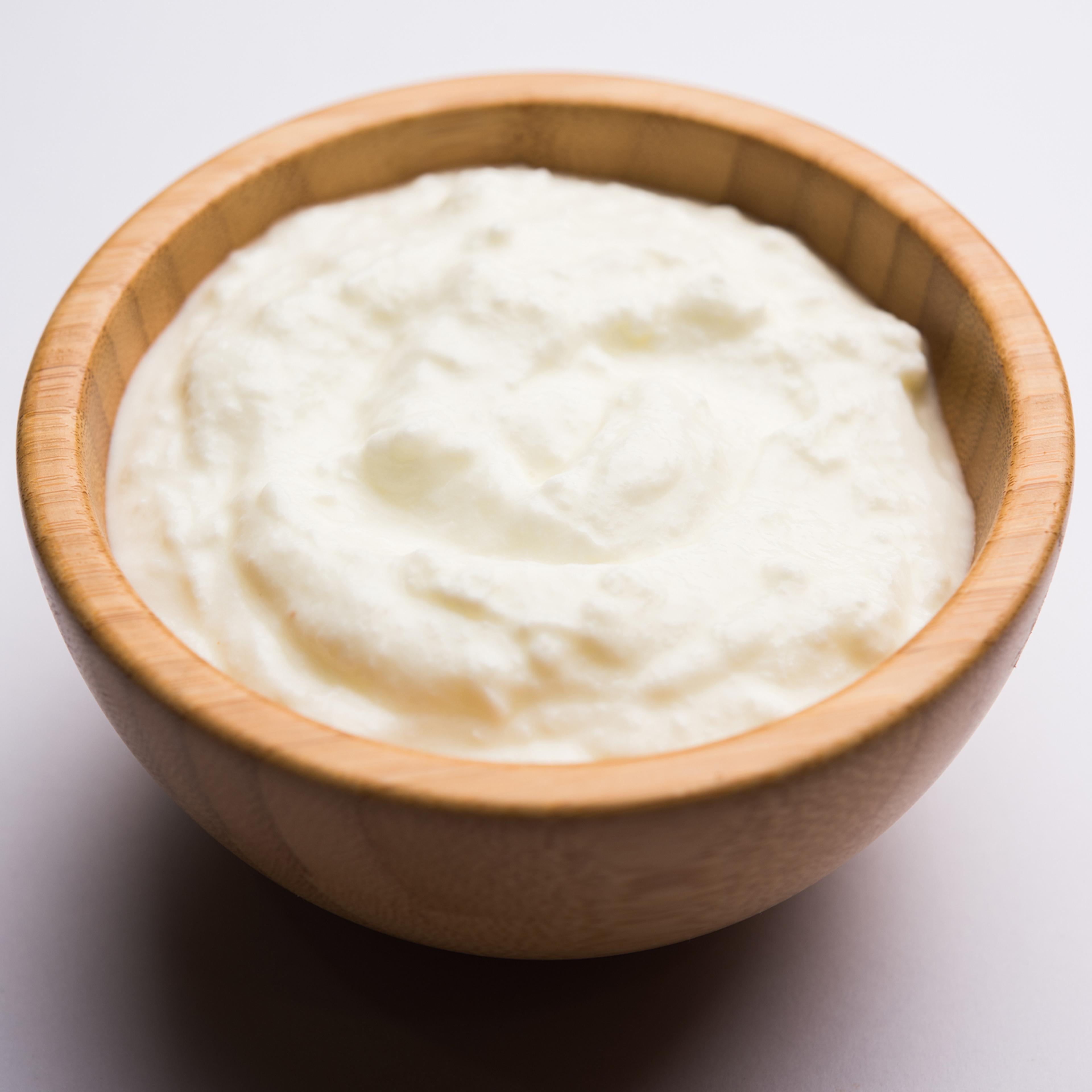 Yoghurt
Moisturises skin, reduces fine lines, wrinkles, blemishes, pigmentation & dark circles.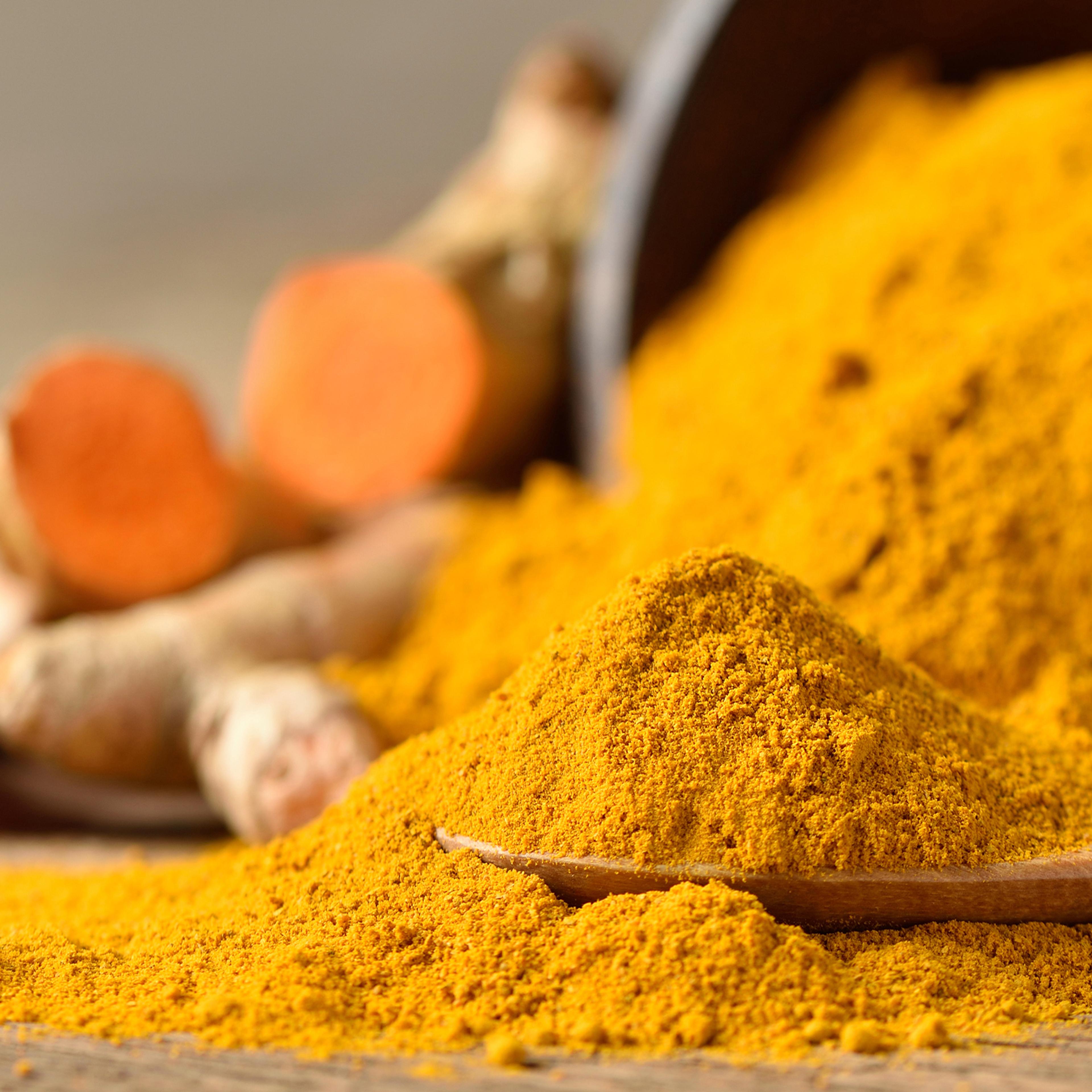 Wild Turmeric
Rich in curcumin, it reduces blemish, acne & scar, adds instant glow.
Full Ingredient List: besan, moong, charoli, raw milk, yogurt, wild turmeric, neem, orange, rose, lotus, almond oil, sesame oil & jasmine oil.
Why Switch
From face wash to Ubtans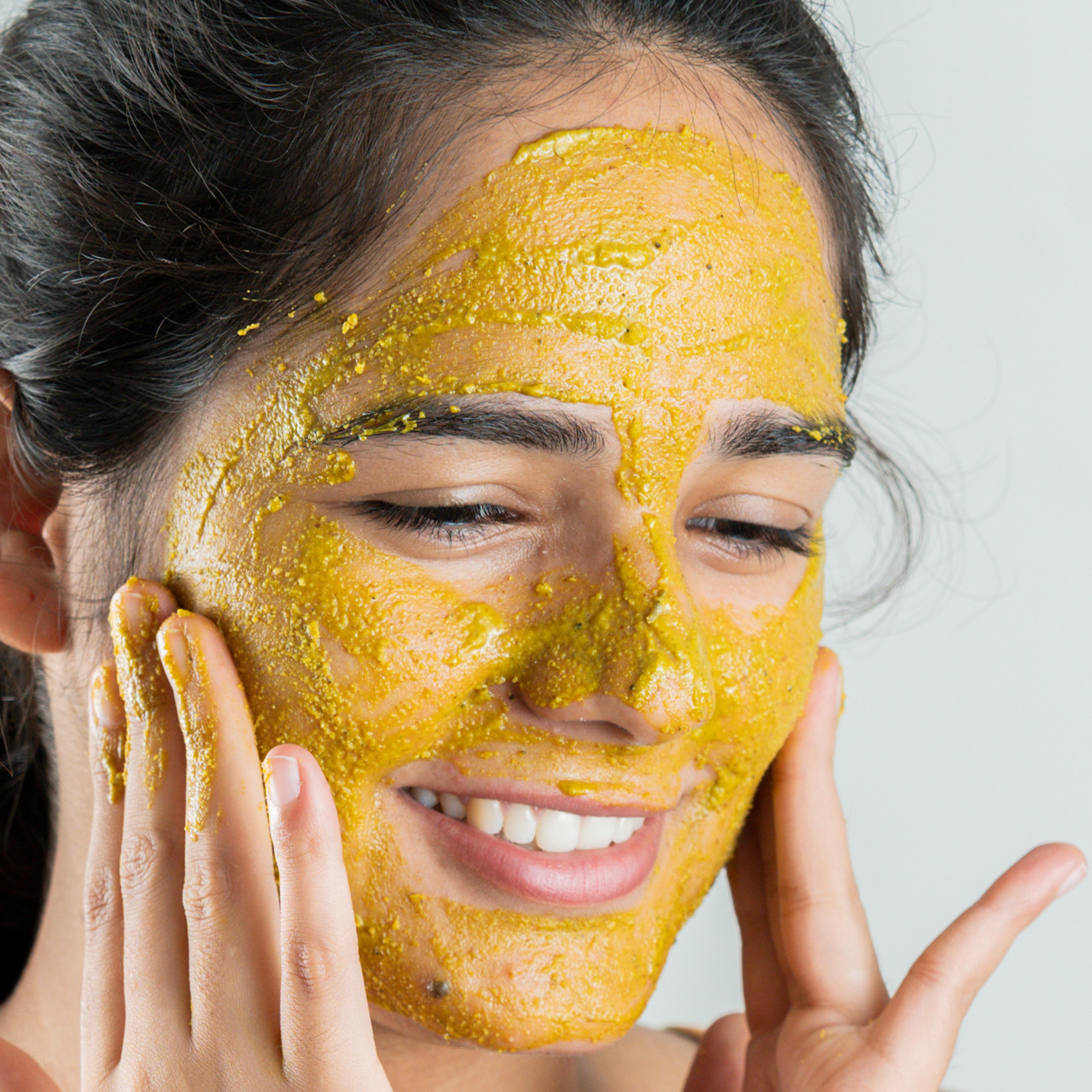 Click to Know More
Better than chemical loaded facewash or cleansers
The sheer purity & efficacy of Ubtans make them a far superior choice over any facewash or cleanser. They are more than just cleansers.
Noticeable youth revival within a few weeks of use
Presence of dals & yogurt make Ubtans unbeatable aging warriors.
Instant soft, bright & glowing skin
Instant softness with yogurt & nuts & brightening with wild turmeric & milk. No drying like usual facewash.
Visible removal of tan, spots & blemishes within a few weeks of use.
Active acne prevention & healing with neem, wild turmeric & moong.
Balanced sebum production
Balanced oil control & hydration - brings both dry & oily skin to normal condition. One Ubtan can be shared by many family members.
100% chemical, soap & surfactant free
100% natural & fresh made. Absolutely zero chemicals & preservatives. No soap or surfactant present - typically facewashes have chemical surfactants to help cleanse skin.
Usage & Suitability
Apply Fresh Ubtan generously. Avoid eyes & mouth. Scrub the Ubtan gently on your skin for 20-30 sec. Wash with plain water & find youe skin feeling absolutely clean & smooth. Do not use additional soap or other facewash.
Ubtan combined with rose water (or Flora Jal) & facial oil (or Mukhalaya) can be your complete skincare without need for anything else.
Can be used in all seasons. In winters, keep for slightly less time & follow up with Mukhalaya oiling or winter Face Malai.
For all: Oily, normal, combination, dry & sensitive skin.
A very few skin types sensitive to almonds / charoli may not find it suitable.
Safe for kids of all ages to use as a face wash / cleanser. Recommended to NOT use any scrub or face pack below 8 yrs of age.
I also used the fresh daily ubtan(orange).... The upper layer of dead skin went off and my skin became smooth and soft... Its like slowly Im getting used to and addicted to your products.

Sasi Sekuri
When to Use
Essential in your skincare kit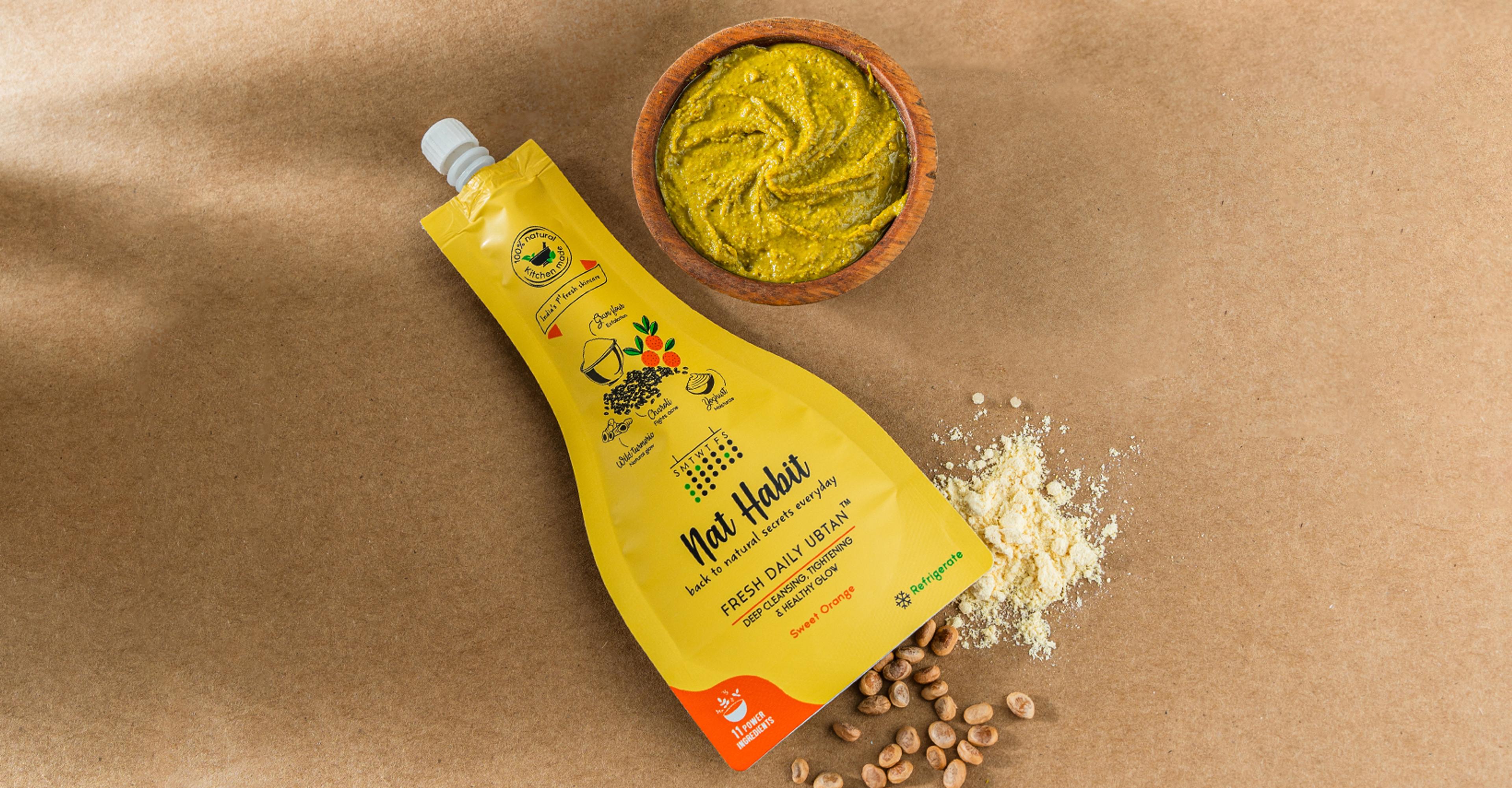 As daily face wash / scrub.

Weekly or twice weekly face pack.

Bridal haldi / auspicious occasion demanding pure ubtan.

Pre-wedding care.

Freshening during hot summer or monsoon humidity.

For makeup removal.

Cleansing Holi colours.
Ubtan vs Lepa
Excellent face pack cleansers for glowing skin
Recommended for daily use
Recommended to use twice a week only
Can be used as a light facepack or scrubs as well
Can only be used as nutritious facepacks
Cures specific skin conditions & for specific needs
Kept for shorter time than Lepa
Kept for longer time than Ubtans
More Information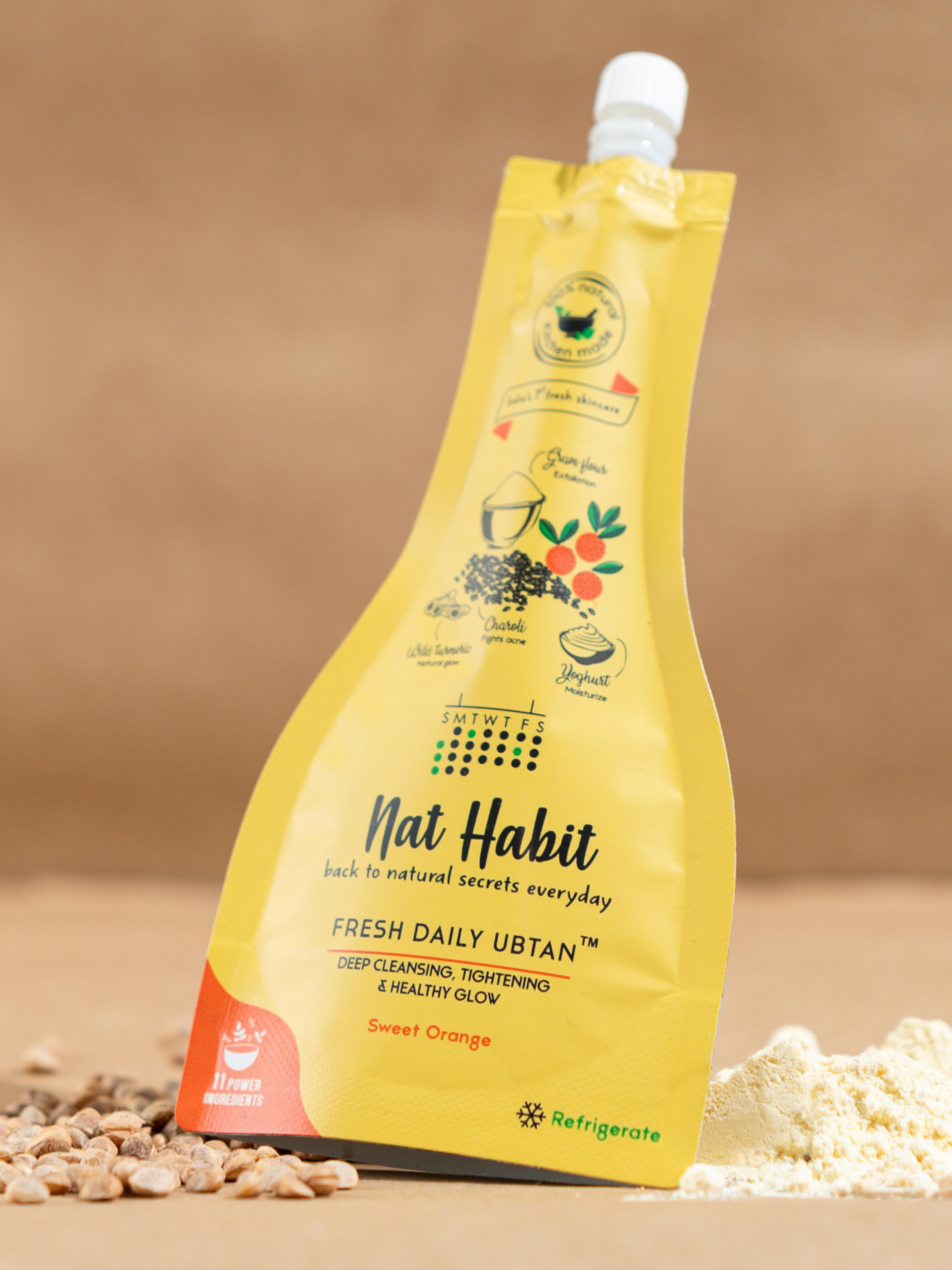 Store airtight in refrigerator.
Use within 2 months of Mfg Date
Explore our other Categories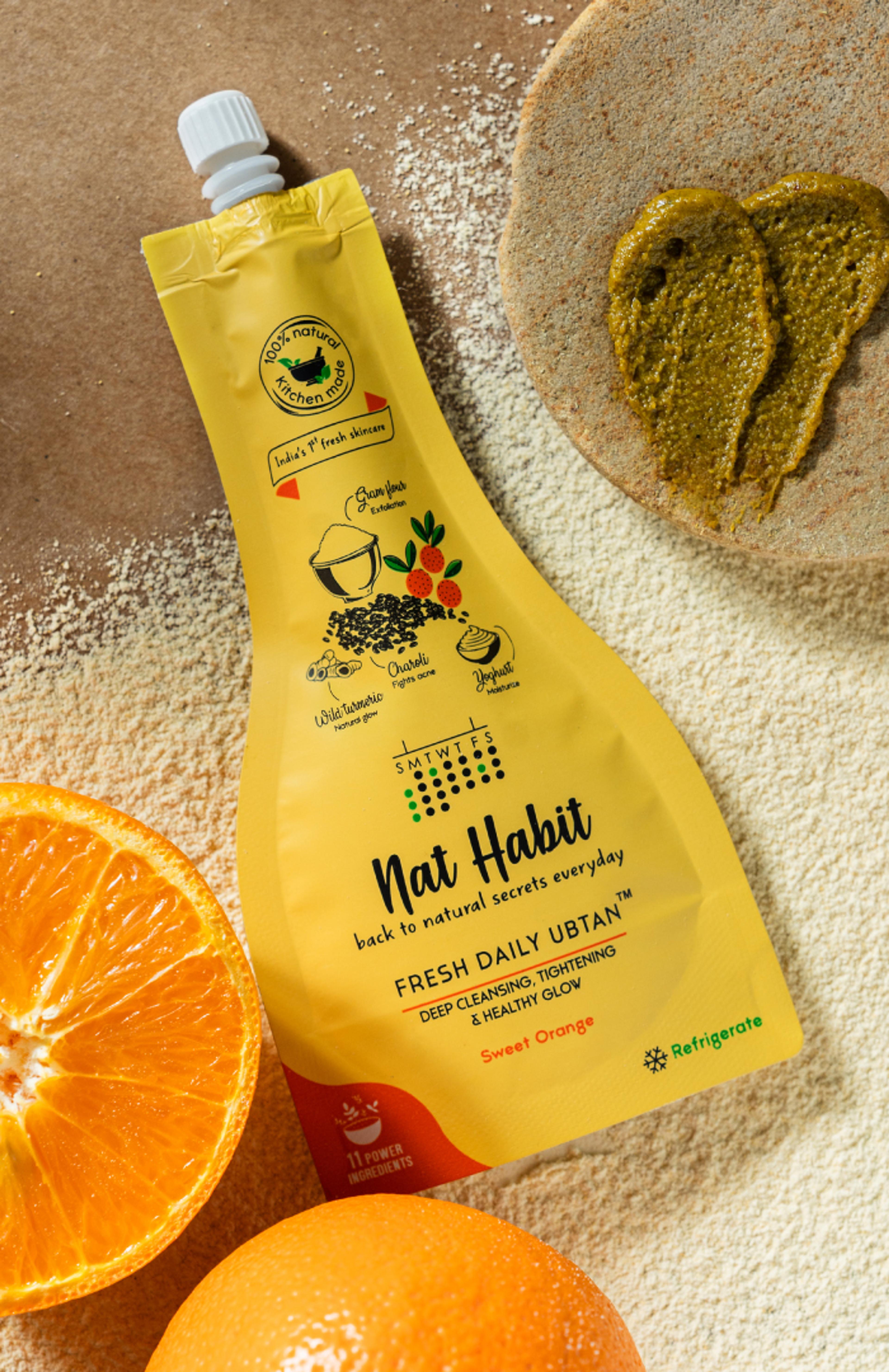 Sweet Orange Daily Ubtan Cleanser