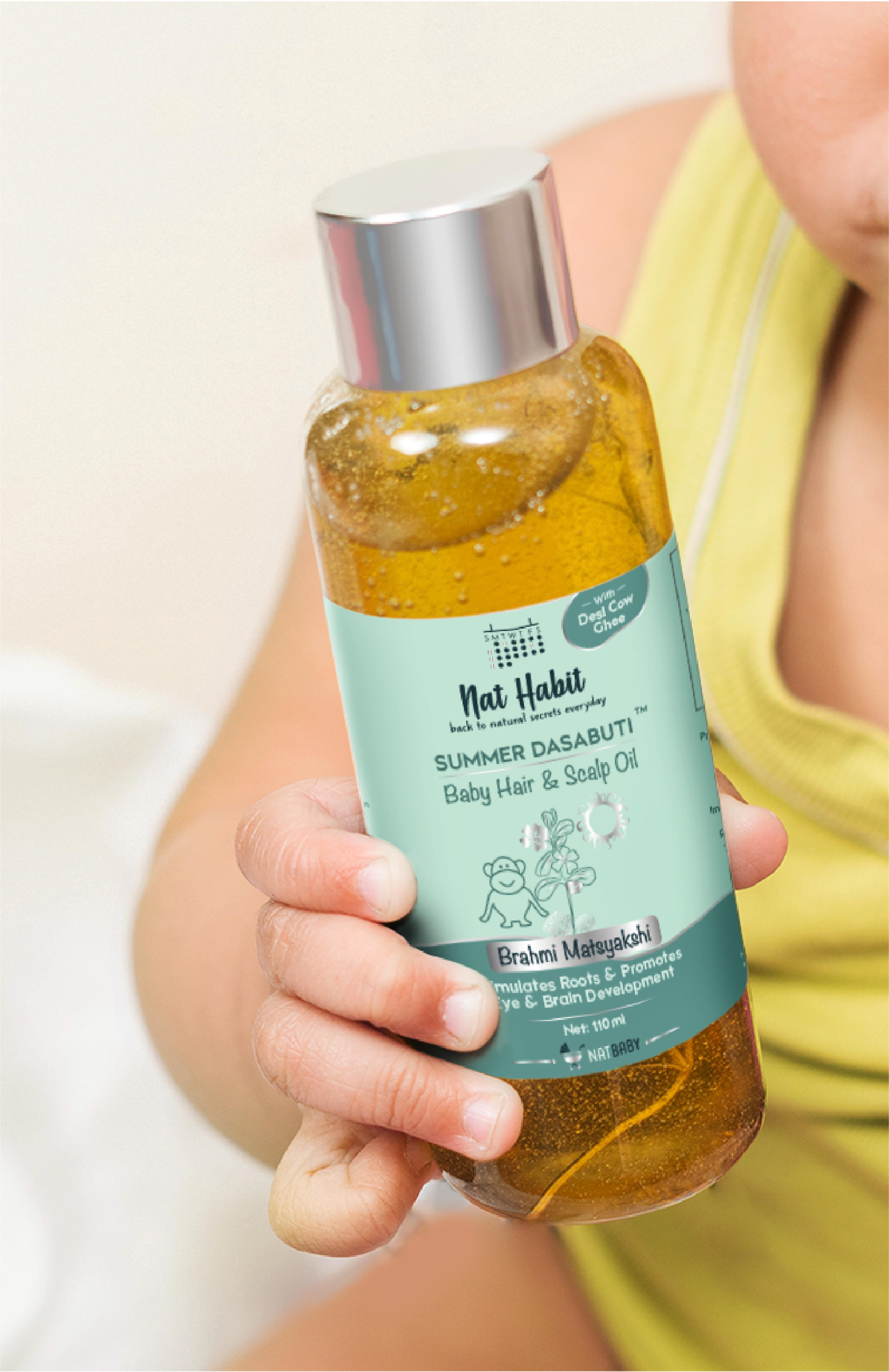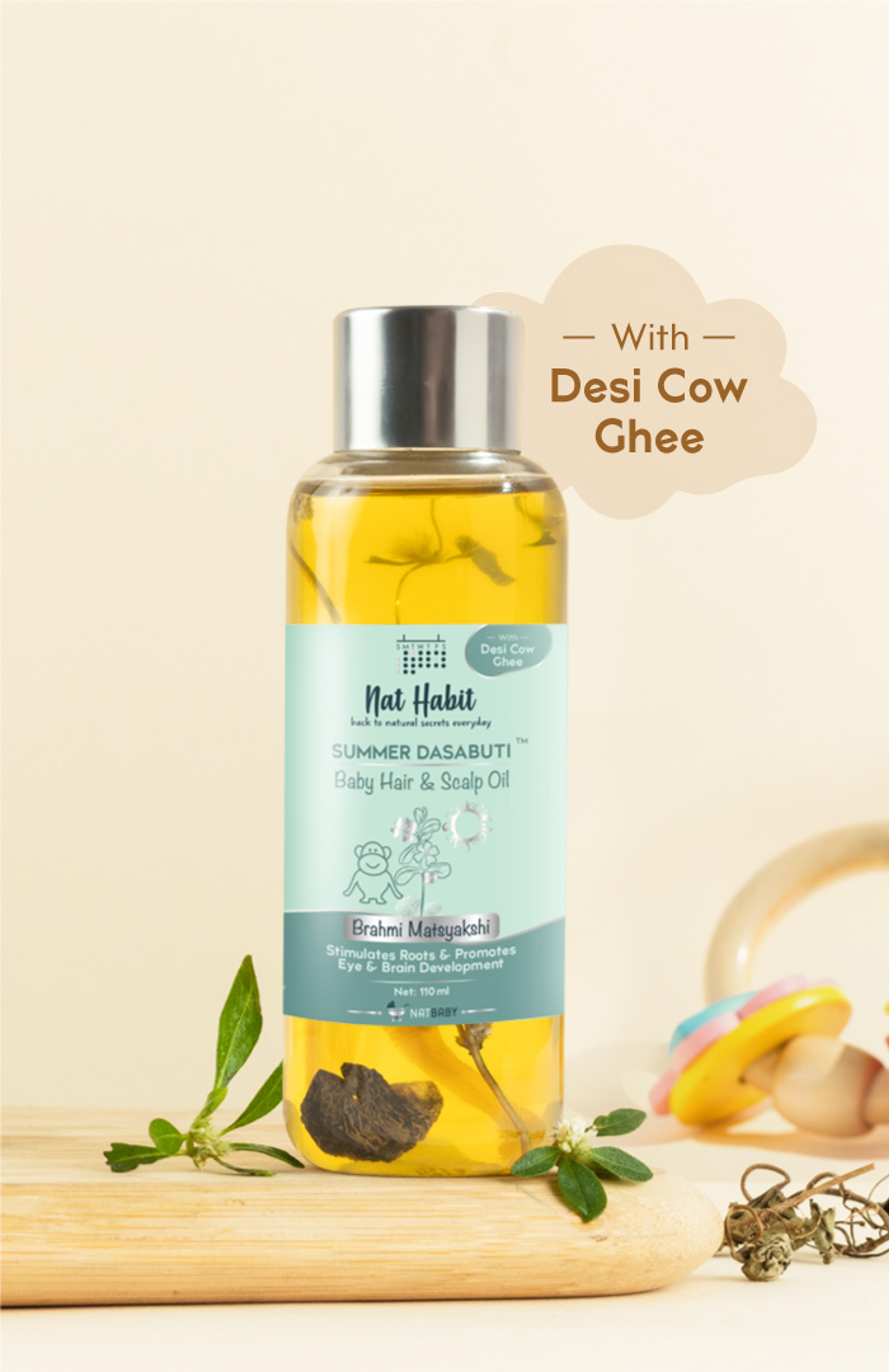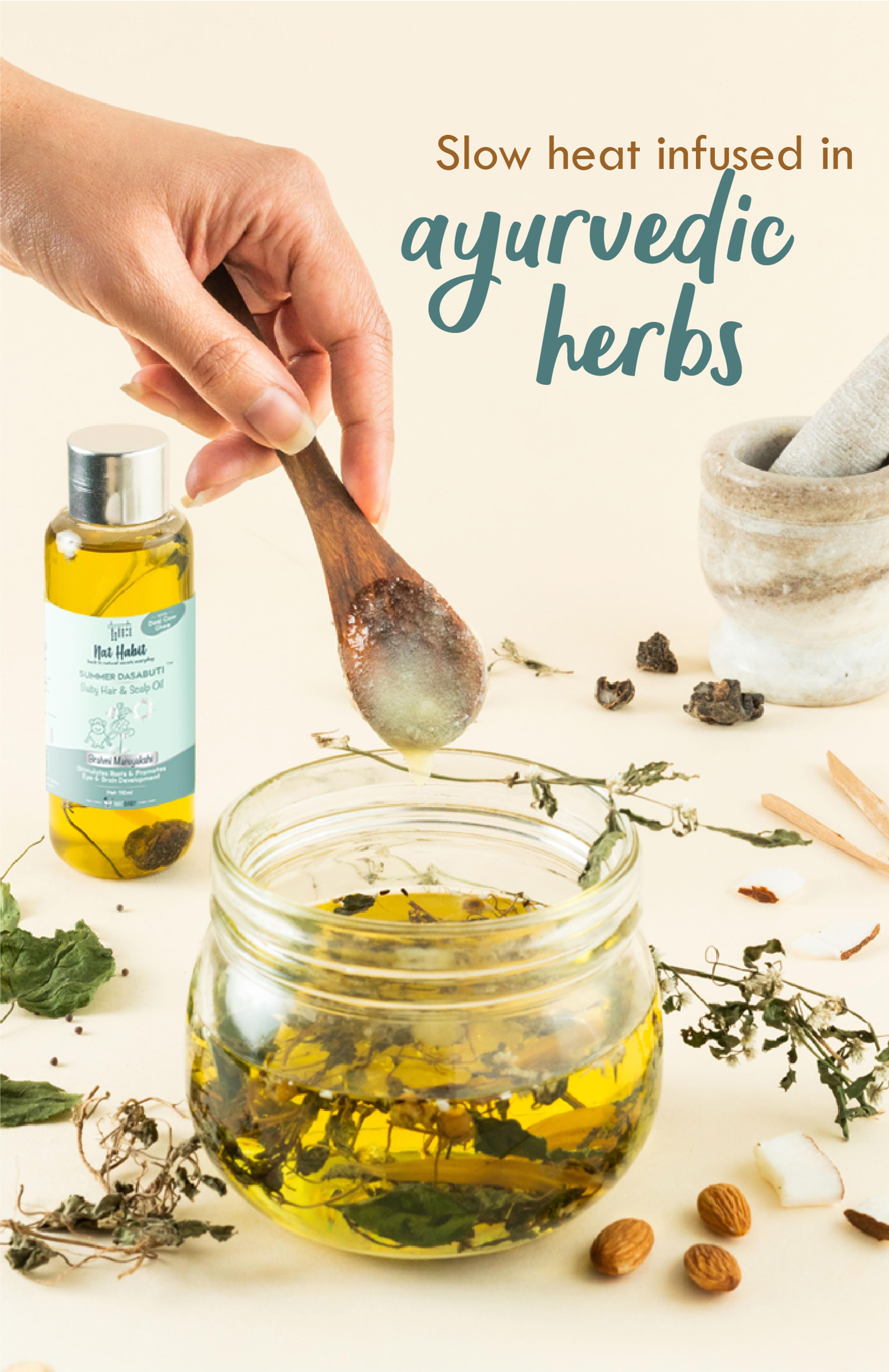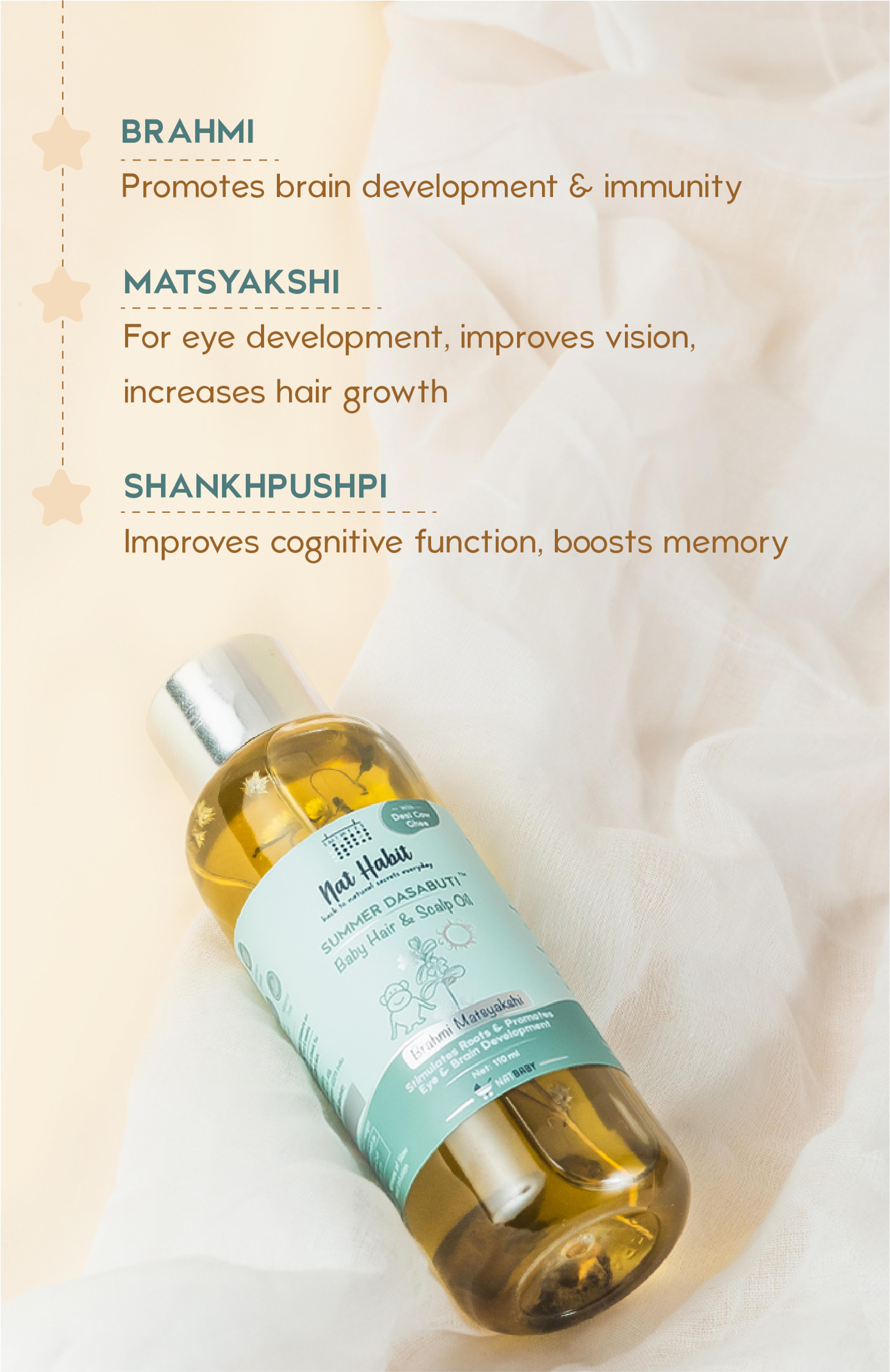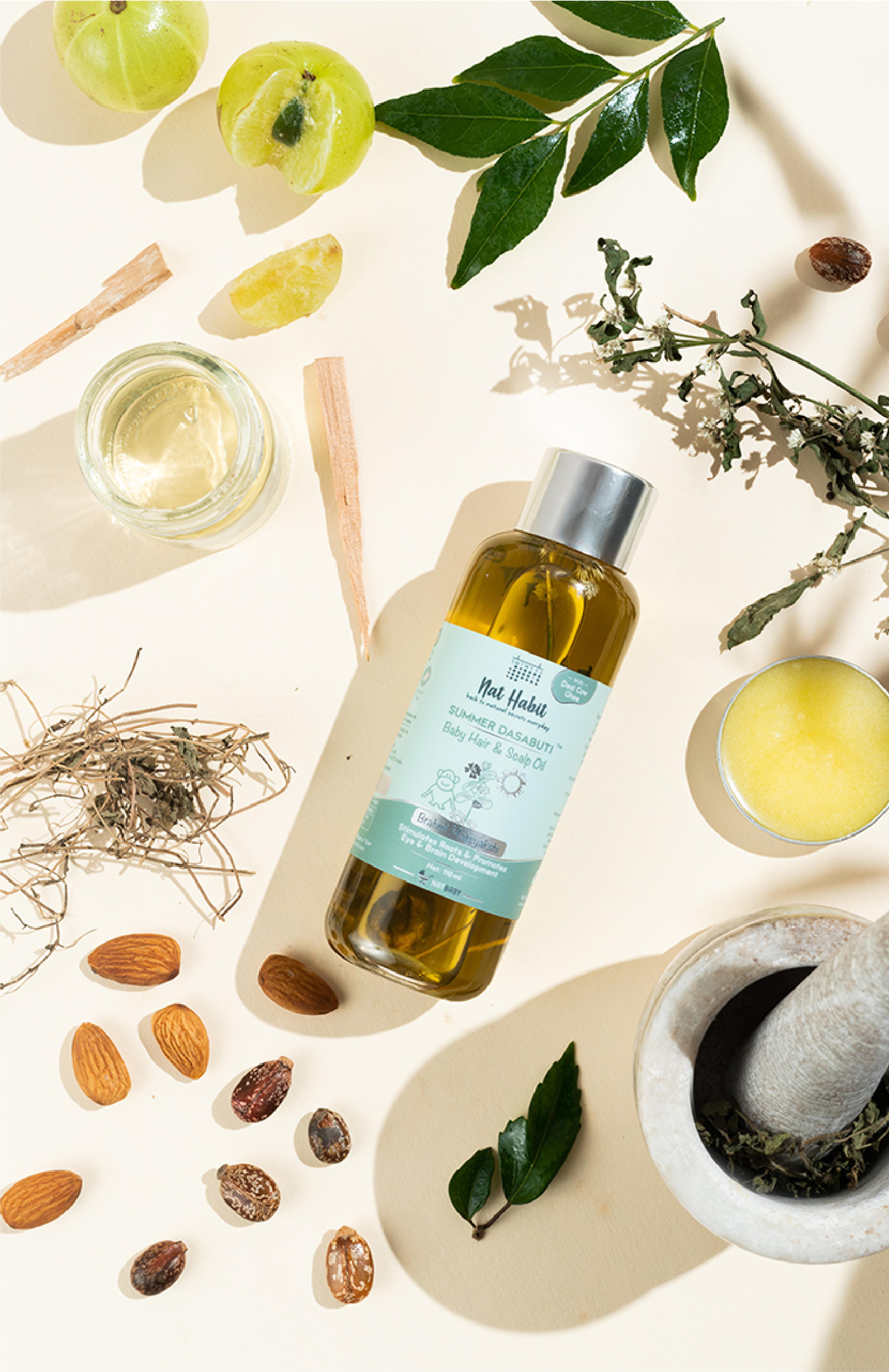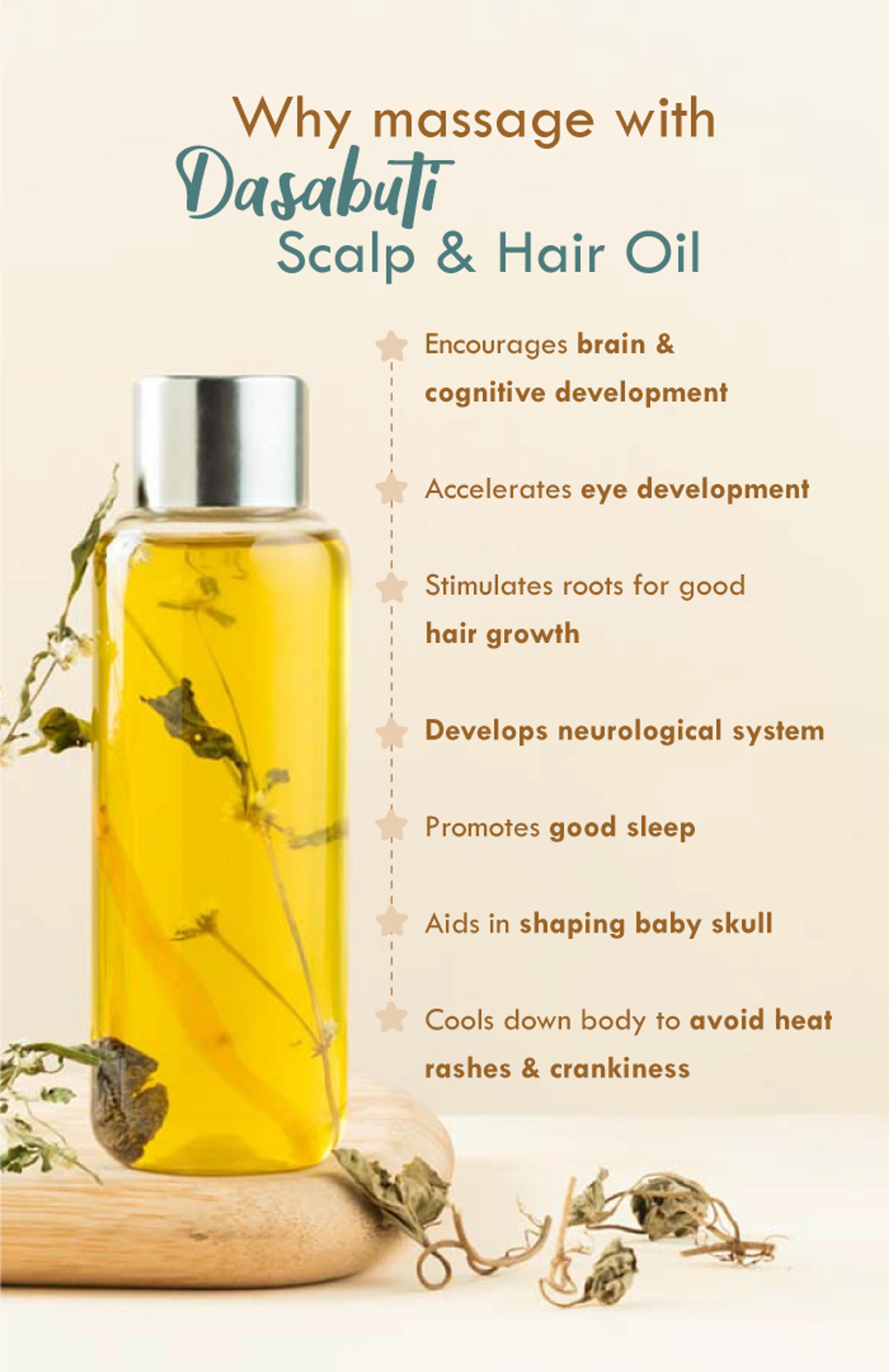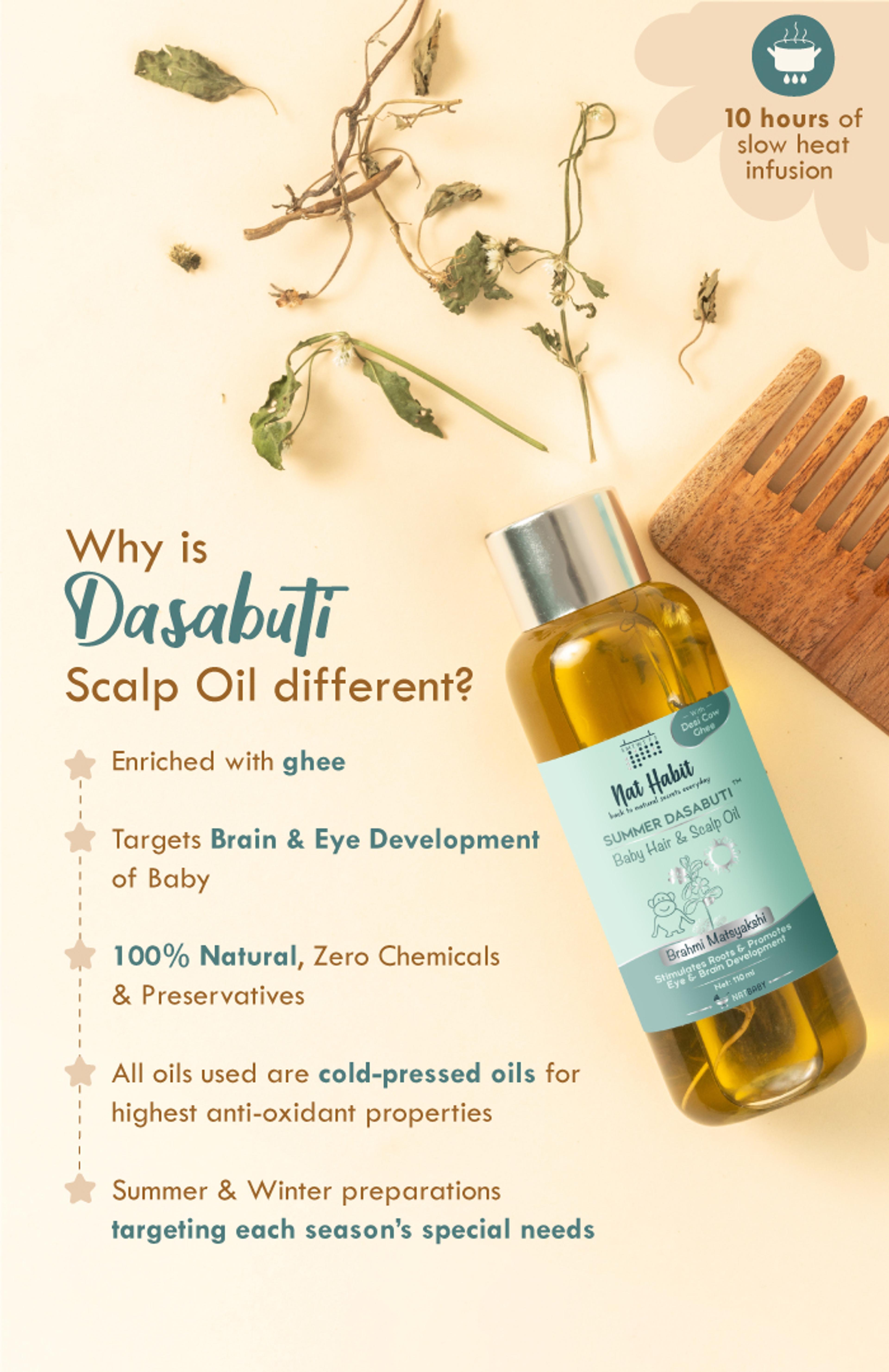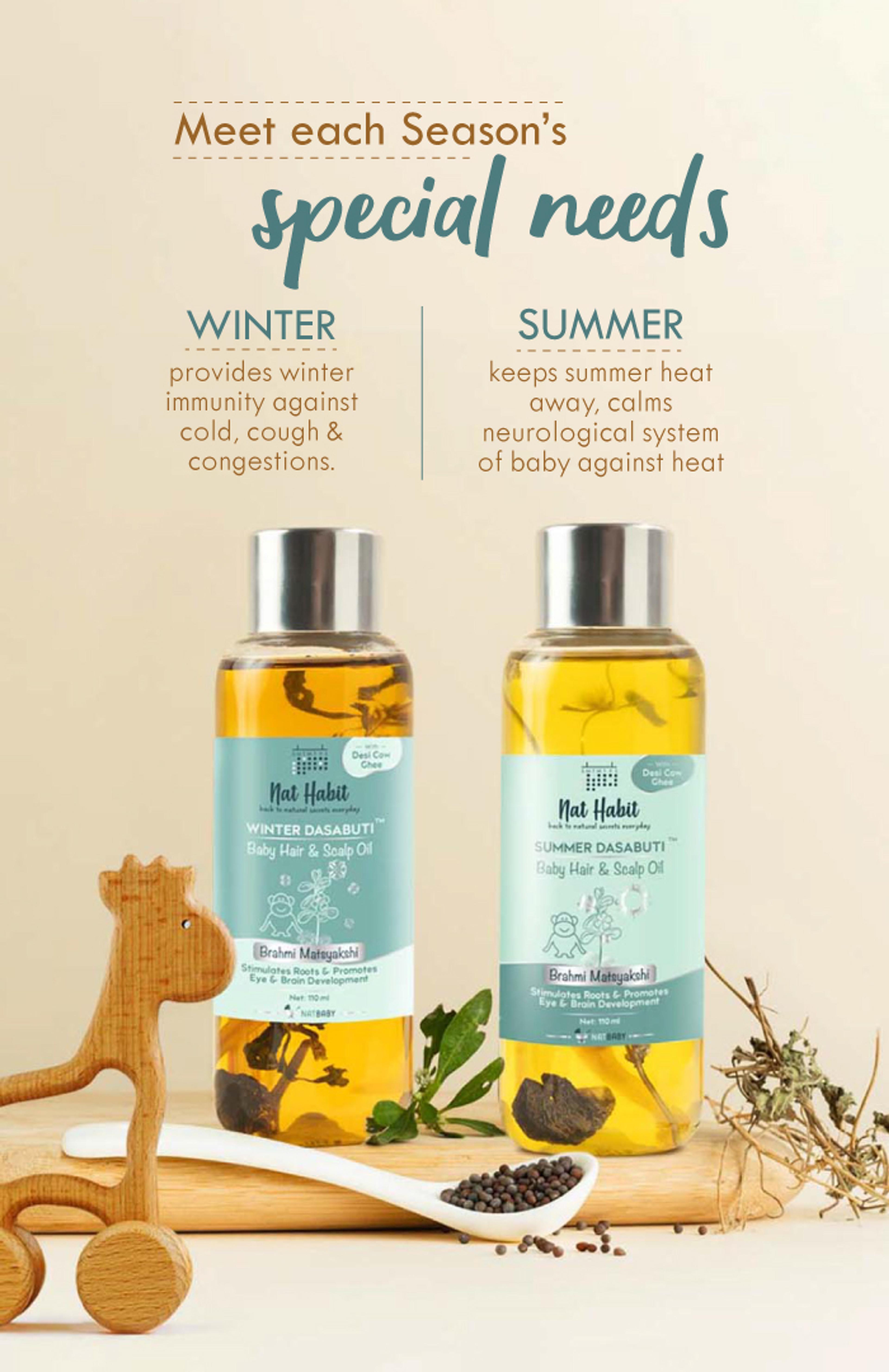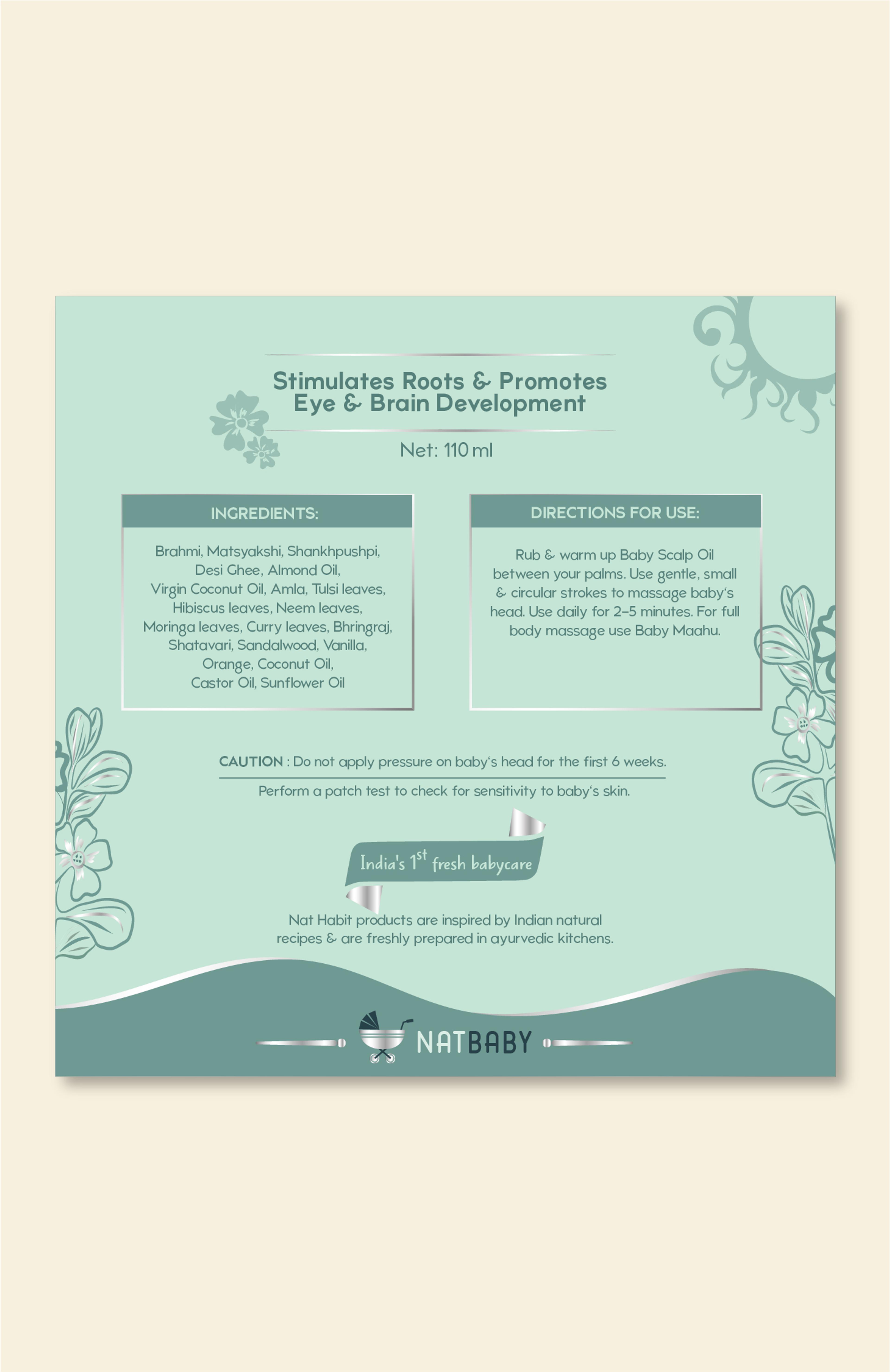 Summer Baby Scalp & Hair Oil
Brain Development, Eye Development & Hair Stimulation
Brahmi Matsyakshi DASABUTI
Delivery
Delhi, Bangalore
2-3 Days After Shipment
Pan India
4-5 Days After Shipment
Free shipping above ₹350
Cash on delivery available at ₹20 COD charges
MANUFACTURED AND MARKETED BY
NaturoHabit Private Limited GP-26, Sector 18, Gurugram, Haryana - 122015
NODAL OFFICER DETAIL
Madhuri Pandey madhuri@nathabit.in
MRP
Price shown above is inclusive of taxes
Signature DASABUTI Oil
✓
Slow heat infused for over 10HRS.
✓
Fresh blended with desi cow ghee, herbs & cold pressed oils.
✓
ONLY pure cold pressed oils used.
✓
ZERO paraffin & mineral oils.
✓
Zero chemicals & preservatives.
Daily head massage with the Dasabuti Oil is essential for baby's brain, cognitive, eye & hair follicle development.
Active Ingredients
Fresh & whole picks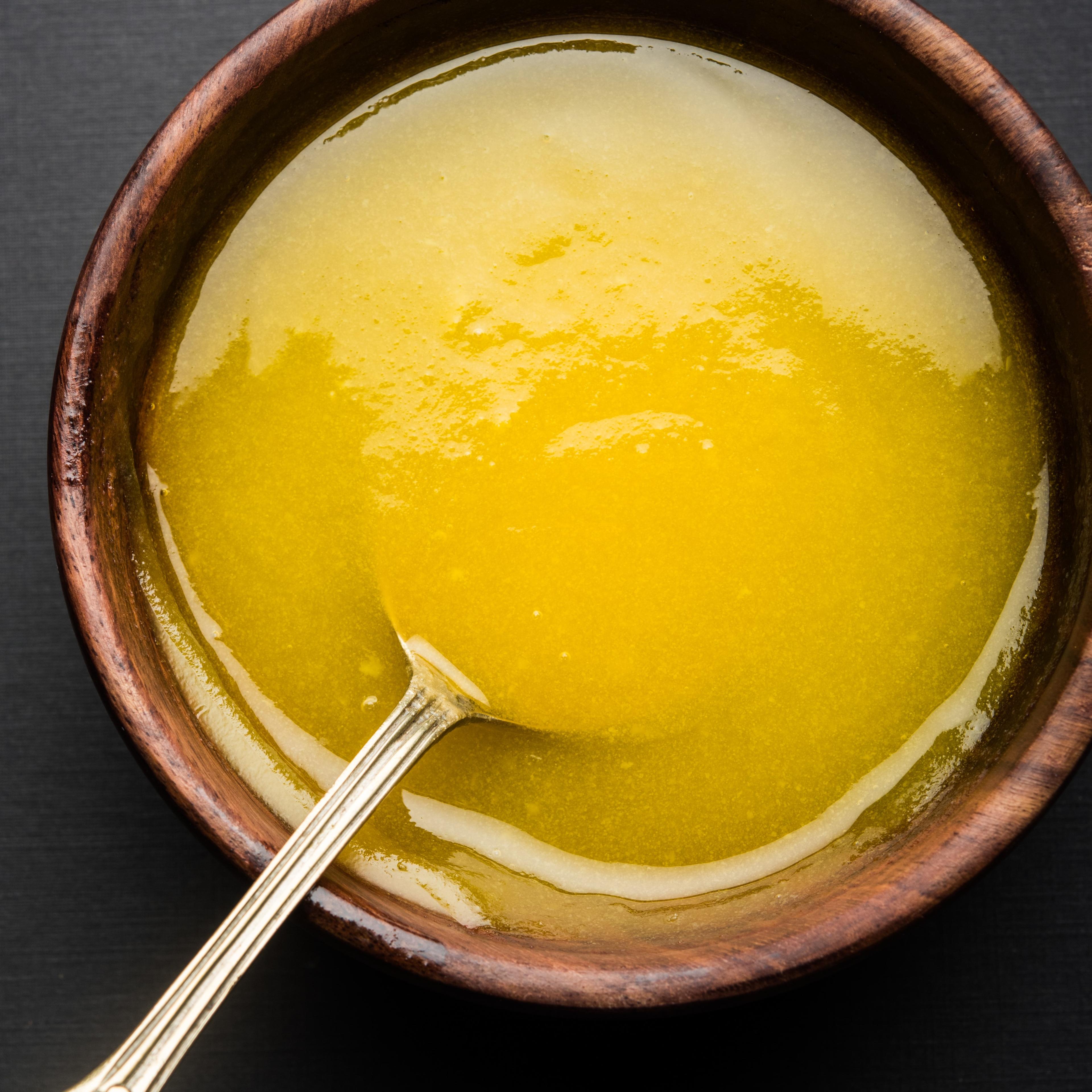 Desi Cow Ghee
Enhances brain development with saturated fatty matter, enhances skull development.
Virgin Coconut Oil
Rich in essential fatty acids & proteins to aid in skeletal development & cognitive growth.
Brahmi
Boosts brain development & cognitive abilities.
Almond Oil
Enhances brain matter development & boosts memorising ability.
Amla
Source of Vitamin C, aids hair growth & eye sight.
Shankhpushpi
Improves memory & concentration.
Full Ingredient List: brahmi, matsyakshi, shankhpushpi, desi cow ghee, almond oil, virgin coconut oil, amla, tulsi leaves, hibiscus leaves, neem leaves, moringa leaves, curry leaves, bhringraj, shatavari, sandalwood, vanilla, orange, coconut oil, castor oil & sunflower oil.
Key Benefits
Regular usage: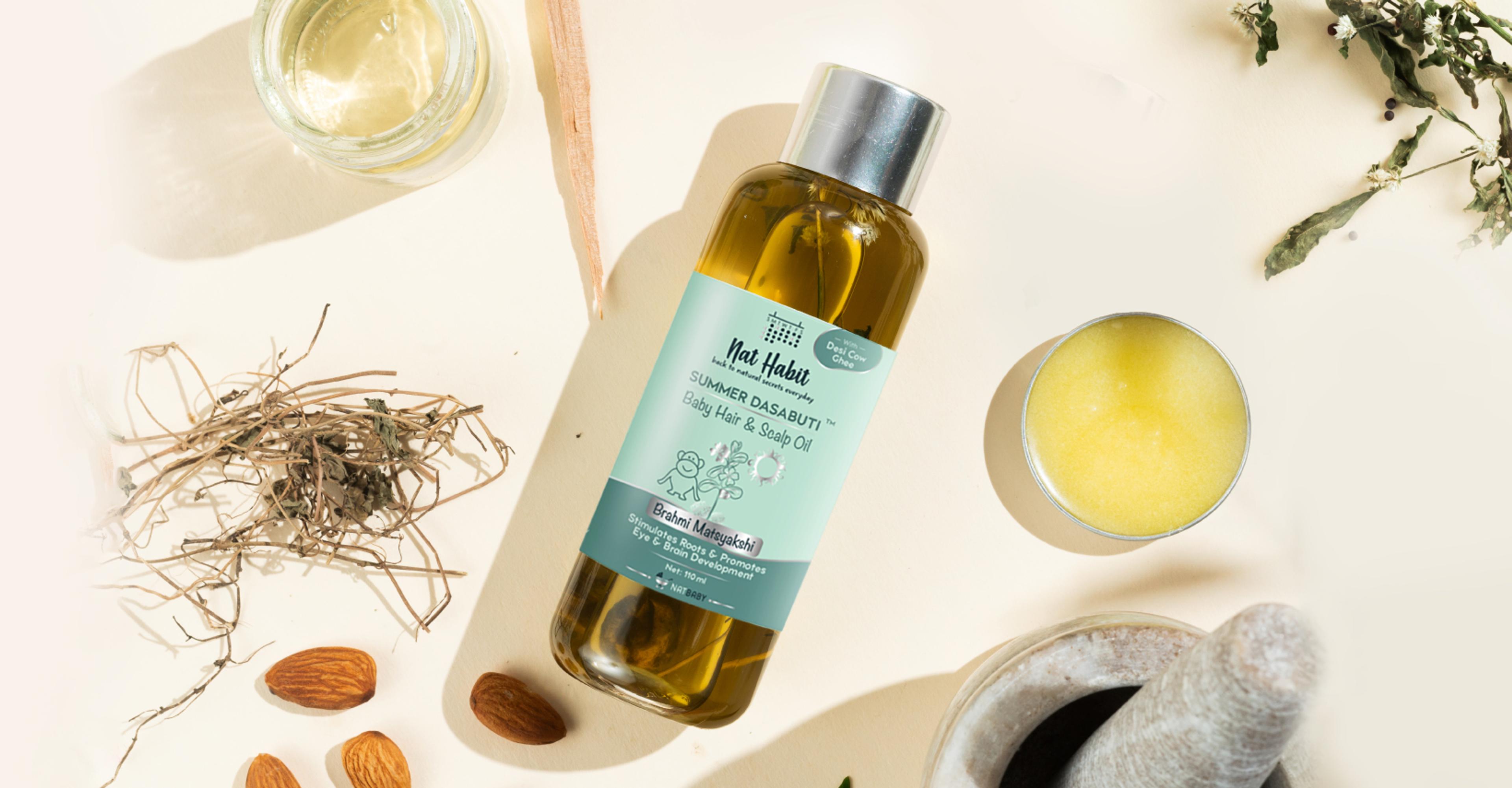 Encourages brain & cognitive development.

Accelerates eye development.

Stimulates roots for good hair growth.

Develops neurological system of the baby.

Soothes baby & promotes good sleep.

Aids in shaping baby skull.

Cools down body to avoid heat rashes & crankiness.
Hey! Ur baby oil is amazing!!! It smells heaven. My 11 month old daughter loves to get a oil massage. I was using baby hair oil from Johnson but i liked the ingredients in your oil and so thought to give it a try. Its much much better

Janki Panchal
Different Oils for Summer & Winter
Season Specific Formulations
Babies are more susceptible to weather changes as they cannot regulate their body temperature well. The thin permeable skin of babies is prone to feeling excess heat during summer, while they are prone to catching cold, cough, mucus congestion during winter. Using wrong oils in different seasons can aggravate these.
These oils are slow heat infused with herbs that are picked to tackle season specific concerns.
Oils with cold potency to provide coolness in summer.
Oils with warm potency to provide warmth in winter.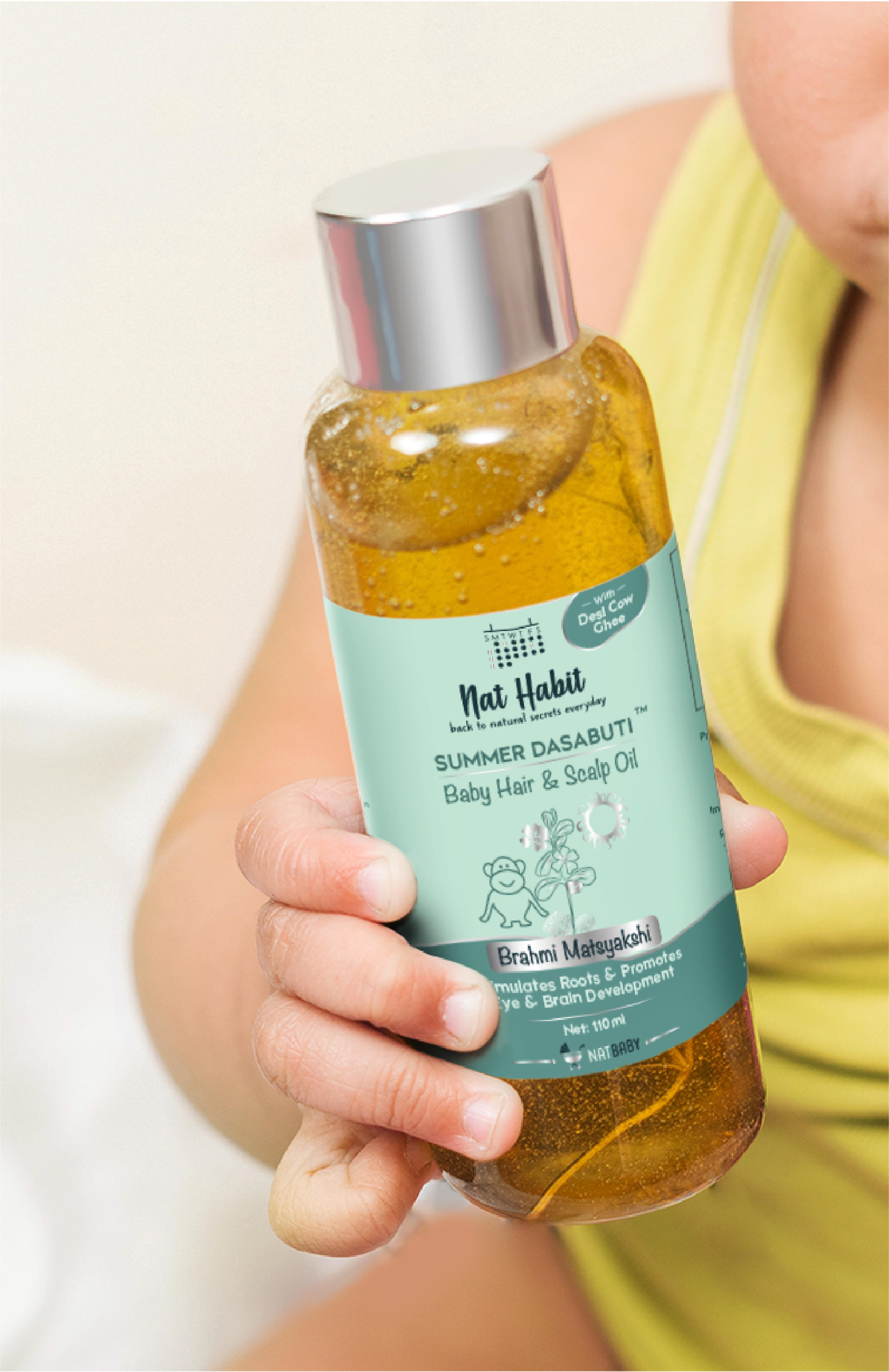 Click to Know More
The Dasabuti Oil is an Ayurvedic concoction of Cow Ghee, Herbs & Oils very specifically targeted for baby's brain, eye & hair follicle development.
Meets 360°development need
Using a single oil base does not meet the 360° needs of a child's development, especially for brain & neural development. A careful mix of right ingredients & oils is needed.
It isn't just a hair oil - it's a scalp oil & the only oil enriched with ghee meant for brain & eye development of the baby which is extremely crucial in the early months.
Made with very slow heat infusion process everyday to extract maximum Ayurvedic benefits of herbs. Only oil to be Freshly prepared following Ayurvedic practices.
100% Natural, Zero Chemicals, Zero Preservatives. All oils used are cold-pressed oils for highest anti-oxidant properties.
Very specifically targeted for child's needs with changing seasons.
Usage & Safety
After full body massage with the Baby Maahu, start with the head massage. Rub Baby Scalp Oil between your palms to warm up. At birth, baby's skull bones are very soft, called fonatelle. It takes about 18 months for the bones to fuse together. Hence, scalp massage must be done with extra caution to not put any pressure on baby's scalp. Gently pat some oil on baby's fontanelle and let the oil soak on its own. Use very gentle circular strokes across baby's head to spread the oil across very carefully for 2-5 minutes. Daily massage ensures healthy brain, eye and hair development.
Use Baby Ubtan with lukewarm water to give baby a nourishing bath.
Always do patch test before use. Babies have very sensitive skin even to natural ingredients.
Can be used for kids scalp & hair upto the age of 8yrs old. After that, can start using the adult Dasabuti Hair Oils.
Hey hi. This is my 2nd order for baby scalp oil. I loved the concept of natural products. The smell is great. Very light not oily as well. Hopefully my baby will get good hair post this hair oil usage

Kanchan Angolkar
More Information
Use within 6 months of Mfg. Date.
Store airtight away from direct sunlight.
Keep soaked herbs in bottle till end of use.
Explore our other Categories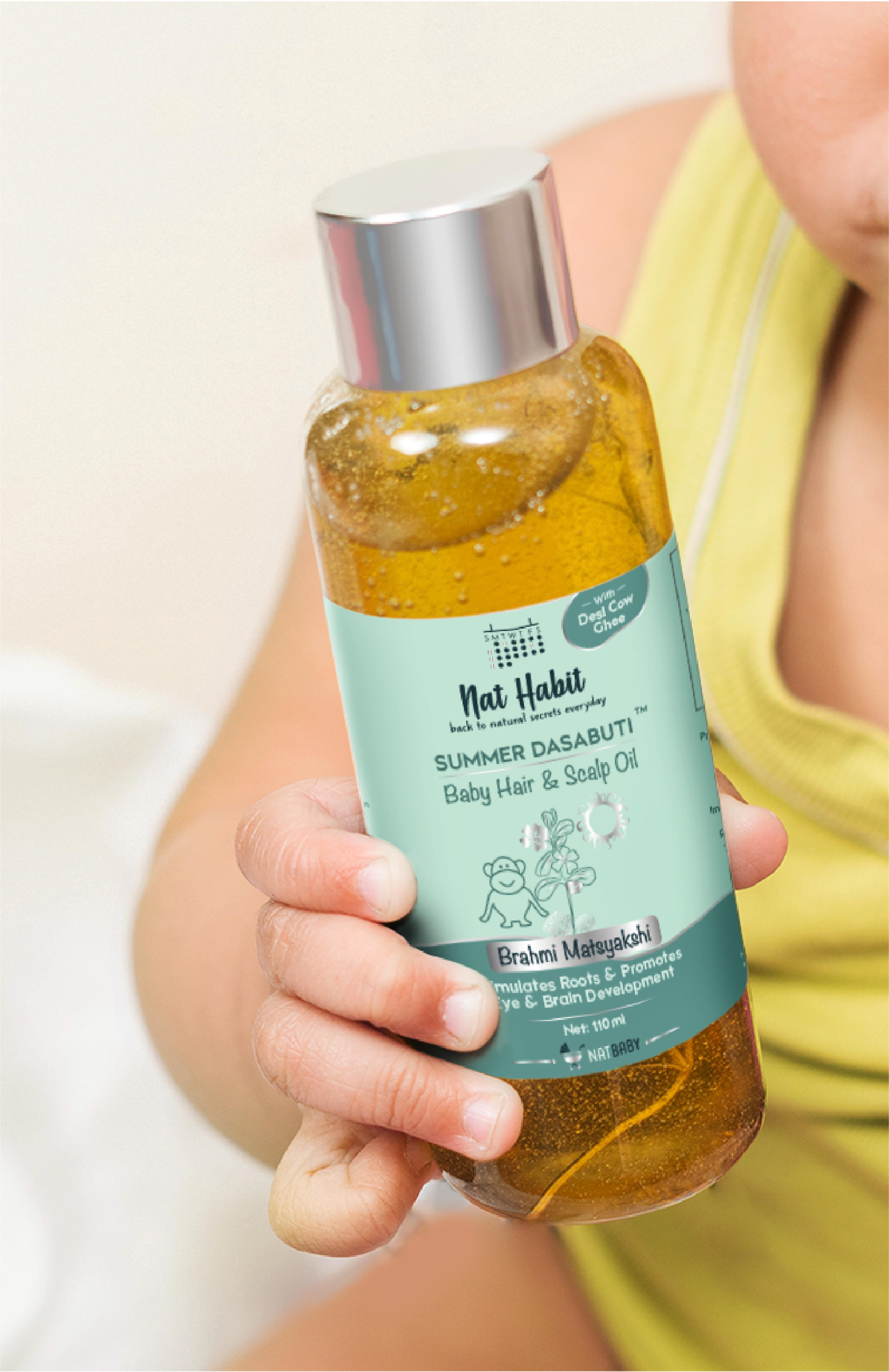 Summer Baby Scalp & Hair Oil