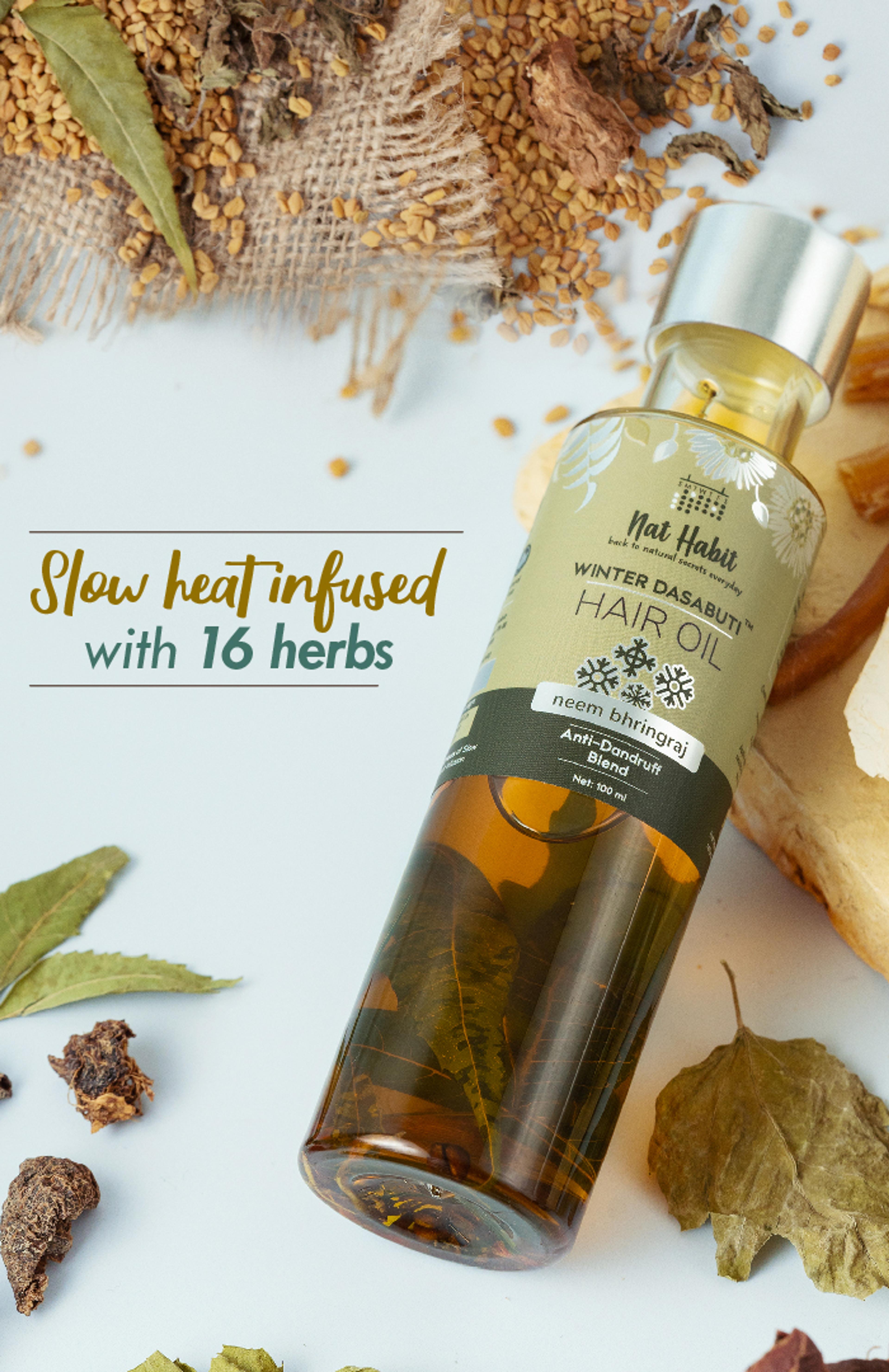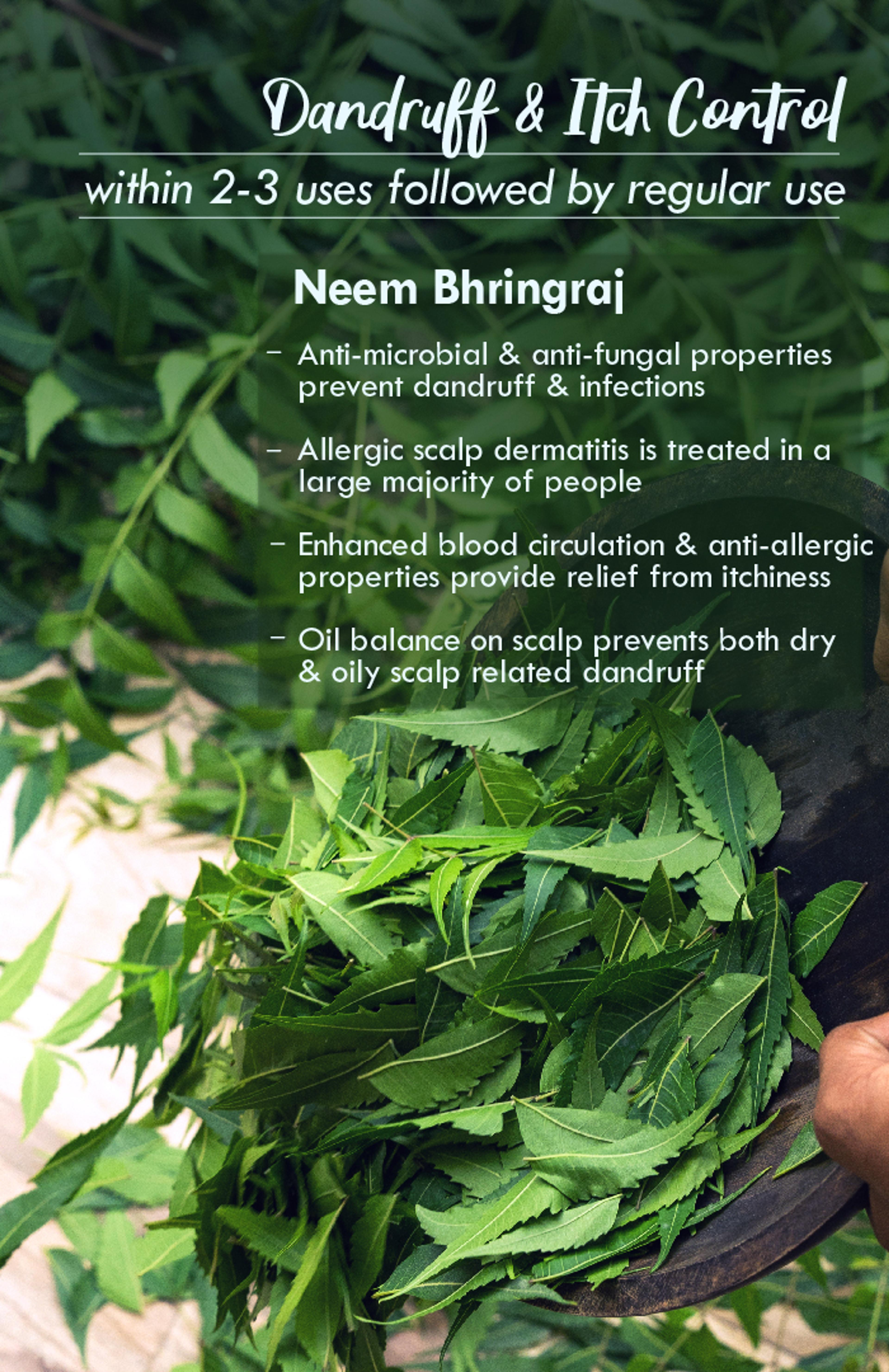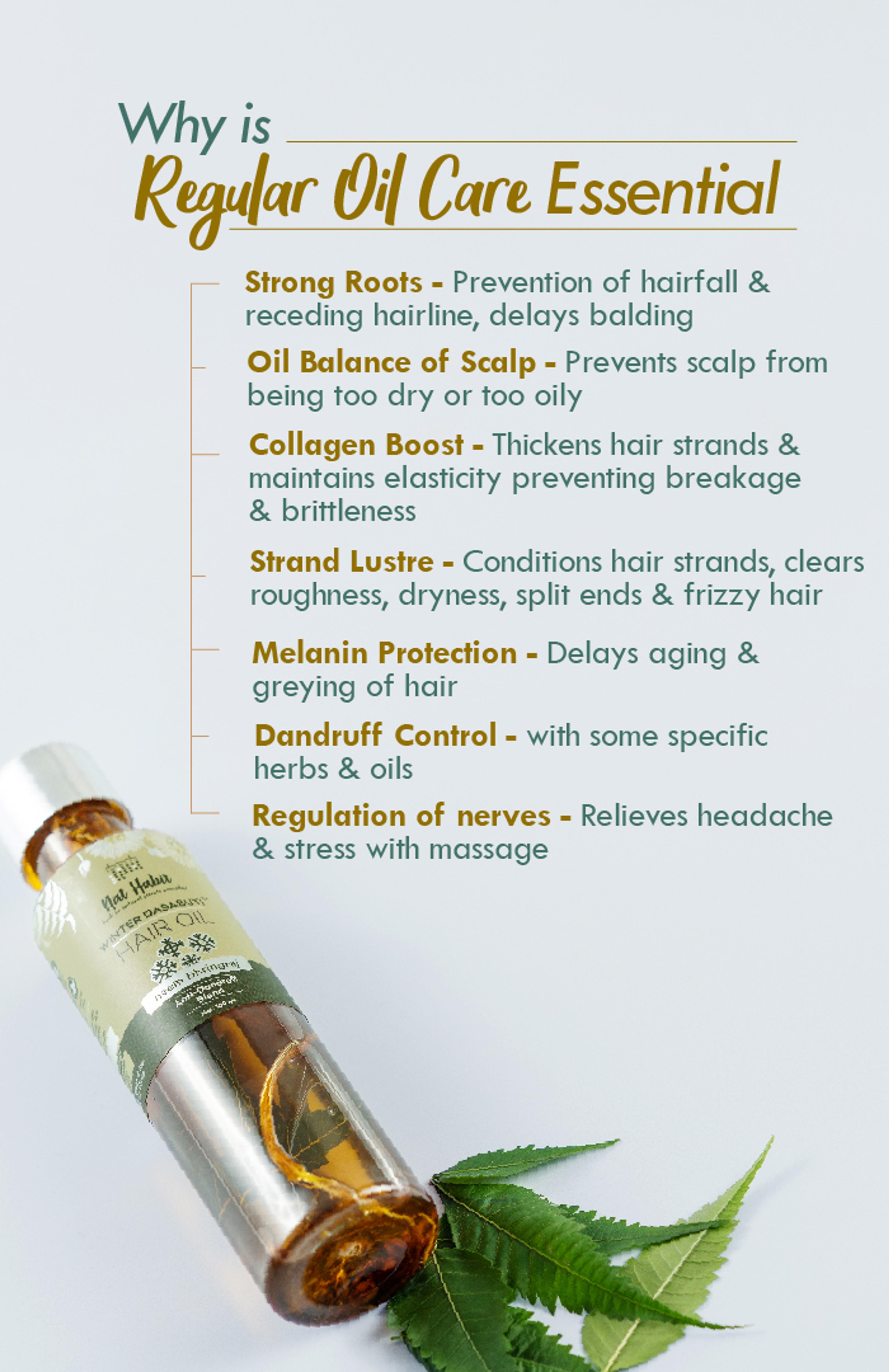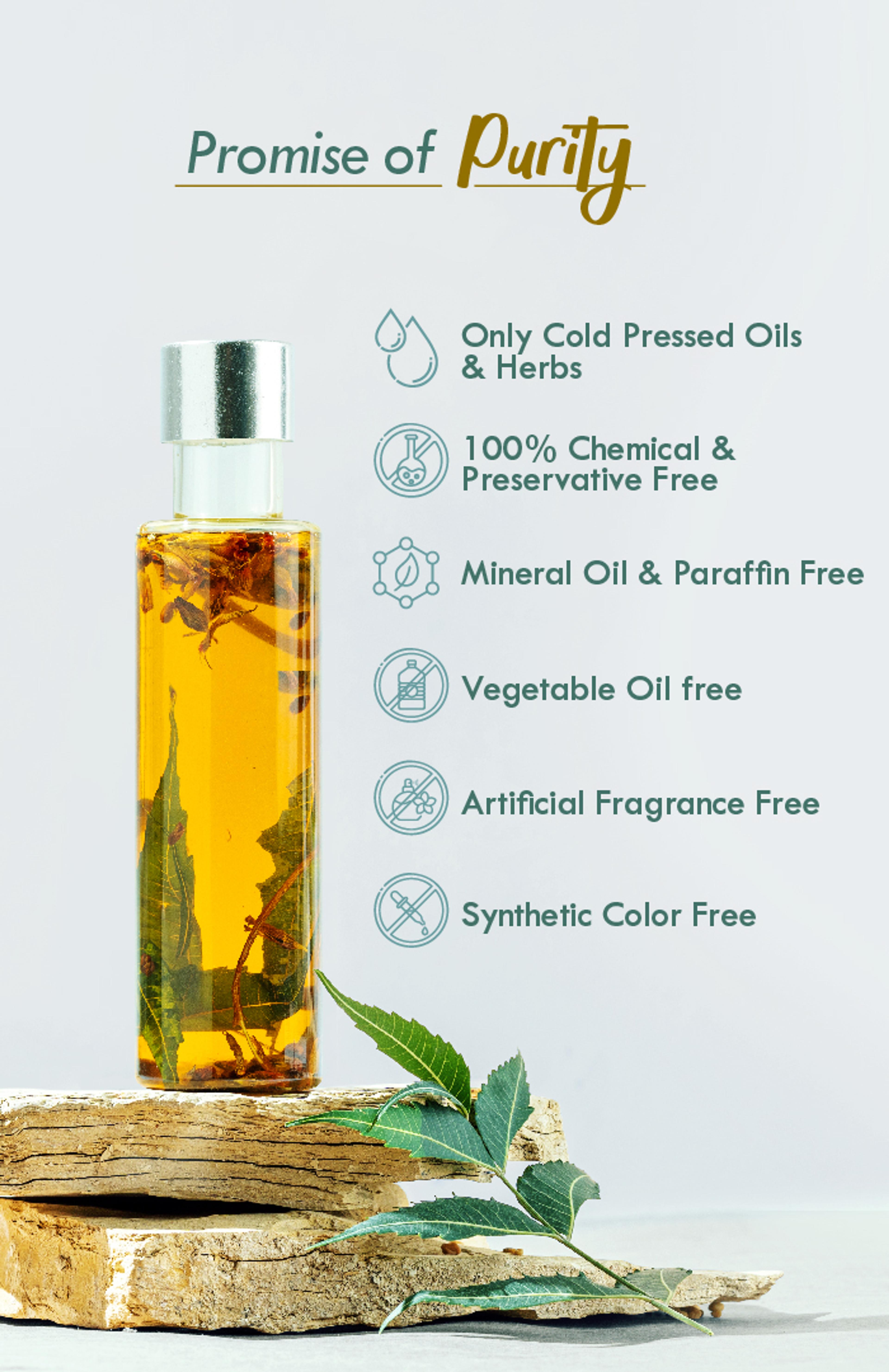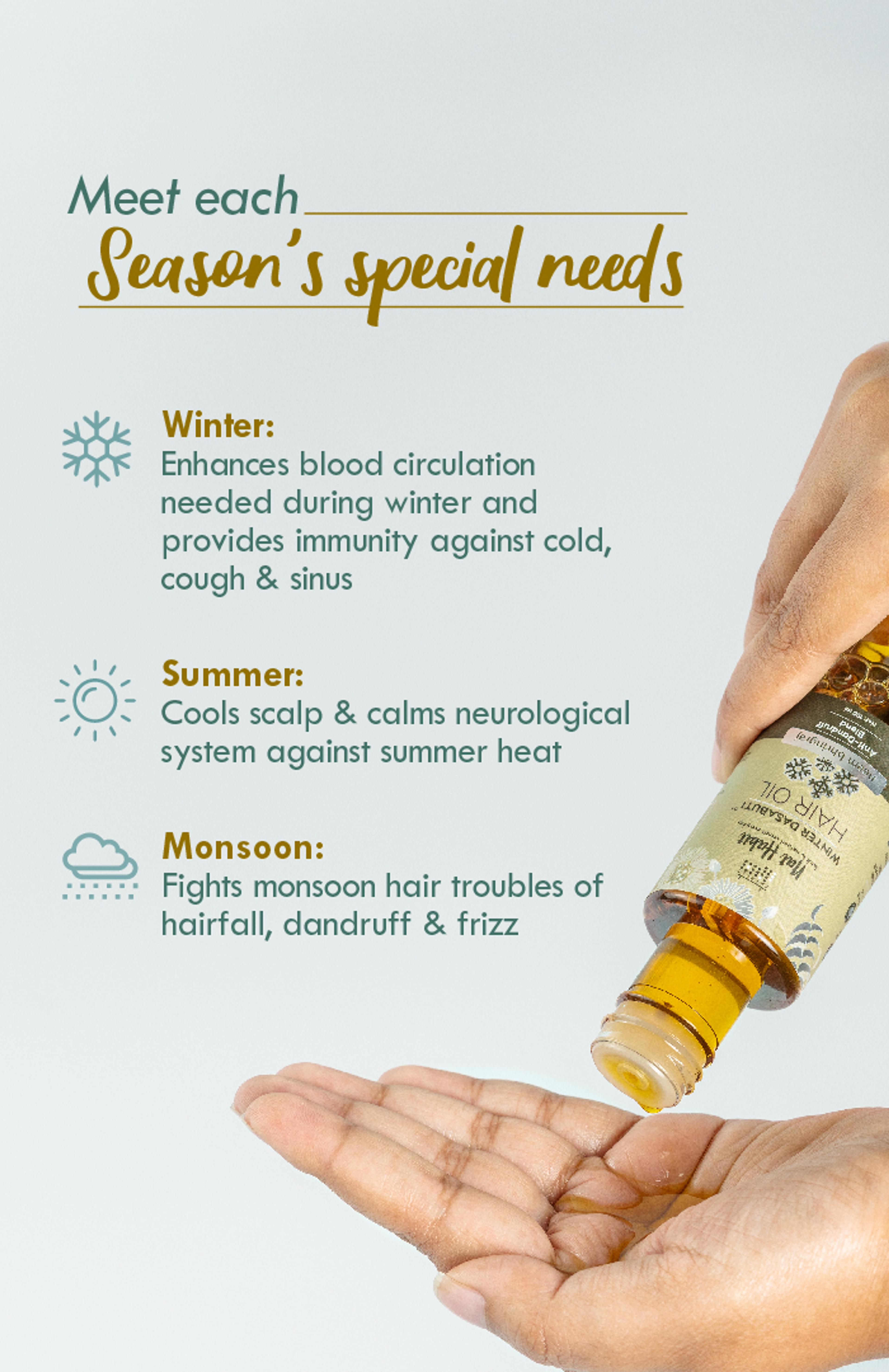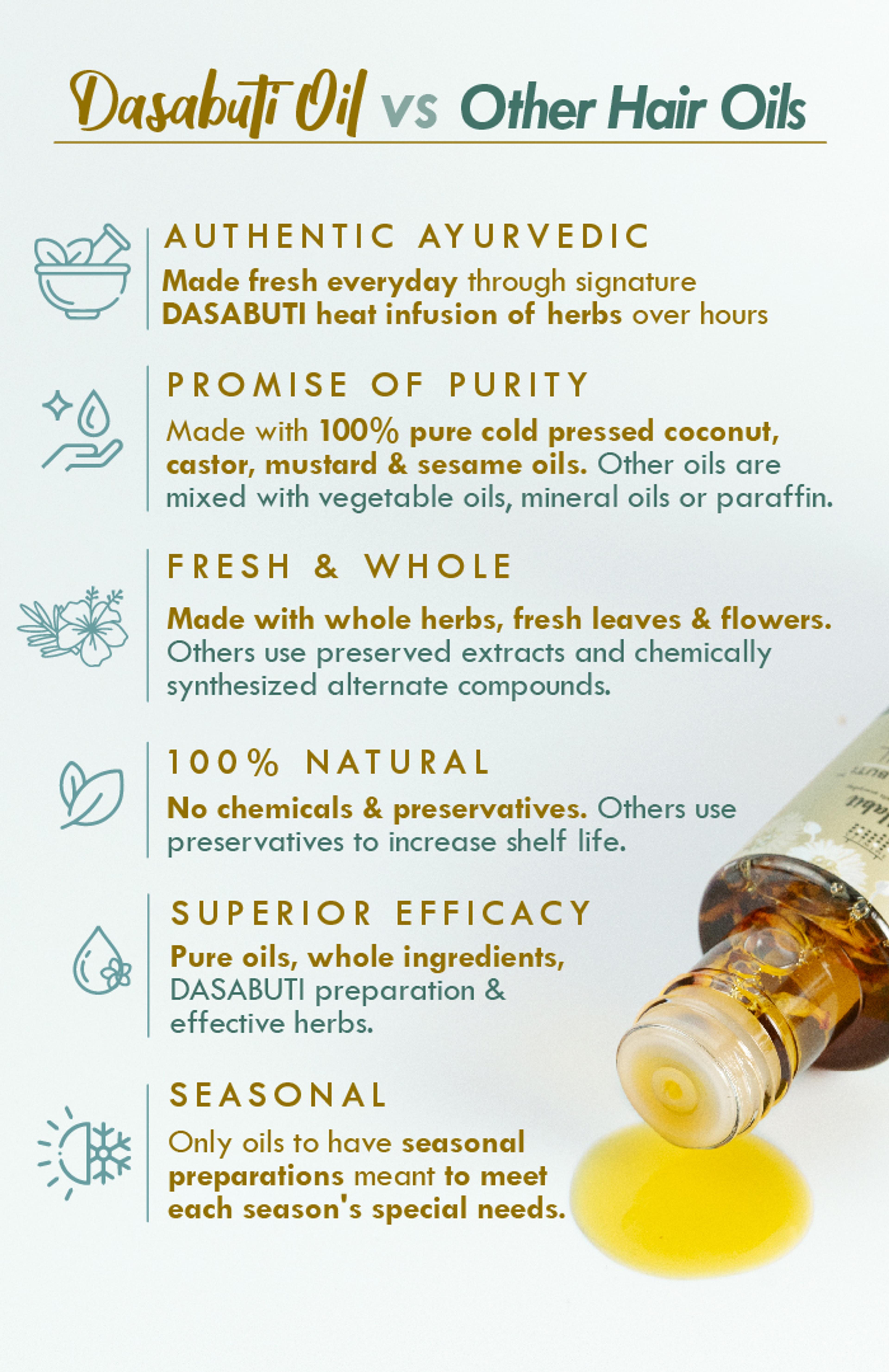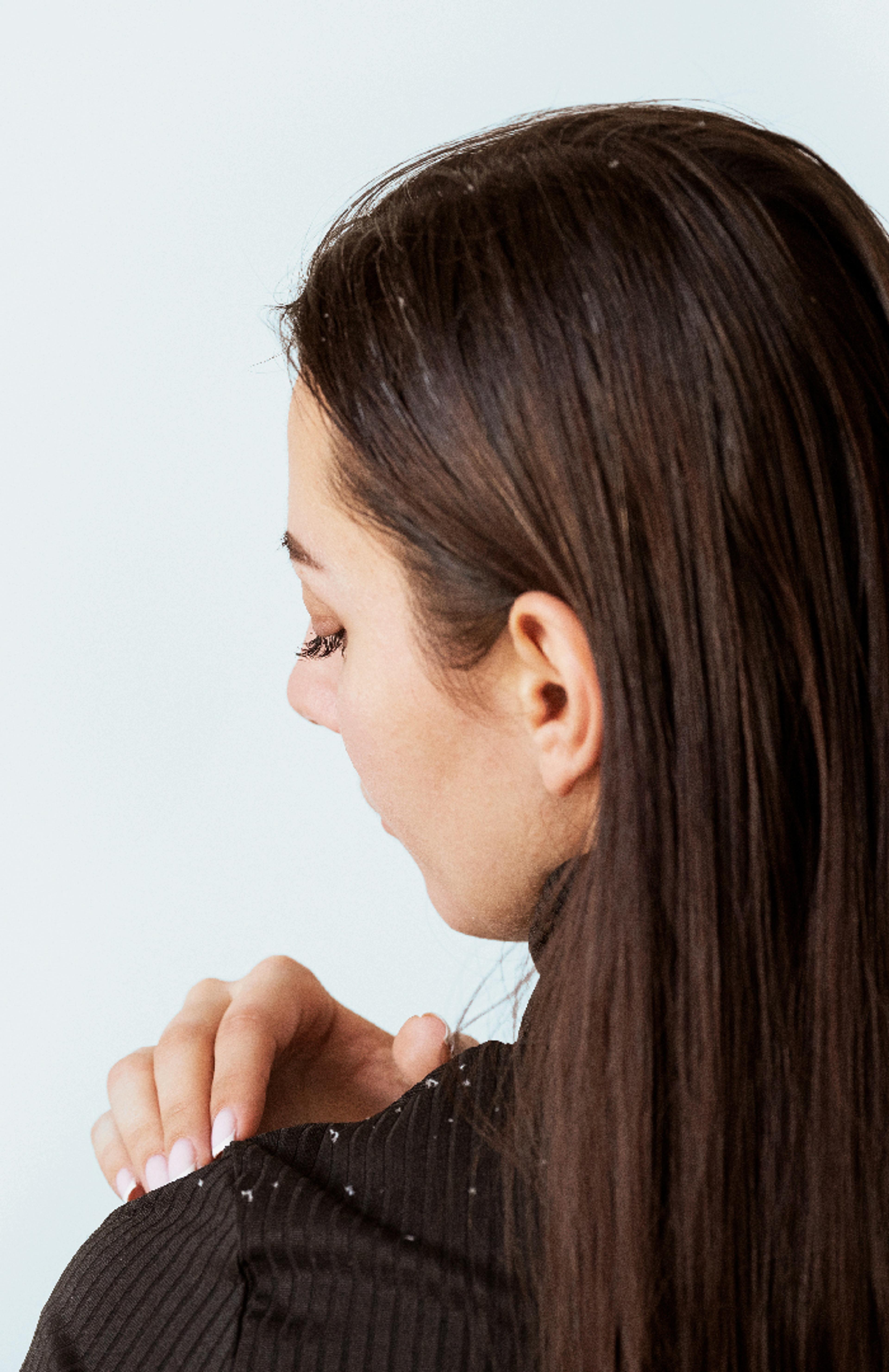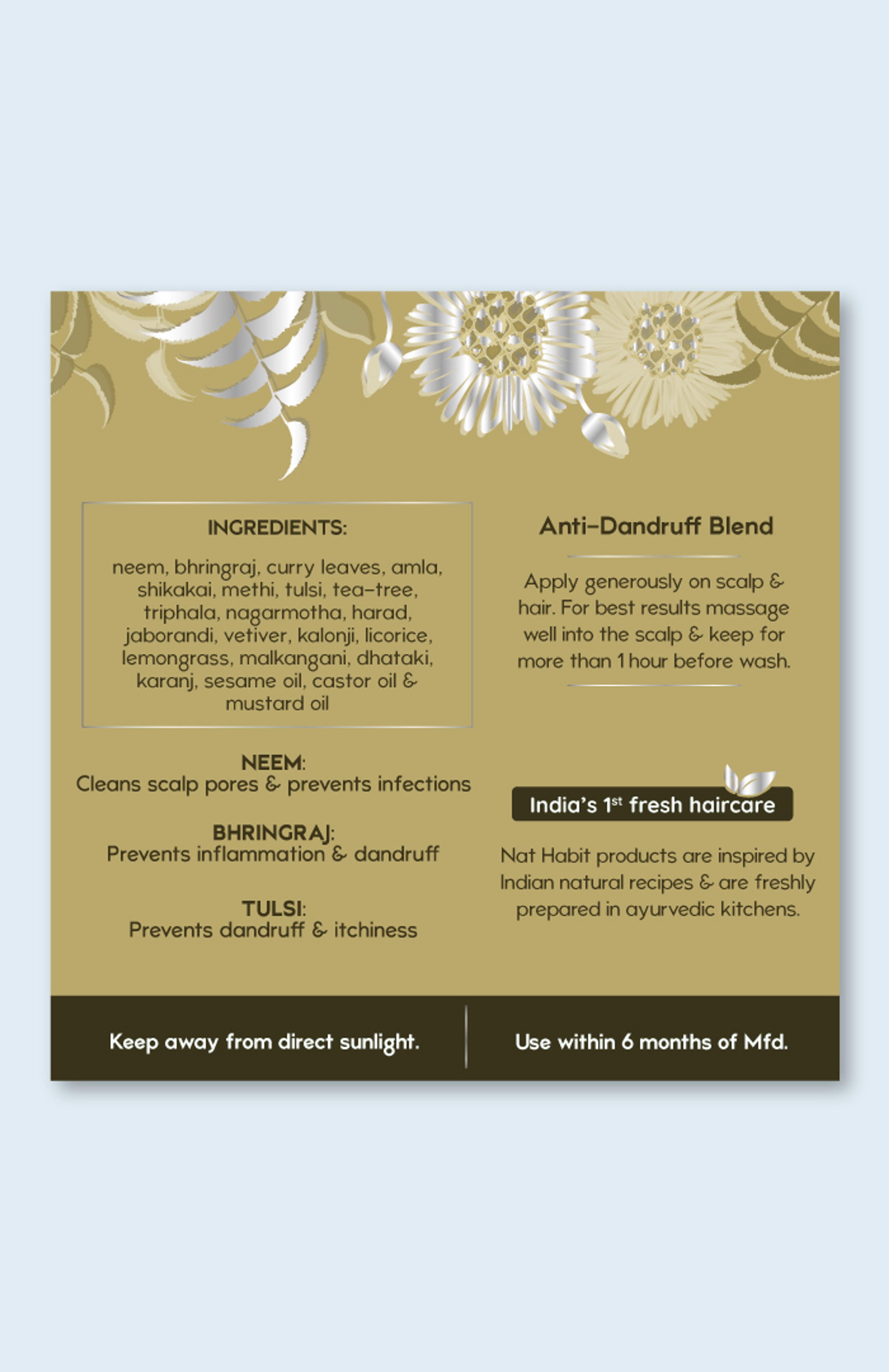 Neem Bhringraj Winter Hair Oil
Anti-Dandruff Blend
Kitchen fresh Dasabuti Hair Oil enriched for over 10 HRS via slow heat infusion of herbs in multiple oils for maximised results.
Delivery
Delhi, Bangalore
2-3 Days After Shipment
Pan India
4-5 Days After Shipment
Free shipping above ₹350
Cash on delivery available at ₹20 COD charges
MANUFACTURED AND MARKETED BY
NaturoHabit Private Limited GP-26, Sector 18, Gurugram, Haryana - 122015
NODAL OFFICER DETAIL
Madhuri Pandey madhuri@nathabit.in
MRP
Price shown above is inclusive of taxes
Key Benefits
Regular usage helps with
Accelerated hair growth.

Balding, hair loss & receding hairline reversal.

Thickening of thin hair.

Hairfall control.

Cold, sinus & headache relief with scalp massage.

Lotus & tulsi help with physical and mental stress release.
Active Ingredients
Fresh & whole picks
Neem
Clean scalp pores, reduces itchiness & dandruff.
Bhringraj
Anti-bacterial & anti- microbial action leaving scalp dandruff free.
Curry Leaves
Cleans scalp pores, stimulates hair growth.
Tulsi
Improves blood circulation reducing itchiness and dandruff.
Full Ingredient List: neem, bhringraj, curry leaves, bel leaves, tulsi, amla, neem, shikakai, methi, anantmool, peppermint, malkangani, dhataki, karanj, vetiver, licorice, nagarmotha, lemongrass coconut oil, castor oil, tea tree oil, sunflower oil & mustard oil.
Purity Check
✓
Only cold pressed oils & herbs
✓
100% Chemical & preservative free
✓
Mineral oil & paraffin free
✓
Artificial fragrance free
Season Special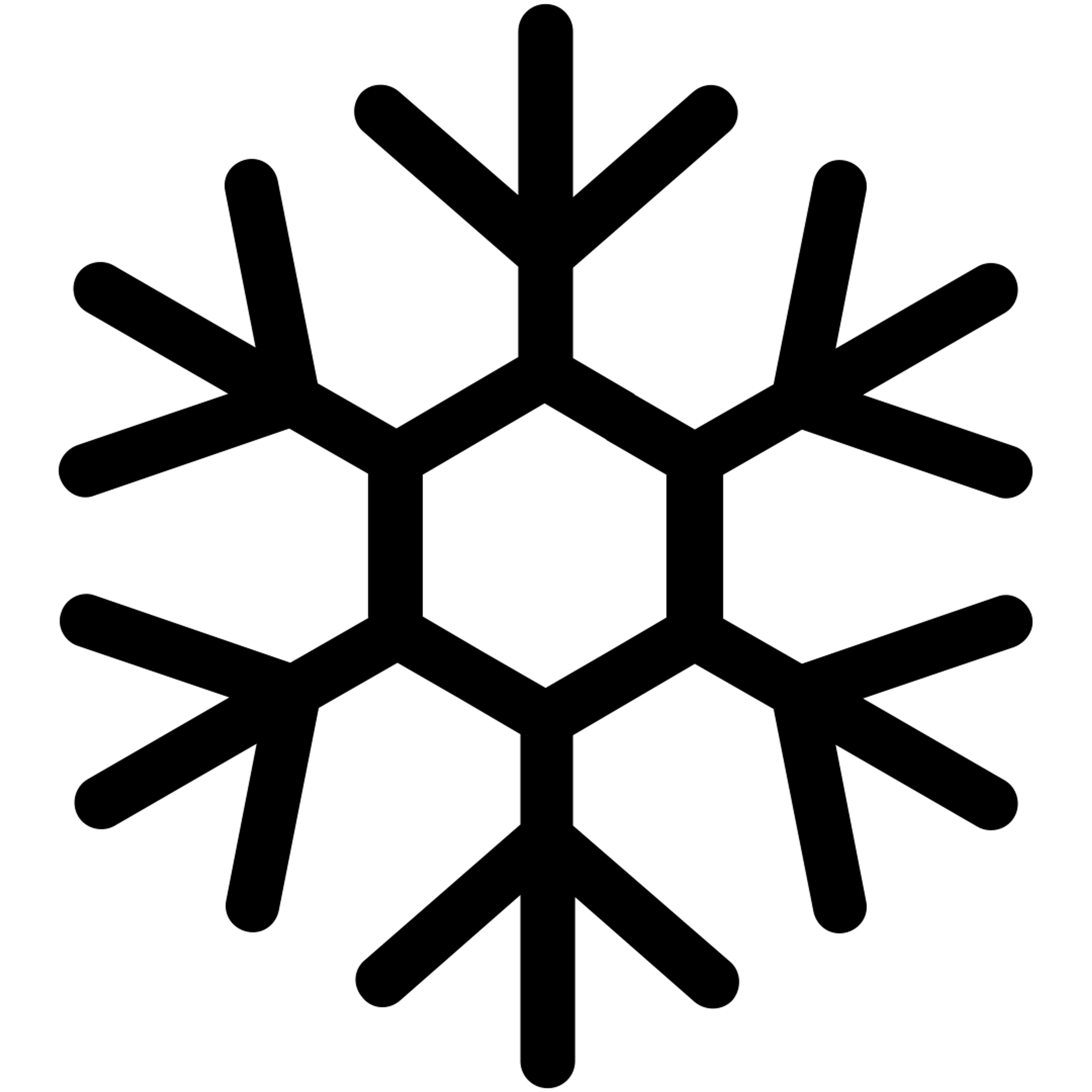 Winter
Made with warming herbs & oils to enhance blood circulation needed during winter & to provide immunity against cold, cough & sinus.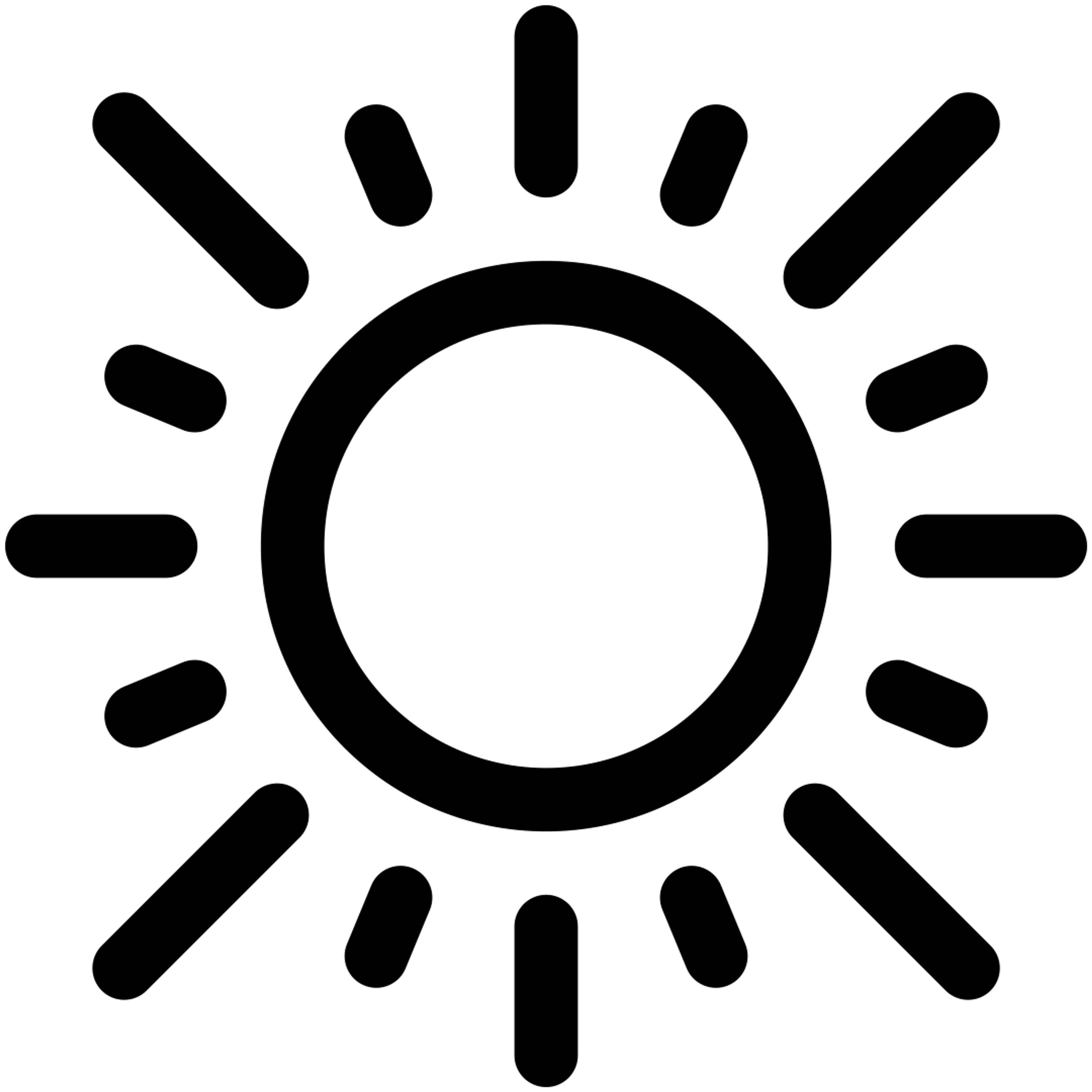 Summer
Made with cooling herbs & oils to cool down scalp & calm neurological system against summer heat.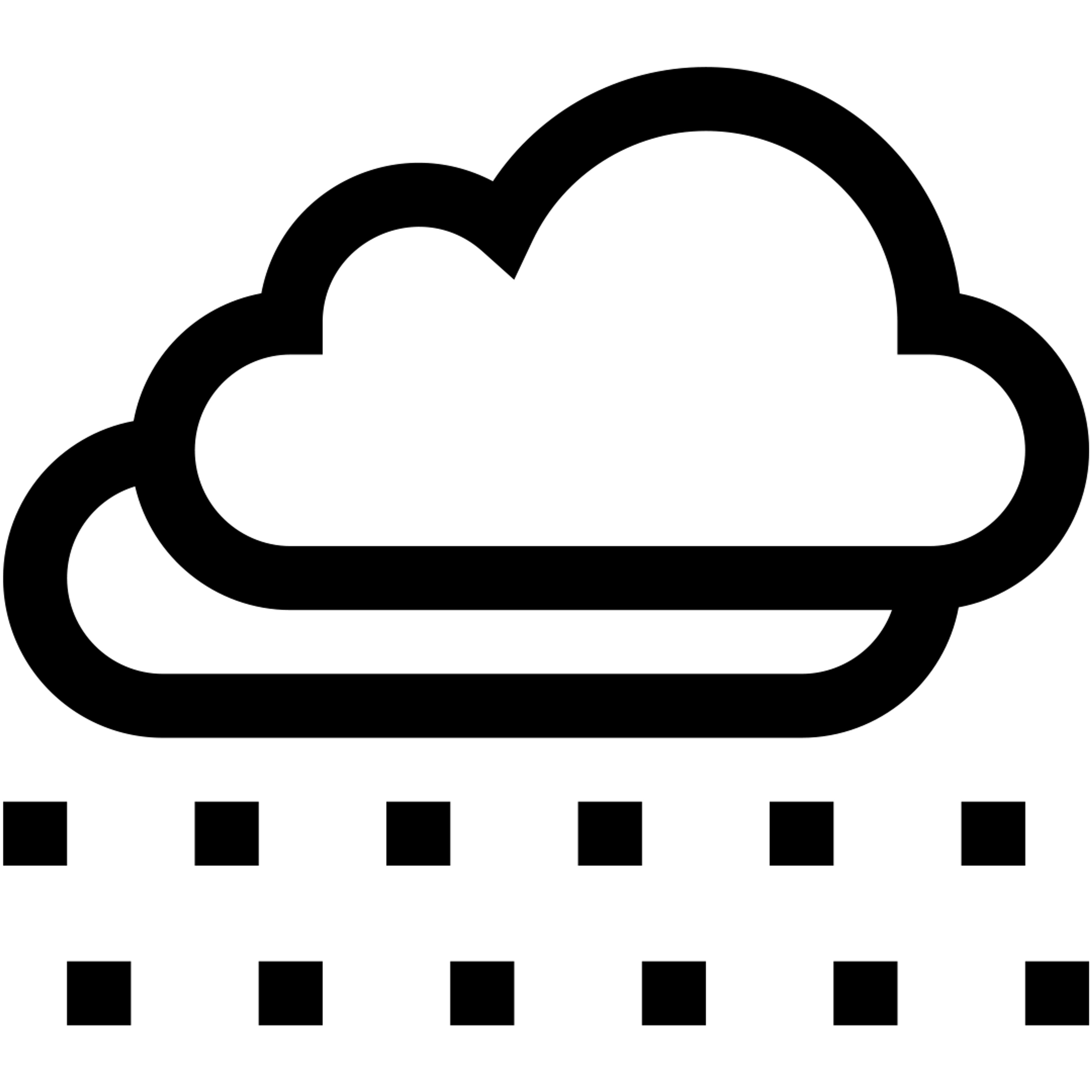 Monsoon
Made with special ingredients to control frizz & strengthen in humid conditions.
This oil is specially made with warming ingredients for Winter conditions.
In The Making
DASABUTI Hair Oil
Why Choose
Regular Oil Care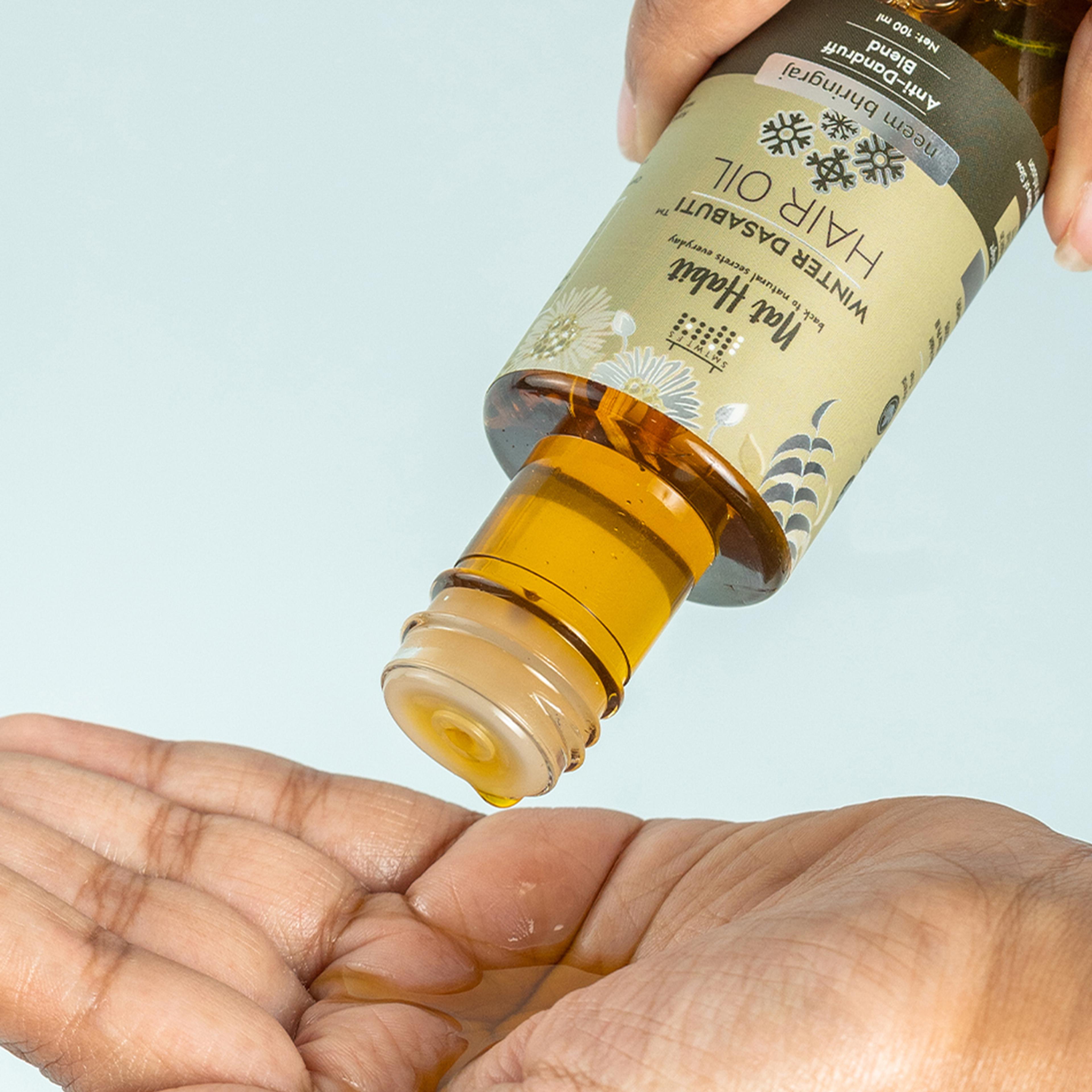 Click to Know More
Prevents hairfall & receding hairline, delays balding.
Keeps scalp from being too dry or too oily.
Thickens hair strands & maintains elasticity, preventing breakage & brittleness.
Conditions hair strands, clears roughness, dryness, split ends & frizzy hair.
Delays ageing & greying of hair.
DASABUTI vs Other Hair Oils
Signature DASABUTI processing
Slow heat infusion for over 10 HRS
100% pure & cold pressed oils used
Mixed with vegetable oils, mineral oils & paraffin
Fresh & whole ayurvedic ingredients
Preserved extracts & chemically synthesized alternate compounds
100% natural, no chemicals or preservatives used
Preservatives used to increase shelf life
Superior efficacy with pure oils & whole herbs
Low efficacy with mineral oils & herbal extracts
Different herbs & oils used, to meet each season's specific needs
No seasonal needs catered
How to Use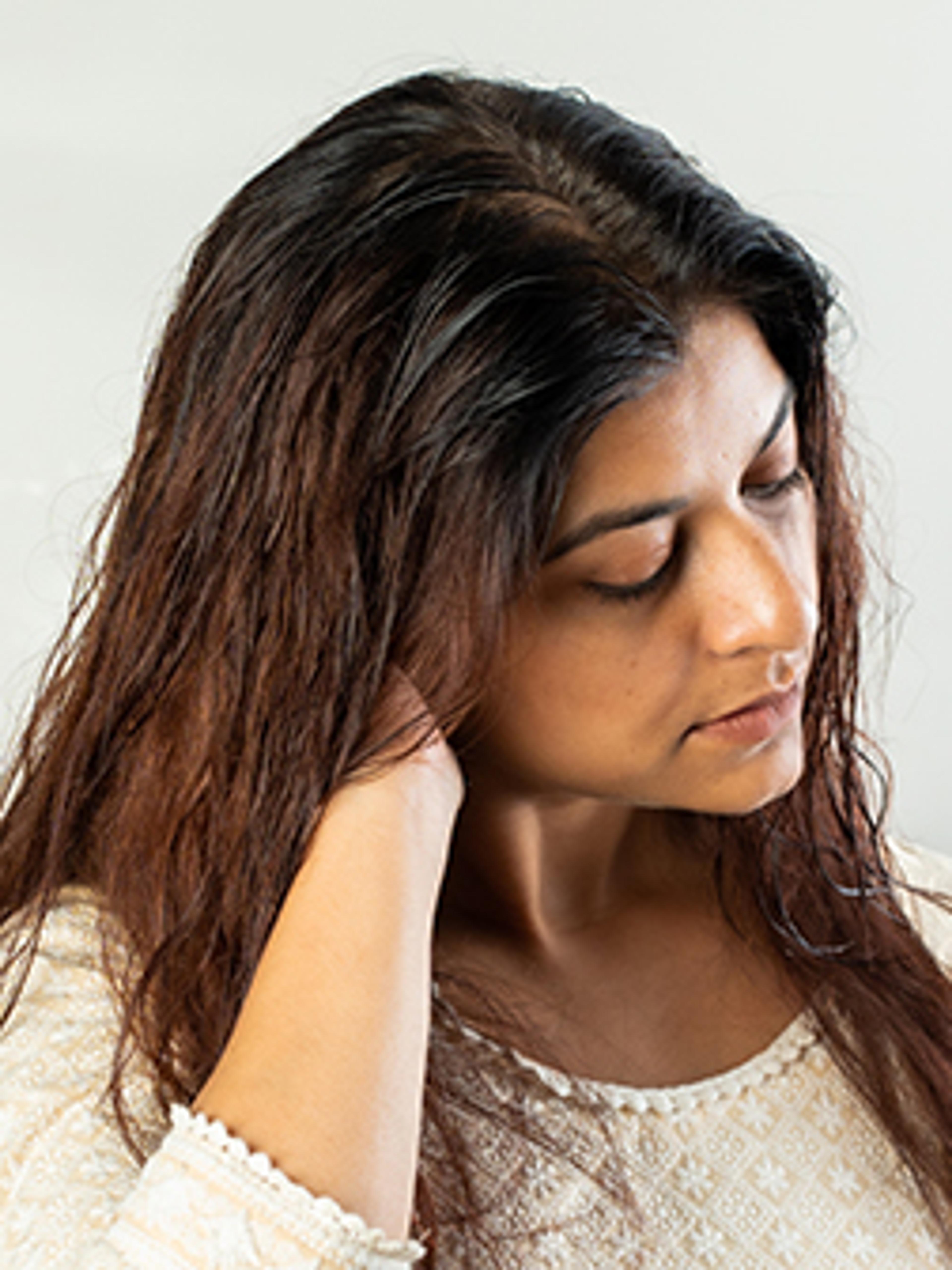 Apply generously on scalp & hair. For best results, massage well into the scalp & keep for more than 1 hour before wash.
For all: Oily, dry, normal & curly.
Can be applied. To nourish & restore the shine.
Can be applied. To nourish & restore the shine.
Amazing product!! My scalp was dry for years & with flakes. I tried coconut oil but it left my hair greasy after washing it out. But this oil has really worked way effectively.

Manju, Karnataka
More Information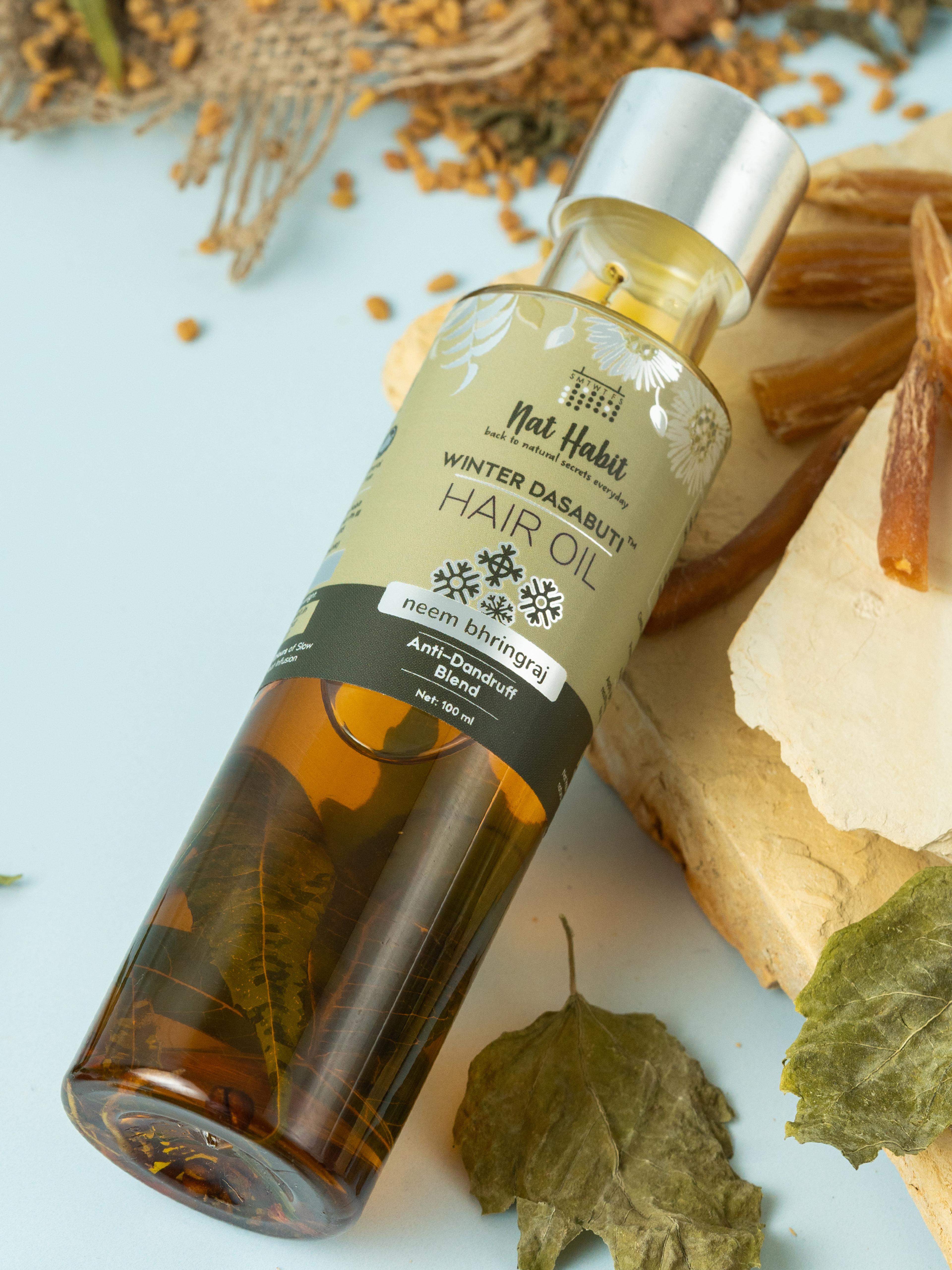 Use within 6 months of Mfg. Date
Keep away from direct sunlight
Keep soaked herbs in the bottle till end of use.
Explore our other Categories
Neem Bhringraj Winter Hair Oil